Christmas food and drink quiz: 25 festive questions and answers
Test your knowledge of festive fare with our Christmas food and drink quiz questions–a fun game for the whole family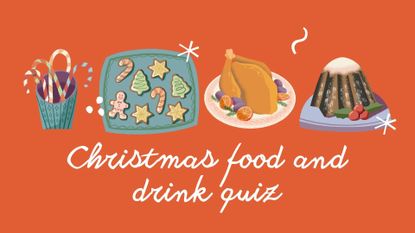 (Image credit: Future/Canva)
Take a bite out of our Christmas food and drink quiz questions–the perfect way to test your knowledge after enjoying a feast of festive fare.
When it comes to the holidays, there's plenty of things people look forward to, not least getting the family together under one roof again and playing some fun Christmas party games.
For many, it comes down to the best Christmas food and drink. It's a time where second helpings are a given and it's acceptable to load up on the cheapest prosecco and champagne deals so you can sip on a Mimosa (or two) on Christmas morning.
But just how well do you and your loved ones know festive food and drink? From surprising origins to missing ingredients, test yourself with our Christmas food and drink quiz questions...
25 Christmas food and drink quiz questions and answers
Q: In the 'Christmas Song', what is "roasting on an open fire?"
A: Chestnuts
Q: Which day of the week is a Christmas pudding traditionally made on?
A: Sunday (more specifically on Stir-Up Sunday, when you traditionally make a Christmas pudding on the last Sunday before Advent - around five weeks before Christmas)
Q: According to the old English tradition, which coin was placed in the Christmas pudding mixture?
A: A sixpence
Q: Eggnog is made of eggs, milk, sugar and what?
A: Cream
Q: Which food and drink company helped popularize the image of Santa Claus' red and white outfit?
A: Coca-Cola
Q: A popular dessert choice for the holidays, what is a Croquembouche tree made of?
A: Profiteroles
Q: What name is given to small sausages wrapped bacon?
A: Pigs in blankets
Q: What is a turkey crown?
A: The body of a turkey without the legs and wings
Q: Which spirit is traditionally poured on top of a Christmas pudding and then lit?
A: Brandy
Q: Though most popular throughout the States, where is Eggnog said to have originated?
A: England—most historians agree eggnog originated from the early medieval British posset, a hot, milky, ale-like drink
Q: Which fruit is traditionally included inside a Christmas stocking?
A: An orange or a clementine
Q: Which direction are you meant to stir mincemeat for good luck?
A: Clockwise
Q: In Italy, festivities start with a warming glass of Bombardino. What is the drink made of?
A: Brandy and Advocaat
Q: Which sauce is traditionally served with roast turkey?
A: Cranberry sauce
Q: True or false? The first mince pies actually contained meat.
A: True
Q: What fruit can be stored alongside Christmas cake to keep it moist?
A: An apple
Q: Although used for decorating Christmas cakes, what is actually toxic to consume?
A: Holly
Q: In the song We Wish You a Merry Christmas, they sing, "now bring us some" what?
A: Figgy Pudding
Q: Which country does Stollen come from?
A: Germany
Q: Eating fried chicken at a fast-food restaurant is a Christmas tradition in which country?
A: Japan (on average, 3.6 million Japanese families will choose to eat fried chicken on Christmas Day)
Q: Historically, women in England who wanted to find a husband ate what at Christmas for good luck?
A: Gingerbread men
Q: Bounceberry is another name for which Christmas berry?
A: Cranberry
Q: Which festive sweet treat is shaped to resemble a shepherd's staff?
A: Candy cane
Q: Which ruler allegedly banned mince pies in Britain in the 1600s?
A: Oliver Cromwell
Q: What are the traditional spices found in mulled wine?
A: Cinnamon, star anise, cloves and nutmeg
Jack Slater is not the Last Action Hero, but that's what comes up first when you Google him. Preferring a much more sedentary life, Jack gets his thrills by covering news, entertainment, celebrity, film and culture for woman&home, and other digital publications.
Having written for various print and online publications—ranging from national syndicates to niche magazines—Jack has written about nearly everything there is to write about, covering LGBTQ+ news, celebrity features, TV and film scoops, reviewing the latest theatre shows lighting up London's West End and the most pressing of SEO based stories.