12 supermarket wines that are perfect for summer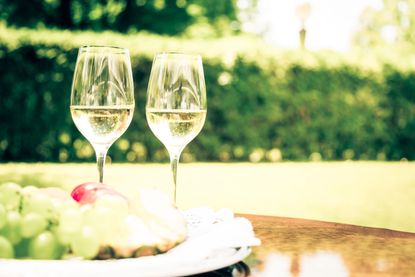 (Image credit: Getty Images)
As the weather warms up, thoughts inevitably turn to light nights, lazy barbecues - and the perfect bottle of summer wine.
Whilst winter conjures up images of curling up under a blanket with a good glass of merlot, the best summer wines are altogether lighter - and whiter.
Alternatively, if you want a change from white, there are plenty of deliciousrosé wines to choose from too.
Here our food director Jane Curran picks her favourite supermarket wines wines that are just perfect for summer. Cheers!
Best summer wines: Monte Largo Vinho Verde
Great value, lower alcohol (9%), light and fruity with a little spritz - it makes a great aperitif wine. Made in Portugal from young green grapes, it has a refreshing acidity. £4.75, Morrisons (opens in new tab)
Best summer wines: La Petite Laurette du Midi Rosé 2017
Made in the dry Provence-style without the hefty price tag. Serve as an aperitif or great with grilled fish and salads. £7.99, Co-op (opens in new tab)
Best summer wines: Paul Cluver Elgin Riesling
From cool-climate Elgin in South Africa. It's limey and delicately floral, perfect with fish and Asian dishes. It's different in flavour and acidity from a German Riesling and oozes elegance, with just 10.5% alcohol £13, M&S (opens in new tab)
Best summer wines: Cepa Lebrel Rioja Rosado
With its delicate raspberry notes, this Spanish rosé is a great summer party wine that has character and is pleasantly dry. £5.49, Lidl (opens in new tab)
Best summer wines: Taste the difference Touraine Sauvignon Blanc
We drink so much Sauvignon from New Zealand, we've neglected those from its home in France's Loire Valley. Hints of elderflower and good acidity, perfect with roast chicken £7.50, Sainsbury's (opens in new tab)
Best summer wines: Burra Brook Rosé 2017
An Aussie pink full of juicy summer berry character. Drink as a quaffer, though it'll work well with lighter summer food. £7, M&S (opens in new tab)
Best summer wines: Truly Irresistible Fiano
This southern Italian white from Campania won gold and a "great value" trophy at the international Wine Challenge in 2016. Full of lemon and grapefruit flavours, it's perfect with seafood or fishy pasta dishes £6.99, The Co-operative (opens in new tab)
Best summer wines: Cramele Recas Pinot Grigio Rosé
Something a bit different from Romania! Medium-bodied with crispy acidity and hints of pear, this works well with light fish dishes. £6, Spar (opens in new tab)
Best summer wines: Swartland Private Collection Chenin Blanc
Chenin has made its second home in South Africa. This is bursting with zesty grapefruit flavours with a touch of tropical fruits. A delicious aperitif or just as good with lighter foods £8.29, Waitrose (opens in new tab)
Best summer wines: Le Petit Chat Malin, Wine Rack
This "crafty little cat" from Southern France is a dry wine with floral and raspberry notes. Works well with summer pasta. £6.99, Wine Rack (opens in new tab)
Best summer wines: Left Field Albarino
This Albarino hails from new Zealand, not Spain. It's light and citrusy with hints of peaches, limes and melon. This would be great with salmon, chicken or recipes that need a white wine with body. £11.99, Wine Rack (opens in new tab)
Best summer wines: Exquisite Collection Côtes de Provence Rosé 2017
With its delicate strawberry flavours, you'll be hard-pressed to find a Provence rosé at this price. £6.49, Aldi (opens in new tab)