Marks & Spencer Black Friday: the best early deals to shop now
Can't wait for the Marks & Spencer Black Friday deals? Here are some amazing early savings ahead of the big day.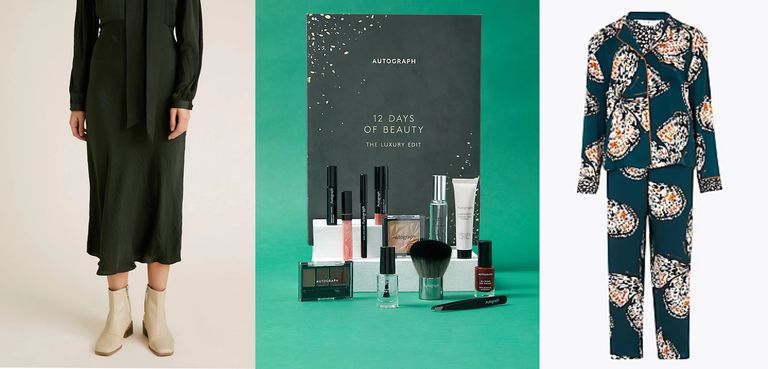 (Image credit: M&S)
When it comes to pre-Christmas discounts, M&S don't skimp on the savings. And with the best Black Friday deals just a few days away, we're sure that Marks & Spencer are about to kick their amazing deals up a notch.
Whether it's their perpetually chic collaboration with Holly Willoughby, or their gorgeous M&S Beauty Box, we're already making note of the bargains we hope to find among this year's Marks & Spencer Black Friday deals.
But don't worry if 27 November seems too long to wait. Because the brand already have some great products on offer right now. And if their Black Friday deals are half as good, consider us happy.
Early M&S Black Friday deals – quick links:
---
M&S Black Friday: our top deals
12 Days of Beauty Advent Calendar Gift Set, £70 £21 (save £49)| Marksandspencer.com
This year's Autograph 12 Days of Beauty Advent Calendar is brimming with beauty treats to see you through the festive season. Containing 12 luxury Autograph minis all individually boxed and numbered, you'll find everything from lip lacquer to smoothing primer inside the gorgeous gift set. And it's now an incredible 50% off at M&S. Reduced from £70 to just £35, it's going straight in our basket ahead of the festive season.
Double Breasted Longline Coat with Wool, £95.00 £69.30 (save £29.70)| Marks & Spencer
This classic longline wool blend coat will never go out of style, plus the gorgeous mustard change add a pop of colour to everyday outfits. And it's now an incredible £29.70 off ahead of Black Friday. View Deal
Percale 300 Thread Count Duvet Cover Double, £60.00 £36.00 (save £24) | Marks & Spencer
With a thread count of 300, you know this cotton duvet is going to be delightfully cosy. Available in white and light grey, treat yourself to a better night's sleep with this dreamy set, which will save you £24 - lovely!View Deal
Do Marks & Spencer do Black Friday?
Marks & Spencer don't officially take part in Black Friday, but they do tend to offer some fantastic reductions over the same period. In the run up to Christmas M&S have been known to offer savings including 50% off homeware, as well as 3-for-2 on cosy winter hats, scarves and gloves.
Last year M&S said that they had ditched a traditional Black Friday offering in favour of fantastic savings throughout the year – so expect the deals to be regularly rolling in throughout November and December. We'll be keeping you abreast of all the best savings from Marks & Spencer in the coming weeks – so be sure to bookmark this page, and check back regularly.
In place of last year's Black Friday sale, M&S were offering customers deals on Christmas wine, as well as 50% off furniture and 20% off their gorgeous beauty gift sets. So while they don't 'do' Black Friday per se, that doesn't mean there aren't some incredible savings to be found.
Will there be online and in-store sales during Marks & Spencer Black Friday?
Yes, M&S normally do in-store and online sales, with crowds often lining up around the block to bag the best bargain.
But with the ongoing pandemic, you may prefer to shop online, as opposed to trawling the high-street with the crowds of shoppers.
Which is why we'll be sharing our pick of the best bargains at M&S during Black Friday – so be sure to bookmark this page and keeping checking back as we begin to add the first early deals to this page.
Marks & Spencer Black Friday deals: what we expect to see
We love Marks & Spencer for everything from their underwear to their fashion and furniture. So when it comes to their Black Friday deals for 2020, expect great savings across all departments.
Among the best deals in last year's M&S pre-Christmas discounts was their Formula 12 Days Of Beauty Advent Calendar – hugely reduced from £96 to just £30. That's an incredible saving of £66 before advent had even begun! And with the retailer stocking some of the best beauty advent calendars 2020, you're sure to find some amazing beauty bargains this year too.
There were also some great haircare discounts up for grabs in last year's sale. So we're hoping to see this luxe Aveda Invati Advanced™ 3 Step Set, currently £99, on offer in the next few weeks. Not to mention we're eyeing up the Autograph 12 Days of Beauty Advent Gift Set.
But you don't have to wait until Black Friday to take advantage of the M&S discounts. The retailer already have some amazing offers on everything from chic ankle boots to smoothing shapewear.
Will all of Marks & Spencer's departments be on sale during Black Friday?
Yes - normally during the Marks & Spencer Black Friday sale, all departments see discounts - which means deals in homeware, fashion, beauty, shoes and lingerie.
Normally, the best discounts can be found in M&S's beauty and fashion departments, making it a great opportunity to pick up some bargains for your winter wardrobe and skincare regime!
Some amazing money off can be seen in their homeware department as well, which normally sells the higher-ticket items.
Thus far, M&S haven't done any deals on their food during Black Friday, but we'd love to see some offers this year! Fingers crossed...
Will M&S be taking part in this year's Cyber Monday deals?
Last year, Marks & Spencer didn't officially take part in Cyber Monday, but with most of our Christmas shopping taking place online this year, that's definitely liable to change.
M&S may state that they do not officially take part in the Cyber Monday sales, but you'd be forgiven for thinking they do – given the many deals that were on offer at the retailer over Cyber Week last year.
But with in store footfall down, something tells us that this year's Cyber Monday deals at M&S are set to be the best yet.
If you can't quite wait until then, though, here are some of the best deals to snap up at M&S right now.
Best Marks & Spencer deals ahead of Black Friday 2020:
Polka Dot Belted Midaxi Shirt Dress £49.50 £34.65 (save £14.85) | Marks & Spencer
M&S are offering a brilliant 30% off selected dresses ahead of Black Friday, and this chic polka dot blended shirt dress is top of our wish list. View Deal
Medium Control Secret Slimming™ Full Slip A-E, £29.50 £20.65 (save £8.85)| Marks & Spencer
M&S are offering some brilliant deals on shapewear ahead of party season, and we can't wait to get our hands on this full slip – now a brilliant £8.85 off. View Deal
Alpaca Textured Button Front Cardigan, £59 £41.30 (save £17.70)| Marks & Spencer
This blue alpaca cardigan is just the sweetest. Made sweeter by the fact that it's now £17.70 off. View Deal
Checked Relaxed Shacket, £69 £48.30 (save £20.70) | Marks & Spencer
Over shirts are the new overcoats, and we love this checked shacket from Per Una. Now a brilliant £20.70 off, it's going straight in our basket. View Deal
Set of 3 Carbon Steel Roasting Trays, £25 £15.00 (save £10) | Marks & Spencer
Get ready to perfect your Sunday roast with this set of tins. A kitchen essential, they have a non-stick finish and are super easy to clean. Save yourself a tenner and grab them now!
Minimalistic Pendant Light, £49.50 £29.50 (save £20) | Marks & Spencer
This simple ceiling light will give your kitchen or dining room a contemporary touch. Available in black or white for a minimalistic finish.View Deal