We can't stop thinking about Kate Middleton's bright orange beaded bag with the glorious wooden handle
Summer handbag inspiration has officially struck thanks to the Princess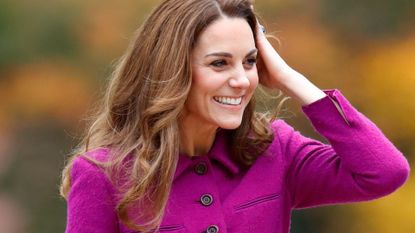 (Image credit: Getty Images)
Even though she wore it a while back, we still can't stop thinking about Kate Middleton's orange bag. Here's where you can buy the highly coveted summer purse.
There's a wide range of summer handbags to choose from out there. You could opt for a rattan bag, a light leather crossbody, or even a large beach bag for those long-awaited days spent in the sun. Needless to say, with all of the options, it can be hard to narrow down a select few that are suitable for our wardrobes this summer - and we hit the jackpot after seeing Kate Middleton's romantic orange bag.
Kate's stylish outfits always impress us, but this beaded dream bag certainly tickled our fancy the second we laid eyes on it. Kate sported the bag in Jamaica while visiting the Shortwood Teacher's College - but you certainly don't have to be on royal engagement to add this super stylish bag to your fashion arsenal.
This beautifully handcrafted bag is vintage and the orange color alone is enough to make the bag an enviable item, but add in the beaded, summery detailing and it's another level!
As if those details weren't enough, the bag's bamboo handle is super trendy, calling to some recently released Gucci handbags that have been on the rise in popularity. Plus, for all of the folks out there who need a bag that fits a variety of personal items, this bag has a pretty large central compartment - so yes, you can fit your tissues, lip balms, gum, mini hairbrush, phone, wallet, and whatever other items you have floating around in your bags in there.
This bag is the perfect summer accessory for any occasion - so whether you're sporting a flowy white dress or a pair of cutoffs and a button-down, this bag is sure to elevate any outfit combo you throw its way.
Just look at Kate's outfit - although her white pantsuit and blouse are undoubtedly gorgeous, the bag is the perfect supplement for what would have otherwise been a fairly lukewarm look.
Side note: does looking at this bag make anyone else crave an Aperol Spritz?
Since this bag is vintage and was manufactured in Japan in the '60s by the brand Wayne Taylor, it's slightly difficult to source - especially seeing as virtually anything the Princess wears sells out in mere hours if the public gets wind of it. No need to worry though, friends, we have sourced the bag and it is available to purchase for any and all summer wardrobe needs.
---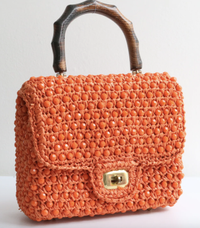 "RAFFIA & BEADS" VINTAGE 1960'S RAFFIA BEADED WOODEN HANDLE BAG, $290 | Willow Hilson Vintage
This wonderfully bright 1960's handbag, made up of knotted and woven raffia interlinked with faceted plastic orange beads in a vibrant shade of orange, is the perfect statement piece for your every day wardrobe.
Madeline Merinuk is woman&home's US lifestyle news writer. She covers celebrity, entertainment, fashion, and beauty news but is also obsessed with internet trends - you can find her reciting trending TikTok sounds out loud at any given time.
After winning multiple student journalism awards for her investigative work, she graduated from Hofstra University in 2021 with a B.A. in Journalism. After graduating, she worked at today.com, the digital site for the Today Show, where she wrote pop culture news and interviewed big-name personalities like Emily Ratajkowski, Haley Lu Richardson, Emma Corrin, and more.
Her personal interests, in no particular order, are: cheese, Joni Mitchell, reading, hot yoga, traveling, having multiple chapsticks in every handbag at all times, and dancing to ABBA songs as if she were in the Mamma Mia movies.