Sarah Jessica Parker's sparkly cowboy boots on the set of And Just Like That are what dreams are made of
Sarah Jessica Parker's sparkly cowboy boots are everything we've ever wanted in a pair of shoes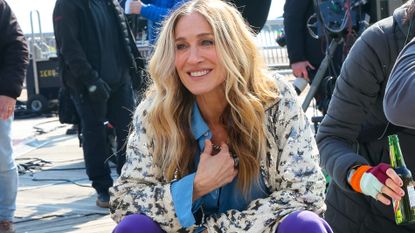 (Image credit: Getty Images)
Carrie Bradshaw is seemingly adding a hint of sparkle to her looks for the next season of And Just Like That..., as Sarah Jessica Parker's sparkly cowboy boots served serious shimmer on set.
And Just Like That... has been filming on the streets of New York City for the last few months, and fans have been graciously gifted lots of behind the scenes photos from shooting.
So far, we've seen some pretty juicy pics of old flames Carrie and Aidan, some shots of Carrie walking out in the rain, wearing a slicked-back wet hairstyle - and now, we have been graced with even more Carrie and Aidan content plus some seriously incredible shoe inspiration from Sarah Jessica Parker.
While filming on February 21, Sarah Jessica Parker (Carrie) and John Corbett (Aidan) were seen filming on what appears to be a pier in New York on what was a rather gloomy day.
In the picture, Carrie is, of course, wearing a famously fabulous outfit, despite the dreary weather. For a top, she's wearing a Commes de Garcon blue button-up, a long duster-cardigan, both paired with purple, oversized pants.
However, the true star of Carrie's look is her $595 SJP Label silver boots, which slouch perfectly above the ankles. The bedazzled boots are also covered in small sequins, adding even more texture to her outfit.
If you want to learn how to dress like Carrie Bradshaw, the important thing to remember is that mixing and matching different textures, patterns and styles is what Carrie does best - her infamous unconditional love for style always comes through, and this outfit is no exception.
One of the biggest shock factors of And Just Like That... season two thus far is that exes Aidan Shaw and Carrie Bradshaw appear to be back together, as there have been multiple sightings of the two filming together throughout New York, kissing and hugging.
Oh, and did we mention the season hasn't even aired yet, let alone released a premiere date? All we can say is we hope that we don't have to suddenly say goodbye to another one of Carrie's love interests.
However, Carrie isn't the only one to sport the sparkly shoe trend recently.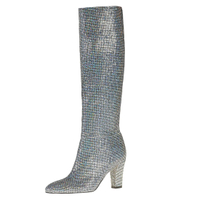 (opens in new tab)
Studio Boots, $595 | SJP by Sarah Jessica Parker
Sarah Jessica Parker's SJP Studio boots feature a dazzling outer with a chic almond toe and high heel, 'inspired by the glitz and glamour" of Studio 54 in New York. So Carrie Bradshaw! Some of the best knee high boots for the new season, these can be teamed with skinny jeans or a chic leather skirt for a Carrie-inspired look.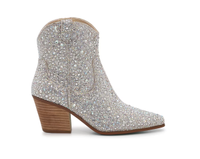 (opens in new tab)
Betsey Johnson Emory Rhinestone Western Boot, $150 | DSW (opens in new tab)
Make a statement in the Emory Rhinestone Western boots from Betsey Johnson. These cowboy-inspired kicks are encrusted with rhinestones to add a bit of glam. Some of the best cowboy boots for spring, when it comes to how to wear cowboy boots for warmer months, these are great teamed with jeans or cut offs for a festival-ready feel.
In December 2022, Philippine Leroy-Beaulieu, who plays Sylvie in hit Netflix show Emily in Paris, was seen wearing sparkly silver boots at 92NY, paired with a blue shirt dress - looking chic as usual.
Even though sequins are usually reserved for red carpets and special events, they're certainly making a comeback this year - just in a more subtle way, and on the feet rather than on perhaps a dress or shirt.
Madeline Merinuk is woman&home's US lifestyle news writer. She covers celebrity, entertainment, fashion, and beauty news but is also obsessed with internet trends - you can find her reciting trending TikTok sounds out loud at any given time.
After winning multiple student journalism awards for her investigative work, she graduated from Hofstra University in 2021 with a B.A. in Journalism. After graduating, she worked at today.com, the digital site for the Today Show, where she wrote pop culture news and interviewed big-name personalities like Emily Ratajkowski, Haley Lu Richardson, Emma Corrin, and more.
Her personal interests, in no particular order, are: cheese, Joni Mitchell, reading, hot yoga, traveling, having multiple chapsticks in every handbag at all times, and dancing to ABBA songs as if she were in the Mamma Mia movies.