New York Fashion Week proved that this spring's unlikely fashion trend is... eggs
Eggs appeared to be an unexpected theme at New York Fashion Week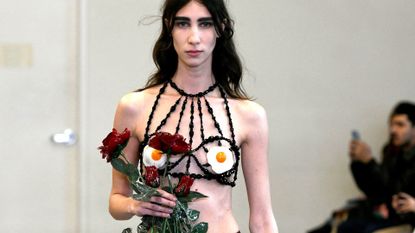 (Image credit: Getty Images)
An emerging trend is on the horizon, and we really weren't egg-specting it. (We're sorry in advance for the egg puns.)
While New York Fashion Week 2023 highlighted so many new trends you can shop now, as well as street style everyone is wearing, it turns out that eggs might be making their way into our wardrobes.
Eggs are a staple in most refrigerators. They're perfect as a breakfast food, as a baking ingredient... the list goes on and on. One thing, however, we never expected eggs to be was fashionable.
A few months ago, we saw a TikTok on the account @nailedbynika of a nail artist creating a 3D egg on an acrylic nail. It was actually pretty cute, in a surrealist, supermarket fashion kind of way.
This wasn't a super shocking or questionable design in our opinion, seeing as we've seen a myriad of quirky patterns become popular over the last few years - for example, cow print, or even the very controversial emergence of chevron.
Lisa Says Gah!, a popular, ethical fashion brand that sells their products mainly online, also indulges in selling clothes with fun, food-related patterns. They have a popular white t-shirt called their Dana Long Sleeve with a baguette on it, for example - or you could peruse their Italian Summer Collection, which has prints on pants, shirts, and dresses that feature cans of sardines, bottles of wine, grape tomatoes, and more.
Recently, at the Puppet and Puppet show at New York Fashion week, we saw another food-related clothing item emerge - an egg bra. Pictured above, this egg bra was made with a group of variously shaped black crystals, and boasts sunnyside eggs in a position that perfectly covers the model's nipples.
Some models were given egg bras that only had one egg-nipple covering (this is not a sentence we ever thought we'd say), and some were displaying the egg bra in its full force, with a sunnyside covering both nipples.
Now, we're not saying that we're going to emerge from our boudoirs in egg bras just yet - but we're certainly considering it, given how strangely chic these models look in them.
We also saw TikToker @cheyennejazwise make her own dress with an egg pattern, which she said had a '60s inspired silhouette.
"I don't know where you'd find one but this needs a bacon belt," someone commented.
Even on Etsy, sellers are creating earrings and other accessories that have sunnyside eggs on them, only further proving that this egg-cellent fashion choice will probably emerge a trend in the next few months.
Also, we know it's sort of ironic to predict that an eggs could be the next fashion "it" trend, considering the price of eggs seems to keep rising by the day - but hey, if you can't beat them, be them.
Madeline Merinuk is woman&home's US lifestyle news writer. She covers celebrity, entertainment, fashion, and beauty news but is also obsessed with internet trends - you can find her reciting trending TikTok sounds out loud at any given time.
After winning multiple student journalism awards for her investigative work, she graduated from Hofstra University in 2021 with a B.A. in Journalism. After graduating, she worked at today.com, the digital site for the Today Show, where she wrote pop culture news and interviewed big-name personalities like Emily Ratajkowski, Haley Lu Richardson, Emma Corrin, and more.
Her personal interests, in no particular order, are: cheese, Joni Mitchell, reading, hot yoga, traveling, having multiple chapsticks in every handbag at all times, and dancing to ABBA songs as if she were in the Mamma Mia movies.