Lizzo's shimmering sheer pink leotard is absolutely fabulous
Lizzo took to the stage in a seriously fabulous outfit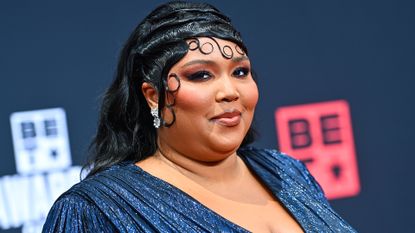 (Image credit: Getty)
Lizzo is no stranger to wearing daring looks for performances, red carpets, and events - but it's about damn time she showed up in a sexy leotard like this one.
If there's one thing we're certain of with Miss Lizzo, it's that she's going to show up everywhere from red carpets to concerts looking fabulous. Her most recent performance in Milan at Mediolanum Forum of Assago was certainly no exception.
The star, who recently revealed that her and Adele love to drink wine together, is currently on her world tour, titled the Special tour, and her most recent stop was Milan - where they coincidentally are on the curtails of Milan Fashion Week. In true Lizzo style, she stepped out in a daring, pink look that left audiences enamored - dare we say it, she looked good as hell.
The singer, who always exudes confidence on and off stage, absolutely rocked the semi-sheer body suit, which featured pink paneling that didn't leave much to the imagination.
She paired the iconic full-body leotard with chunky pink boots that matched her ensemble perfectly, and chose to go for some simple gold hoops to not distract from the rest of the look. Plus, fans got to see more pics of her new, stunning bob haircut, which is a hair trend of 2023 that keeps climbing the popularity charts.
This isn't the first time Lizzo has stunned in this style of sheer bodysuit, though. In fact, Lizzo wears bodysuits like this quite often at her concerts, the only difference being the color. For example, one night, she donned this same look, boots and all, but color scheme was bright, neon yellow instead of pink.
"Oh so you've got one of these in every color!!!! ❤️❤️❤️ LOVE this look," someone commented on one of her Instagram posts where she's wearing the bodysuit.
At this same concert, she also sweetly hugged a fan in the audience, graciously responding to the woman's sign that said, "can I have a hug?" She posted a video of the encounter and recalled how special the moment was to her.
"Last night while singing Special I felt like someone in the crowd really needed to hear that message.. then later in the show I saw a sign that said "can I have a hug?" and I knew exactly who that message was for. Thank uuu Milan 🎶sei bellissima🎶," Lizzo's caption said.
Her backup dancers wore similarly incredible outfits. They followed suit of Lizzo in wearing outfits with skin-revealing paneling, but they sported it in the form of crop tops and blue hot pants.
Lizzo is currently on the European leg of her Special tour, which will end in mid-March after she hits cities like London, Dublin, and Paris. Plus, if Lizzo's sheer pink bodysuit and European concerts weren't amazing enough, she'll be hitting the US in April, starting in Knoxville, Tennessee for her North American leg of the tour.
Madeline Merinuk is woman&home's US lifestyle news writer. She covers celebrity, entertainment, fashion, and beauty news but is also obsessed with internet trends - you can find her reciting trending TikTok sounds out loud at any given time.
After winning multiple student journalism awards for her investigative work, she graduated from Hofstra University in 2021 with a B.A. in Journalism. After graduating, she worked at today.com, the digital site for the Today Show, where she wrote pop culture news and interviewed big-name personalities like Emily Ratajkowski, Haley Lu Richardson, Emma Corrin, and more.
Her personal interests, in no particular order, are: cheese, Joni Mitchell, reading, hot yoga, traveling, having multiple chapsticks in every handbag at all times, and dancing to ABBA songs as if she were in the Mamma Mia movies.