Laura Ashley's new archive inspired collection is utterly divine, capturing the romantic heritage of the brand
History has never looked so fashion-forward!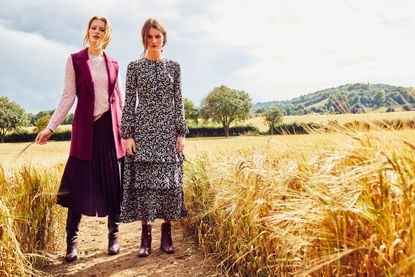 Launching October 16th in store and online, Laura Ashley debuts thePimlico Collection, a vintage-inspired capsule range that's been heavily influenced by the brand's extensive archive of iconic floral prints.
So, why is Laura Ashley's new collection called Pimlico? Well, the range is named after the area where THE Laura Ashley lived and worked, and is a nod to the brand's heritage, but also to its continued relevance today.
Boasting a rich palette of berry shades, from deep mulberry to antique rose with highlights of buttery clotted cream and warm black - every piece makes our Autumn/Winter wish list! The statement styles can be mixed and matched within the collection, but if your budget (or your closet) doesn't stretch to accommodate every piece, they'll work as staple pieces in your current wardrobe too.
Vanessa Page, Head of Fashion at Laura Ashley, told us about the inspiration behind the collection:
"This collection encapsulates the romantic heritage of the brand, with beautiful archival prints reworked in modern shapes for a fresh take on this enduring trend".
MORE:The Duchess of Cambridge stuns in high street fashion as she steps out at National History Museum (opens in new tab)
Sizes range from 8-20. And prices start from a very affordable £1o for tights and go up to £110 for dresses. The average price point hovers around £55 for trousers and blouses. Not all the pieces have landed in store and online yet, at the time of writing there were 20 available, including this beautiful tiered swirling ditsy dress.
SHOP NOW: Dress, £110 (opens in new tab)
As you might expect, velvet is a key material in the Laura Ashley Archive collection. The soft velvet flares are a standout piece for us, currently only showing online in black, but the collection look book shows them in a rich berry shade too, so watch that space.
SHOP NOW: Velvet Flares, £60 (opens in new tab)
When it comes to patterns and prints you can look to the Laura Ashley Archive collection for all your winter floral desires. Think romantic roses trailing across frilled sleeve prairie dresses and white ruffle neck blouses with lace garnishes that add a bit of demure glamour to proceedings. Of course, the collection wouldn't be complete without some heritage checks, but they've been modernized with a monochrome twist.
For daytime dressing there's a sharp knife pleat skirt, which looks elegant, and stylish. And a fluid wool waistcoat not yet online (but pictured at the top of the article) that will be a great layer to throw on as the temperature cools. We particularly like the pointelle sweater too, which could be a very versatile addition to a wardrobe, and one that will appeal to many people. That's the lovely thing about this collection actually, most of the pieces feel ageless, and will be worn by stylish women of every decade.
SHOP NOW: Skirt, £70 (opens in new tab)
SHOP NOW: Pointelle sweater, £55 (opens in new tab)
SHOP NOW: the whole Pimlico archive collection (opens in new tab)
The first drop of the Laura Ashley Archive Pimlico collection was October 16th, but more pieces will be added over the coming weeks. Find it in store or online now.
Millie Gooch worked at woman&home as a fashion writer and stylist and has worked on numerous shoots for the brand. As a freelance journalist, Millie has written for a range of publications, including, ELLE, Stylist, the BBC, and the Evening Standard.
Millie is also the founder of Sober Girl Society, an online collective of women who don't drink alcohol. Millie's debut non-fiction book, The Sober Girl Society Handbook, is a bestselling manual to navigating life as a young and sober woman. Millie gave up alcohol back in February 2018 and has since dedicated her career to changing perceptions around sobriety.