Kate Middleton's pastel pink pantsuit reigns supreme as the chicest summer outfit
Coastal grandmother vibes... but make it royal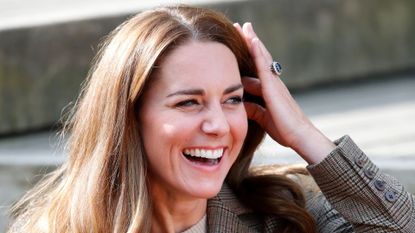 (Image credit: Max Mumby/Indigo/Getty Images)
We haven't been able to stop thinking about Kate Middleton's pastel pink pantsuit - here's where to buy one of your own.
Dressing for special occasions in the summer can be difficult. Luckily, pantsuits and even shortsuits (yes, a pantsuit with shorts in lieu of long pants) are becoming increasingly popular for summer months - and we keep going back to one of Kate Middleton's for inspiration.
Kate Middleton is, of course, a constant source of summer style inspiration for us, from her casual, classic Veja sneakers and bohemian sunhat, to her vintage, beaded purse - but this pantsuit takes the cake as her chicest summer look of all (in our humble opinion).
Let's just take a moment to pause and reflect on how insanely gorgeous this suit is.
She wore this outfit last June when she hosted a roundtable conversation with government ministers to talk about early childhood development, a cause Princess Catherine has been openly passionate about. She paired the baby pink suit with a white blouse underneath the blazer, as well as a pair of suede, pink pumps from Emmy London.
For jewelry, she kept it classy and simple with a diamond pendant necklace and earrings from London-based jeweler Mappin & Webb.
The suit itself, which is giving the perfect mixture of Elle Woods and coastal grandmother vibes, is from designer Alexander McQueen - which, of course, makes the suit itself quite difficult to shop. As one might imagine, it is also fairly hard to find matching pink pastel sets, especially in more summer-friendly fabrics like linen. But don't fret, dear reader - after some investigating, we found some near-perfect matches to Kate's stylish pink ensemble.
---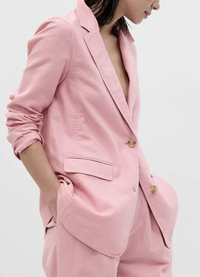 Linen-Cotton Blazer in Rose Crystal Pink, $128 | Gap
This blazer features a straight silhouette with a loose fit, as well as a breathable linen fabric, perfect for summer months.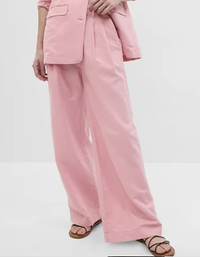 Linen Cotton Pants in May Pink, $89.95 | Gap
These trousers are relaxed through the hip and thigh, giving a breathable and comfortable wear.
If you're looking to find a suit that will withstand the true test of time in terms of quality and style, you can check out some pricier options from designers like Veronica Beard, who has a matching, pink jacket ($698) and pants ($398), or this sleek set of a jacket ($297) and pants ($210) from trendy designer Alice & Olivia.
Kate Middleton isn't the only celeb to rock a pantsuit for the warmer months, either - we've also seen the likes of Priyanka Chopra and even Viola Davis wearing brightly colored pantsuits. This only further proves that pantsuits and shortsuits are truly going to be the "it" wardrobe essentials of the summer - so we'd suggest going to find your perfect one now before they gain even more popularity.
Madeline Merinuk is woman&home's US lifestyle news writer. She covers celebrity, entertainment, fashion, and beauty news but is also obsessed with internet trends - you can find her reciting trending TikTok sounds out loud at any given time.
After winning multiple student journalism awards for her investigative work, she graduated from Hofstra University in 2021 with a B.A. in Journalism. After graduating, she worked at today.com, the digital site for the Today Show, where she wrote pop culture news and interviewed big-name personalities like Emily Ratajkowski, Haley Lu Richardson, Emma Corrin, and more.
Her personal interests, in no particular order, are: cheese, Joni Mitchell, reading, hot yoga, traveling, having multiple chapsticks in every handbag at all times, and dancing to ABBA songs as if she were in the Mamma Mia movies.