Kate Middleton's bohemian sunhat is the perfect vacation accessory
We're obsessed with Kate Middleton's straw sunhat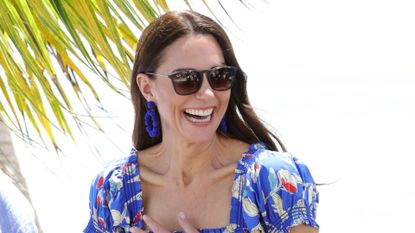 (Image credit: Getty Images)
Kate's stunning sunhat is giving us serious beach day outfit inspiration.
Everyone knows that protecting your skin during the hot, summer months is of the utmost importance. The number one rule for skin protection is to wear an effective sunscreen on your face and body, but there are some other measures you can take. Others might choose to sit under the shade, or even wear a hat to cover their face from the sun - which just so happens to be the method Princess Catherine prefers.
We would expect Kate to have a perfectly chic summer hat, and she certainly pulled through with some inspiration for us.
Kate's hat is truly the perfect size - not too big, but big enough that it covers her whole face from the sun. It also proves to be a wardrobe essential, perfect for any occasion with its black ribbon accent circling the perimeter. It also perfectly captures the still-trendy Coastal Grandmother aesthetic - which, let's be honest, we're all still trying to achieve for summer 2023.
Buying a sun hat can certainly be a bit of a trial and error process, seeing as there's definitely a fine line between too floppy and not floppy enough, which can unfortunately force the hat into fedora territory.
Kate's specific hat is from L.K. Bennett and costs $125 (£100) - but if you're not in the market to spend $125 (£100) on a hat, though, don't worry, we've got you covered with a cheaper option.
---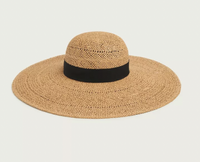 Saffron Straw Floppy Sun Hat, $125 | LK Bennett
A floppy straw sun hat is full of vintage charm, and the Saffron hat absolutely takes on that glamour. Crafted from natural woven straw, it's a wide-brimmed, floppy style with a round crown and is finished with an elegant navy blue ribbon. Shade seekers will love it.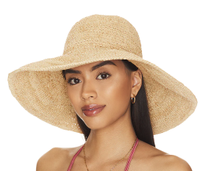 Seafolly Coastal Raffia Hat, $59 | Revolve
Seafolly has been at the epicentre of Australian beach lifestyle since 1975 and has quickly become one of the most recognized swimwear and beach lifestyle brands world-wide.
If you're thinking to yourself that hats look bad on you, or perhaps you feel as though you don't know how to style a hat, this floppy sunhat style is universally flattering - take a leaf out of Kate's book!
Madeline Merinuk is woman&home's US lifestyle news writer. She covers celebrity, entertainment, fashion, and beauty news but is also obsessed with internet trends - you can find her reciting trending TikTok sounds out loud at any given time.
After winning multiple student journalism awards for her investigative work, she graduated from Hofstra University in 2021 with a B.A. in Journalism. After graduating, she worked at today.com, the digital site for the Today Show, where she wrote pop culture news and interviewed big-name personalities like Emily Ratajkowski, Haley Lu Richardson, Emma Corrin, and more.
Her personal interests, in no particular order, are: cheese, Joni Mitchell, reading, hot yoga, traveling, having multiple chapsticks in every handbag at all times, and dancing to ABBA songs as if she were in the Mamma Mia movies.