Julianne Moore makes a strong case for smart-casual dressing with white wide-leg jeans at Cannes
We never knew a pair of white jeans could look so good!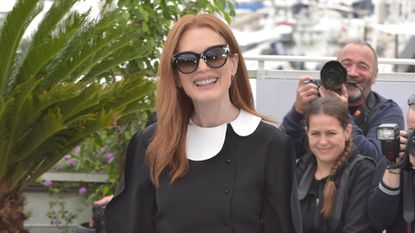 (Image credit: Getty Images)
Julianne Moore debuted a super chic pair of white, wide-leg jeans at Cannes proving that the smart casual look always looks good, whatever the occasion.
The Cannes Film Festival always serves up chic looks for us to admire, and this year has been no exception. So far, we've gotten to witness Helen Mirren's blue-gray hair, and Katie Holmes's super sexy black blazer - but that only scratches the surface of the fabulous looks that have been displayed so far.
Although many of the looks at Cannes tend to be glamorous, there is also room for some more casual looks - which is favorable for us, seeing as these outfits are way easier for us to draw inspiration from. Julianne Moore, for example, debuted a super chic outfit on May 22 at Cannes, and it's about to be our go-to look for the summer.
For the photocall of Julianne's upcoming film, May December, which also stars Natalie Portman, the A-list actress wore a chic outfit comprised of white wide-leg jeans and a fab black blouse with white detailing.
There is truly no color combo that is more universally chic than black and white, and Julianne took this in her stride - but added a modern touch to her look with the trendy cut of her wide-leg jeans. So, if you've been wondering how to style wide-leg jeans, take Julianne as a source of inspiration.
If you've been on the internet at all in the last two years, you know that there is quite a debate continuing to brew about whether skinny jeans are now a fashion faux pas. Perhaps Julianne Moore just silently made her claim in the debate.
There are so many upsides to wearing wide-leg jeans, the two most prominent being that they're generally more comfortable and that they add a certain modern flair to any look.
---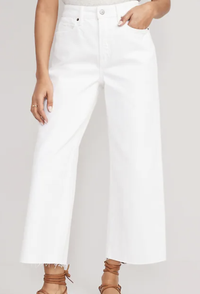 Extra High-Waisted Cropped White Wide-Leg Cut-Off Jeans for Women, $50 | Old Navy
These wide leg white jeans hit right above the ankle and sit naturally at your waist, making for a perfect addition to any capsule wardrobe.
For Julianne's Cannes look, she paired her white, floor-length jeans with a black blouse that boasted puffy sleeves, button detailing, and a white asymmetrical collar - still looking chic and tailored without the fuss of a glamorous gown.
Since her pants go all the way to the ground, it's impossible to see the star's shoes - but we'd like to assume she was wearing some strappy black heels. As for the accessories that could actually be seen, the star wore a pair of large Louis Vuitton sunglasses, as well as some dainty silver hoops, keeping her blouse and her jeans the stars of her sartorial show.
Madeline Merinuk is woman&home's US lifestyle news writer. She covers celebrity, entertainment, fashion, and beauty news but is also obsessed with internet trends - you can find her reciting trending TikTok sounds out loud at any given time.
After winning multiple student journalism awards for her investigative work, she graduated from Hofstra University in 2021 with a B.A. in Journalism. After graduating, she worked at today.com, the digital site for the Today Show, where she wrote pop culture news and interviewed big-name personalities like Emily Ratajkowski, Haley Lu Richardson, Emma Corrin, and more.
Her personal interests, in no particular order, are: cheese, Joni Mitchell, reading, hot yoga, traveling, having multiple chapsticks in every handbag at all times, and dancing to ABBA songs as if she were in the Mamma Mia movies.