Katie Holmes' super sexy Cannes look has us rushing to buy a black blazer asap
Très chic, no?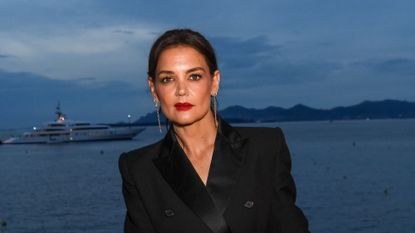 (Image credit: Getty Images)
Katie Holmes recently attended the Cannes film festival in one of our favorite looks - a sexy black blazer.
Katie Holmes is always wearing looks that we simply adore. Her style is effortlessly cool, while still maintaining an air of sophistication and elegance, a yin-yang that is not so easy to pull off. From her funky zebra pants to her beloved wide-leg trousers, the star is always wearing enviable items - and her most recent look from the Cannes film festival remains no exception.
Katie's new look added yet another layer to her already versatile fashion repertoire as she sported a stunning black suit at the 'Women's Stories Gala' in partnership with Vanity Fair Europe at the Hotel du Cap-Eden-Roc on May 18.
The black blazer she's sporting has satin lapels, as well as a tailored silhouette that perfectly accentuates her waist. She also chose a black pencil skirt that had a slit going all the way up to about her mid-thigh - the perfect way to show some skin without comprising the elegance of the look.
For shoes, she chose a pair of magenta kitten heels from Manolo Blahnik, a la Carrie Bradshaw. Come to think of it, we'd assume Carrie would have been all over this look back in the '90s.
Katie also carried a black leather clutch bag, and accessorized the stunning look with some dangling silver earrings, as well as slicked back hair (taking a page from Anne Hathaway's "wet" hair look, we see), and totally rocking a bold, matte red lip.
---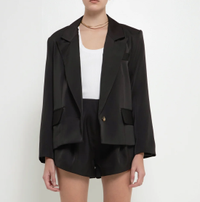 ONE BUTTON SATIN BLAZER, $120 (£96) | Object Rare
Step out in style with this stunning satin blazer. Crafted from satin fabric, it's perfect for any occasion - dress it up or down easily with jeans and white sneakers or a skirt and heels.
Slim '90s Style Pencil Skirt, $69 (£55) | & Other Stories
This fab pencil skirt is perfect for a variety of occasions: work, traveling, errand-running, and more. Just pair it with your favorite basic tee and your favorite pair of sneakers, loafers, or heels. This item would be great in a minimalist capsule wardrobe.
The Cannes Film Festival is, of course, a breeding ground for stunning sartorial displays, but out of everyone's looks so far, we just have to point out that Katie's truly takes the cake in our opinion - second only to Helen Mirren's blue hair, of course.
It also just so happens that the Hotel du Cap-Eden-Roc was also the location chosen for Sofia Richie's wedding - which occurred not long before her father, Lionel Richie, played the during King Charles' coronation concert.
Madeline Merinuk is woman&home's US lifestyle news writer. She covers celebrity, entertainment, fashion, and beauty news but is also obsessed with internet trends - you can find her reciting trending TikTok sounds out loud at any given time.
After winning multiple student journalism awards for her investigative work, she graduated from Hofstra University in 2021 with a B.A. in Journalism. After graduating, she worked at today.com, the digital site for the Today Show, where she wrote pop culture news and interviewed big-name personalities like Emily Ratajkowski, Haley Lu Richardson, Emma Corrin, and more.
Her personal interests, in no particular order, are: cheese, Joni Mitchell, reading, hot yoga, traveling, having multiple chapsticks in every handbag at all times, and dancing to ABBA songs as if she were in the Mamma Mia movies.