I've finally found a style that disguises my tummy so I'm obviously getting it in every colour from the up to 50% off H&M sale
H&M Cyber Monday is here to help us save on all these stylish essentials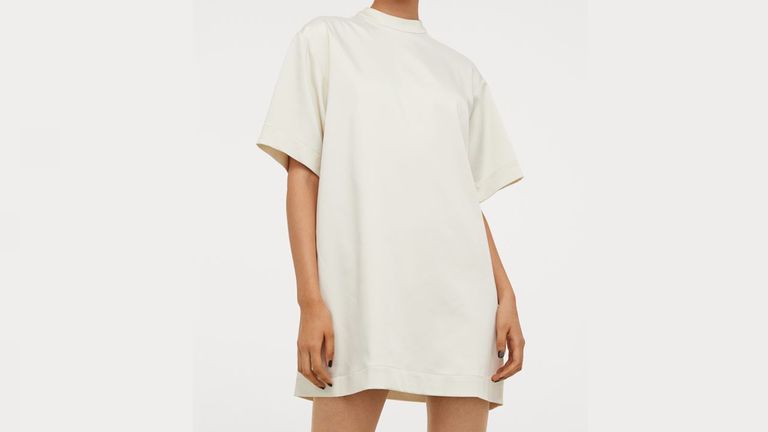 (Image credit: H&M)
When it comes to dressing for our shapes, I think there's one thing we can all agree on - once we find something that suits us we swiftly snap it up in every colour.
So when the H&M Cyber Monday sale dropped, I knew I just had to invest in one of the most flattering dresses I've ever purchased and make some major savings. Finding dresses to hide a tummy isn't always easy, but the high-street reliable makes it a bit easier with their laidback but super fashion-forward edit.
Lockdown has had many of us regress from carefully curated daily midi dress + tights looks, to living in just leggings and a jumper. But after months of being stuck in the house and becoming desperate to get my fashion juices flowing somehow, I found a happy medium in pairing short stylish dresses with comfortable leggings.
And this cream oversized H&M dress has become one of my favourites for its soft and comfy fabric, dressy satin look and chic high neckline that looks fab with a slick of nude lipstick.
---
And with the H&M Cyber Monday discount that the retailer has introduced for members, I am definitely snapping up the classic black version that I can't wait to dress up in with some red lipstick for the winter.
You have to be an H&M member to get the discount, but with the mega savings that there are to be had for Cyber Monday today, it's well worth taking the 60 seconds out to pop your details in and sign up.
Because this dress isn't the only tummy-disguising I've found at H&M. These are all the best bits to shop today...
H&M Cyber Monday sale - quick links
H&M Cyber Monday sale - quick links
H&M Cyber Monday sale: Our favourite up to 50% off picks to hide a tummy
H&M dresses & skirts to hide a tummy
H&M flattering coats & jackets
H&M tops and bottoms to disguise a tummy