Gwyneth Paltrow poses pantless but all eyes are on her cozy sweater
Gwyneth Paltrow posed up a storm for a new Goop campaign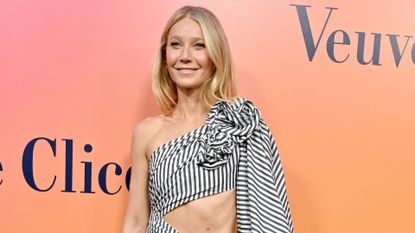 (Image credit: Getty Images)
Gwyneth Paltrow recently posed for a new Goop campaign, and in one of the pictures, she sports a cozy, pantless outfit.
Gwyneth Paltrow undoubtedly initiated the trend of celebrity-founded lifestyle and wellness with brands like Poosh from Kourtney Kardashian and Beginning is Now from Brooke Shields - and that only scratches the surface. One brand, however, paved the way for all of these other celeb-founded brands - Goop, Gwyneth Paltrow's wellness brand that sells a variety of beauty, fashion, sex, and general wellness products, as well as having a blog with helpful lifestyle advice.
In a new fashion campaign for Goop, Gwyneth posed to showcase all of the new clothing drops under Goop's fashion line, G. Label. One of the stunning images features Gwyneth in a cozy, white sweater (which comes in at a whopping sale price of $600), fuzzy Birkenstock-esque slides (a 2023 shoe trend we're loving), a pair of slouchy, white socks - and no pants.
"File under: winter whites. This creamy knit is finished with subtle details, like gently sculpted sleeves and navy seams," the Goop Instagram caption reads.
"Looks like Goop works!" someone commented under the Instagram post, calling to the many lifestyle products Goop sells on their site.
If you're reading this, wondering "What is Gwyneth Paltrow's Goop brand?" don't worry, we'll catch you up to speed. Unlike other lifestyle brands, Goop sells a really wide array of products both from the Goop and G. Label brands themselves, as well as luxury products from other high-end brands.
But be wary - a skincare or wellness product purchased from Goop, even from their generic Goop brand, will probably run you upwards of at least $80. If Gwyneth is anything to go off, though, we would assume the products are pretty good at doing their job.
---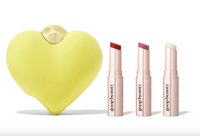 (opens in new tab)
GOOP BEAUTY The Lover Kit, $102.20 | Goop (opens in new tab)
This limited-edition set - launching just in time for Valentine's Day, combines one of the best sex toys - a bestselling clitoral massager - with a tinted lip balm set.
Gwyneth is no stranger to posing either semi-nude or even completely sans clothing. She posted a picture of herself completely nude, covered in gold paint for her 50th birthday in September 2022, which made waves for a myriad of reasons.
Besides being a lifestyle mogul and famous actress, she's also a dedicated mom, with her daughter Apple Martin, 18, emerging on the fashion scene - no doubt with some help from mommy dearest, of course.
Madeline Merinuk is woman&home's US lifestyle news writer. She covers celebrity, entertainment, fashion, and beauty news but is also obsessed with internet trends - you can find her reciting trending TikTok sounds out loud at any given time.
After winning multiple student journalism awards for her investigative work, she graduated from Hofstra University in 2021 with a B.A. in Journalism. After graduating, she worked at today.com, the digital site for the Today Show, where she wrote pop culture news and interviewed big-name personalities like Emily Ratajkowski, Haley Lu Richardson, Emma Corrin, and more.
Her personal interests, in no particular order, are: cheese, Joni Mitchell, reading, hot yoga, traveling, having multiple chapsticks in every handbag at all times, and dancing to ABBA songs as if she were in the Mamma Mia movies.