What is Gwyneth Paltrow's Goop brand and how much do Goop products cost?
What is Gwyneth Paltrow's Goop brand and how much do Goop products cost?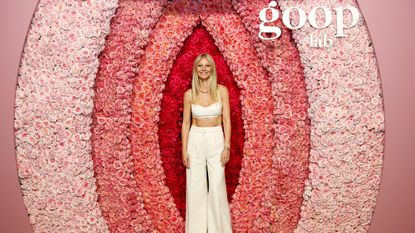 (Image credit: Getty)
Gwyneth Paltrow's Goop brand is known for its unusual scented candles - but what else is there to know about the famous brand?
The brand's focus is alternative wellness, and today it sells everything from home and beauty products to fashion garments - even the best sex toys and best vibrators (opens in new tab).
Gwyneth Paltrow's Goop hit headlines after its vagina scented candle exploded in a fan's living room. The candle, sold by the Hollywood star's lifestyle brand, instantly burst into flames when the woman lit it in her home.
What is Goop and when did Gwyneth Paltrow create it?
Goop was originally founded by Gwyneth Paltrow in 2008.
She launched the brand from her kitchen initially as a weekly wellness newsletter, which later expanded to a website.
According to Gwyneth, the company's name came from someone telling her that successful internet companies have double O's in their name.
In January 2020, Goop began selling a candle called "This Smells Like My Vagina."
This is thought to be based on a joke Gwyneth had with perfumer Douglas Little when they were testing out fragrances.
When the actress found a scent she loved, she said, "This smells like a vagina."
How much do Goop products cost?
The products don't come cheap, the "This Smells Like My Vagina" candle comes in at £69.
For the same price, you can also get a candle called "This Smells Like My Orgasm."
If you want to get your hands on Goop's beauty products and health supplements, they'll set you back a fair amount, too.
A collegen superpowder will cost you £85, while a facial exfoliator will set you back £112.
At the cheaper end of the scale, a salt scrub shampoo costs £38.
Goop hit headlines recently with a vagina candle 'explosion'
On 18 January 2021, it was reported that the vagina-scented candle sold by Gwyneth brand burst into flames in a customer's living room in North London.
The 50-year-old woman, Judy Thompson, won the candle in an online quiz and claimed that suddenly a huge flame shot from the candle when she lit it.
She claimed, "I've never seen anything like it. The whole thing was ablaze and it was too hot to touch. There was an inferno in the room. We eventually got it under control and threw it out the front door."
Luckily the media consultant wasn't harmed and was even able to make light of the situation and even stated, "It could have burned the place down. It was scary at the time, but funny looking back that Gwyneth's vagina candle exploded in my living room."
Robyn is a celebrity and entertainment journalist and editor with over eight years experience in the industry. As well as contributing regular to woman&home, she also often writes for Woman, Woman's Own, Woman's Weekly and The Sun.