5 Pieces That Fake An Hourglass Figure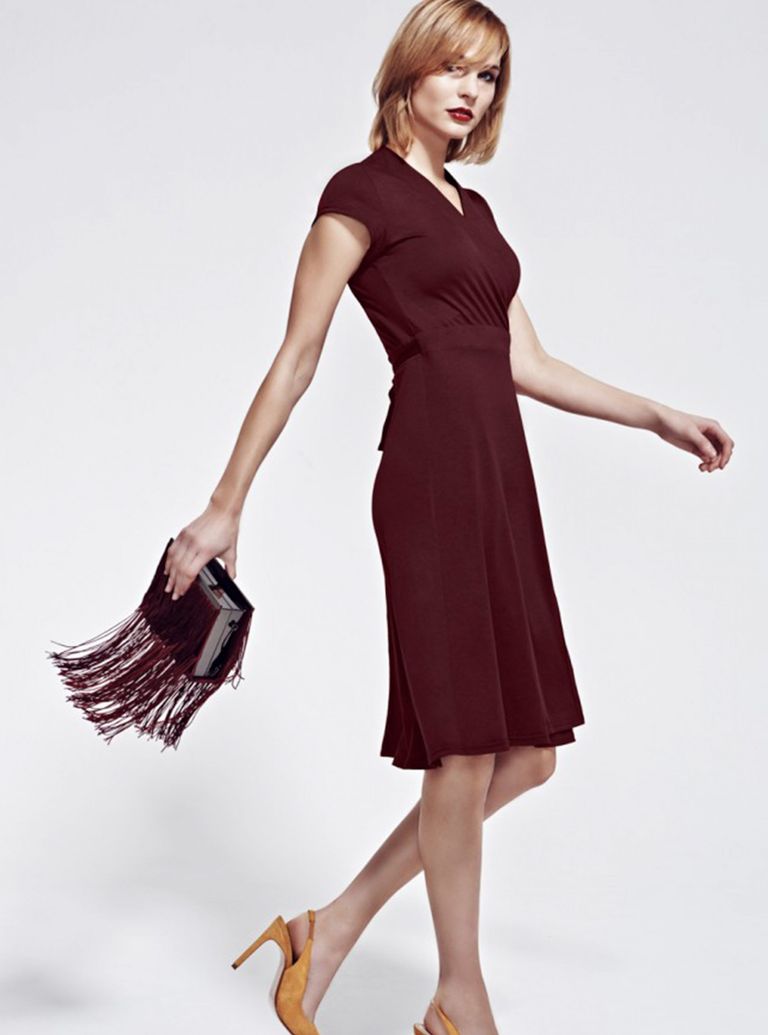 Everyone has their own body shape, but the curvy hourglass figure is something most women long to achieve.
Most ladies dream of having an ultra-feminine hourglass figure with a tiny waist, big hips, full chest and shaply legs. Fortunately, if you don't naturaly possess those curvy proportions, (which less than 10% of the population actually do), there are many ways you can recreate that classic coke-bottle shape with certain clothes and styling tips.
Marilyn Monroe and Elizabeth Taylor were both known for their killer hourglass figures and they also knew how to dress to maximise their incredible curves. Simple styling techniques like adding a belt to accentuate the waist area and wearing fitted tailored clothes can help draw attention to all the right places, and mimic an hourglass look - even if you don't naturally have one!
This wrap dress from Hotsquash is great for creating that hourglass silouhette. Check out our guide on how to fake an hourglass figure with these key pieces:
Belted Cotton Shirt Dress, £42.00, Warehouse
Any item of clothing that nips in at the waist is perfect for creating an hourglass figure. The crisp white shirt dress from Warehouse is great for a dressed down look - pair it with high waisted blue jeans and boots for an off-duty autumn look. The wardrobe addition will compliment your figure by drawing attention to your smallest part - copying that classic hourglass shape that comes in and out again.
Kimberley Jacquard Dress, £139.00, Coast
Skater dresses are a simple way of making you look like you've got a dreamy hourglass figure. The way they are cut, nips in at the middle and then gently flows out to give the illusion of a tiny waist and hips. Getting the proportions right is key for nailing that curvy look - the shoulders should be around the same width as the hips - and the skater style is great at perfecting this!
Peplum Top, £200, Self Portrait at Net-A-Porter
The peplum style is perfect for achieving that hourglass look, as it pulls in at the waist and then gently flares out, giving the illusion of wider hips. This beautiful graphic print top with ruffled crepe detail and delicate embroidery gives the top rich textures and make the top look up-market and classy - perfect for evening drinks or dinner!
Originals Jacquard Contrast Dress, £40, Roman at House of Fraser
The clever black paneling on this dress has the ability to give any figure an hourglass silhouette through an optical illusion of the curved black sides. The pattern essentially paints an hourglass figure onto the dress so no additional styling is even needed once you're wearing it!
Cap Sleeve Wrap Dress, £79.00, Hotsquash
Wrap dresses are ideal for faking an hourglass shape as they draw in at the waist, mimicking that classic coke-bottle shape. This cap sleeve wrap dress is self-tie, offering a flexible fit and it's also got temperature regulating fabric so you'll feel great too!