10 Flattering Printed Trousers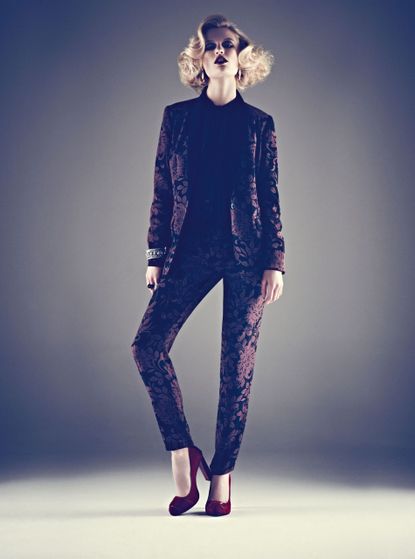 10 stylish printed trousers that you'll want to wear this winter
Ooze confidence and comfort in this season's favourite separate, the best printed trousers. Printed or patterned trousers might sound like a tricky trend but with the right styling - and figure flattering cut - everyone can pull off a pair! Choose a patterned pair to jazz up a block-coloured t-shirt or a neutral pair to go with your patterned tees and blouses. Winter's printed trousers aren't as scary as they seem - this season sees the return of well-cut tailoring embossed with intricate patterns that make a statement without looking too garish. They're great for casual days spent shopping or can be glammed up for occasions and evening wear. The best printed trousers can also be worn throughout the seasons. The long length and flowing material mean that they can be worn with more layers in the winter or strappy top in the summer sun. The trousers are available in an array of colours, prints and patterns that can look elegant and fabulous wherever you wear them. They can be worn with sandals in the summer months, boots in the winter months or high heels on special occasions.
While sometimes new shapes and fashions like this can be daunting to wear to begin with. But read these styling tips and spend time trying on the trousers that you love the most and feel most comfortable in, and you won't want to wear anything else! The high street is full of different styles and patterns, each shop with their own style and shape. Find the ones that fit you best and you can invest in a few different pairs to see you through the seasons. Opt for brightly coloured patterned trousers in the spring and summer months and more muted tones come autumn and winter. Whenever you want to wear them, we guarantee they'll look elegant and gorgeous! Here are our favourites…Find your perfect pair of printed trousers now.
Photograph from Marks and Spencer's autumn/winter 2012 collection (opens in new tab)
Topshop Boutique dark floral trousers, £80
Printed trousers in muted tones are an excellent choice for the office, especially if you want to draw attention away from problem thighs. Wear Topshop's (opens in new tab) with a crisp white blouse and killer heels. 10 must-own winter workwear styles
Zara printed trousers, £39.99
If you struggle to find trousers that fit around the waist, then try these Zara trousers (opens in new tab). They're fitted with an elastic waistband. Maroon with a baroque print, you'll score serious style points too. 30 stylishly snug winter knits
Hobbs tartan trousers, £119
Make Hobbs' tartan trousers (opens in new tab) your winter wardrobe hero-piece. They'll work with T-shirts, blouses or knitwear and your favourite brogues.
H&M floral trousers, £34.99
H&M's floral trousers (opens in new tab) will give straight up and down figures more definition at the waist, while the side and back pockets will flatter a bigger bottom. More winter florals
Topshop chiffon tapered trousers, £35
Tapered trousers, like this Topshop (opens in new tab) pair, are great for petites because they won't swamp a small frame. Balance out the print with a neutral knit. See all the trends for autumn/winter 2012
Clements Ribeiro for John Lewis silk trousers, £99
Pear shapes can wear printed trousers! Clements Ribeiro has cut this relaxed pair for John Lewis (opens in new tab) loose at the waist so they glide over the hips, and aren't too skinny in the leg. Plus, the black and purple print is super slimming. 30 wearable winter dresses (opens in new tab)
Zara jacquard loom trousers, £39.99
Balance out a top-heavy figure in Zara's metallic jacquard print trouser (opens in new tab). Just add an unfussy black or grey T-shirt and heels. Find you perfect winter coat (opens in new tab)
Betty Jackson at Debenhams black jacquard trousers, £45
Betty Jackson's Black Label collection for Debenhams (opens in new tab) is packed with well-cut tailoring. Keep an eye on the Debenhams website for this season's hottest trouser style - an ankle-grazing cigarette pant in jacquard loom. 10 knee-high boots (opens in new tab)
Boutique by Jaeger Kitty rosebud printed trousers, £99
Tall and thin frames should look for printed trousers in a mixture of complimentary colours - they will give your figure shape. Print clash if you dare by picking a tonal pattern or simply stick to block colours on top. Trousers from Boutique by Jaeger (opens in new tab). Where to find your perfect pair of high street jeans (opens in new tab)
H&M burgundy patterned trousers, £34.99
We love these burgundy patterned trousers from H&M (opens in new tab) - and the good news is, they'll suit most shapes. Give them a go! More fabulous printed trousers