The Best Cleanser For Youthful-Looking Skin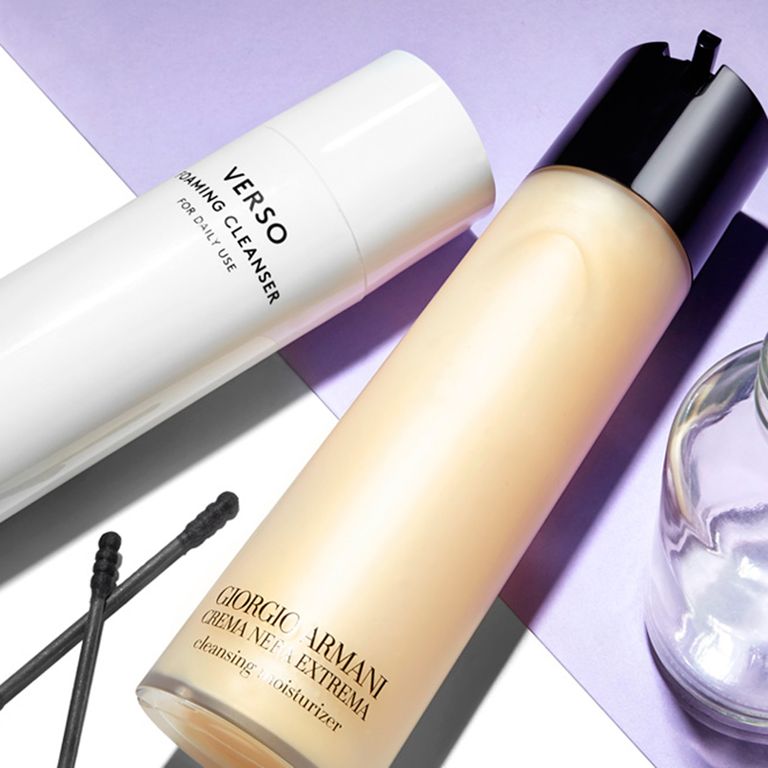 Cleansing is the most important part of your skincare routine, here are the best for every budget
Cleansing is one of the most important parts of any daily skincare routine. Neglecting to remove the dirt and impurities which collect on our skin over the day, can promote breakouts and premature ageing. It also acts as a barrier against the rest of your routine, preventing the hydrating properties in your moisturiser from seeping into your skin.
Today's best cleansers come in a variety of textures, milks, waters, cream and balms so they can adapt to all manner of skintones but they don't have to cost a fortune.
If you're not sure where to start with skincare, our new sister site, Powder can help. Simply fill in a short questionnaire and our beauty experts will find the perfect products for your needs. Their advice is unbiased and based on your budget, so you can be sure they won't recommend anything that they don't believe works. Bookmark in your browser now.
Keep clicking for our edit of the best cleansers for youthful-looking skin...
Cetaphil cleanser, £7
One no frills cleanser hitting the headlines for it's A-list credentials is Cetaphil. The £7 product which you can pick up at your local pharmacy, is a favourite of Amanda Holden and Charlize Theron. Soap and fragrance free, it's praised formula contains just eight ingredients making it suited to all skin types especially sensitive ones which suffer from breakouts, eczema or psoriasis. If you think it's time to completely overhaul your cleansing habits, Olay Regenerist 3 Point Super Cleansing System, £26.66, could be the perfect match for you. Up to four times more effective than regular cleansing, this system fully prepares your skin for the next step in your routine. The brush is shaped to fit the contours of your face for a deep clean that removes all traces of dirt and make-up without stripping the skin of moisture. No wonder we love it! Keep reading for more of the best cleansers for your skin type and daily routine...
Hot Cloth Cleanser Liz Earle, £15.50
In many beauty circles, Liz Earle's Cleanse and Polish cleanser is fated as the best on the block. Filled to the brim with botanical ingredients, bespokely selected from around the globe, this best-selling formula is kind and natural. Lightly massaged into your skin, the rich creamy texture dislodges dirt and impurities to reveal a squeaky clean and radiant complexion with minimum fuss. To celebrate the brands 20th anniversary this smoothing eucalyptus and cocoa butter enriched cleanser is available in a limited edition vessel, get yours now.
Elemis Pro Collagen Cleansing Balm, £39.50
It might have taken two years to arrive on counter but when it did Elemis Pro Collagen Cleansing Balm flew off the shelves at record speed. Whipped up with natural oils and Padina Pavonica a natural algae with powerful anti-ageing properties, the smooth velvety balm melts away grime and make-up to keep skin soft, supple and hydrated. To celebrate the brand 25th birthday it's now available in a super size edition.
Balance Me Restore & Replenish Cream Cleanser, £18
Packed with a powerful peptide, natural botanicals and softening butters, Balance Me creamy Restore & Replenish Cleanser removes make-up to leave skin youthfully dewy and refreshed.
Omorovicza Thermal Cleansing Balm, £46
Cleanse and purify your skin without compromising your anti-ageing routine. This silky balm glides effortlessly onto the skin, removing make-up and dirt effectively without leaving a dry or 'stripped' feeling. Omorovicza's Thermal Cleansing Balm also smells divine, leaving your skin looking and feeling luxurious.
Darphin Cleansing Foam Gel with Water Lily, £20
If you have a normal complexion with no complaints to speak of (lucky you), then a gentle cleanser like the Darphin Cleansing Foam Gel with Water Lily will be perfect for you. A mild foaming cleanser, this sweet-smelling gel will effectively remove make-up and impurities without stripping the skin.
Charlotte Tilbury Multi-Miracle Glow Cleanser, £45
A multi-functioning balm, the Charlotte Tilbury Multi-Miracle Glow Cleanser will give mature skin a deep cleanse without damaging delicate areas. A 3-in-1 must-have, you can also use this on dry skin (elbows, feet, cuticles) to reveal super-soft skin all over.
Dermalogica Special Cleansing Gel, £27.70
Soothe your easily irritated skin with Dermalogica's Special Cleansing Gel. Ths soap-free cleanser gives a deep clean without upsetting your natural balance. Leaves an even and clear complexion, ready for the next step in your skincare routine.
Clarins Extra-Comfort Anti-Pollution Cleansing Cream, £25
One of our favourite new cleansers for 2014, the Clarins Extra-Comfort Anti-Pollution Cleansing Cream is our number one for anti-ageing and protection against the elements. Using the brand's unique anti-pollution complex, this cleanser protects skin in the morning and eliminates pollution and toxins in the evening. The result? A pure and radiant complexion, 24 hours a day. Moringa seed, shea and mango ensures this cleanser works deep down into the skin, retaining a youthful edge and clear complexion.
Eve Lom cleanser, £55
Dubbed by many as 'possibly the best cleanser in the world', many who use Eve Lom's multi-award-winning cleanser literally never look back. Priding itself on being balanced enough to suit all skin types, the aromatic blend of four plant oils gives this thick unguent an unmistakable scent that stirs the senses. With a very definite technique, created by the facialist herself, skin improves manifold with continued use.
Clarins Gentle Foaming Cleanser with cottonseed, £19
As with all Clarins products, this cleanser has a fresh and feminine scent that leaves your skin feeling revived instantly. The mousse texture also feels softer and more gentle than a foaming version - there's no need to pull at the skin, helping to keep wrinkles and fine lines at bay for a little bit longer?