The common sunscreen mistakes to avoid making this summer, according to experts
Sun safety is key, so we asked three experts for their cast iron tips to prevent the most common sunscreen mistakes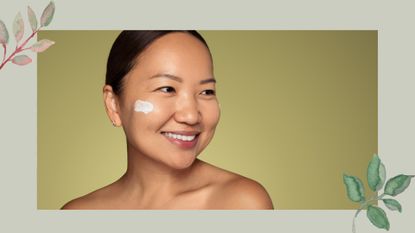 (Image credit: Getty Images)
Most people with an iota of interest in skincare know that SPF is a non-negotiable part of one's routine. But even the most diligent of wearers can make a couple of sunscreen mistakes and forget to apply it to their ears from time to time.
Wearing the best facial sunscreen is important both from a health and cosmetic perspective, as Dija Ayodele, aesthetician and founder of West Room Aesthetics and the Black Skin Directory, notes. "The sun, as glorious as it is, emits both UVB and UVA rays," she tells us. "The former can penetrate and burn the skin, leading to DNA changes that can cause skin cancers – regardless of ethnicity and heritage.
"Likewise, the latter can cause premature aging of the skin leading to a breakdown of collagen which causes fine lines, wrinkles, loss of firmness, and hyperpigmentation," she adds.
This is why it's important to follow the "rules" of sunscreen wear, if you will, in order to stave off the visible signs of aging and reduce your risk of developing skin cancer. Nobody's perfect, so we've compiled a handy list of SPF myths and commonly overlooked areas, plus some great product recommendations, to help you make any sunscreen mistakes a thing of the past.
The most common sunscreen mistakes and myths, according to experts
1. First applying it in the sun or just before you go outside
For that initial application, you have to give sunscreen some time to get to work before heading outside — don't put it on while you're already in the sun, as it won't have had time to protect your skin. "Sunscreen must be applied at least 10 mins prior [to going outside] and allowed to dry," Ayodele confirms. When it comes to facial protection, this is fairly easy to tick off as the last step of your skincare routine before you apply makeup, but make sure you're allowing enough time to allow it to sink into other areas, too.
Our beauty editor recommends...
2. Forgetting to apply to your ears, lips, scalp, and co
"The eyelids, scalp, lips, hands, and ears are all commonly forgotten when applying sunscreen," says Dr. Sonia Khorana, GP and cosmetic doctor with a special interest in dermatology. "These can be common places for skin cancers to occur."
"The most overlooked areas are usually the ears, the back of the neck, the front of the neck and the décolletage," agrees Dr. Ahmed El Muntasar, GP and founder of The Aesthetics Doctor clinics. "This is why people really start showing signs of aging [in these areas]. For people with alopecia or hair loss, sometimes they forget to apply it on the top of the head, as well."
Carrying a dedicated lip balm and hand cream with SPF are great ways to ensure you're reapplying to these key areas, as is a hair mist for your scalp if you aren't wearing a hat.
Our beauty editor recommends…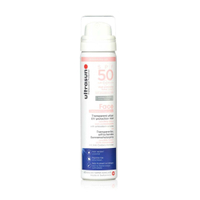 Ultrasun SPF 50 Face & Scalp Sunscreen Mist | RRP: £20
Recommended by Dr. Khorana, this on-the-go high factor mist is excellent both for topping up your facial protection and for applying to any exposed areas of the scalp. If you're wondering what SPF you should use on your face every day, you can't go wrong with this one.
3. Relying on SPF in makeup alone
Don't get us wrong, SPF in a product can only be a good thing, but a little in your foundation is not enough to protect your skin. It's not that the SPF here is ineffective, but rather how much of the product we tend to wear. "It's never enough as it's impossible to physically apply enough makeup that will give you sun protection," says Ayodele.
Instead, see any protection in the best foundation as a bonus – you won't increase the SPF facial sunscreen underneath (sadly the numbers don't "add together" when you layer them), but it's extra security for that already applied SPF 30 or 50. So while we're big fans of the best foundations with SPF and the best moisturizers with SPF, when applied alone, they simply don't offer ample protection.
4. Not topping up frequently enough
Oh, the time and money we would all save if sunscreen didn't need reapplying! Alas, it has to be topped up every two hours at the very least. "SPF needs to be re-applied at regular intervals (two-hourly) to keep you fully protected from harmful UV rays," confirms Dr. Khorana. "This is really important if you're sweating or swimming as the SPF will be wiped or washed away and is only water-resistant, NOT waterproof."
If you wear makeup, sprays can be very useful for topping up over foundation, though you do have to be quite liberal with them to ensure you're getting the protection on the label.
Our beauty editor recommends…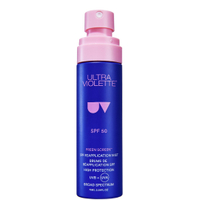 Ultra Violette Preen Screen SPF 50 Reapplication Mist | RRP: £32 (UK only)
This mist is absolutely brilliant for on-the-go top-ups, imparting a seriously dewy sheen to skin with absolutely no eye stinging whatsoever. It's not quite made it to US stores yet, but until then you can shop the rest of its brilliant face & body sunscreens (including lip balms).
5. Thinking darker skin tones don't need SPF
Whatever your skin type and tone, every one of us needs to wear sunscreen. "Dark skin is just as susceptible to sun damage," Dr. Khorana stresses. "There's so much misinformation out there for people with darker skin and the guidance around whether or not to wear sunscreen can be really confusing.
"There is a common misconception that people with darker skin tones don't need to use sunscreen, which comes from the fact that high amounts of melanin offer some degree of sun protection factor. This baseline SPF is not enough, in my opinion, to provide adequate sun protection." Dr. El Muntasar echoes this, saying: "melanoma and [other] skin cancers don't discriminate."
Our beauty editor recommends...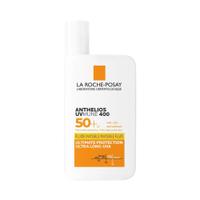 La Roche-Posay Anthelios SPF 50+ | RRP: $37.99 / £20
La Roche-Posay is a global authority in sunscreen, and Anthelios is a go-to for its exceptional technology and lightweight feel. This wonder product also makes it to our list of the best sunscreens for acne-prone skin and the best sunscreens for sensitive skin. The formulas do differ between the US and UK, but both are well-loved by beauty experts.
6. Not wearing it all-year-round
Sunscreen is synonymous with summer (try saying that three times fast) but daylight. As the saying goes, if you can see daylight, it can see you. "We all know when the sun is at its strongest in the summer, you are more susceptible to UV damage, but that doesn't mean that the risk isn't present throughout the year," says Dr. Khorana. "UV rays are present all year round, so make sure that SPF is a staple in your routine. UVA rays can penetrate through clouds, glass, et cetera." Which is a nice segue to our next point...
Our beauty editor recommends...
7. Not wearing it indoors
To the uninitiated ear, this might sound silly as we associate wearing sunscreen with being directly in the sun. But, as we've touched on and Ayodele reiterates: "UVA rays come through glass."
This means that if you are someone who works in front of a window, drives, takes flights, you guessed it, you need SPF. This is made a lot easier by making it a constant part of your daily morning routine, no matter what your plans are for the day, just as with brushing your teeth or making that morning cup of coffee.
Sign up to our free daily email for the latest royal and entertainment news, interesting opinion, expert advice on styling and beauty trends, and no-nonsense guides to the health and wellness questions you want answered.
Lucy is a UK-based beauty journalist who has written for the likes of Marie Claire, Cosmopolitan, OK!, Women's Health and more, as well as contributing to woman&home. Her work covers everything from expert skin and haircare tips to the latest product launches and the show-stopping beauty looks spotted backstage at London Fashion Week. During her career she's interviewed some seriously famous faces, from Little Mix to Drag Race royalty The Vivienne, as well as chatting to the industry's leading hairdressers, dermatologists and make-up artists.