Why retinyl palmitate should be the go-to ingredient for skin that doesn't like retinol
A look at what retinyl palmitate is and how it works. Learn about this much gentler derivative of retinol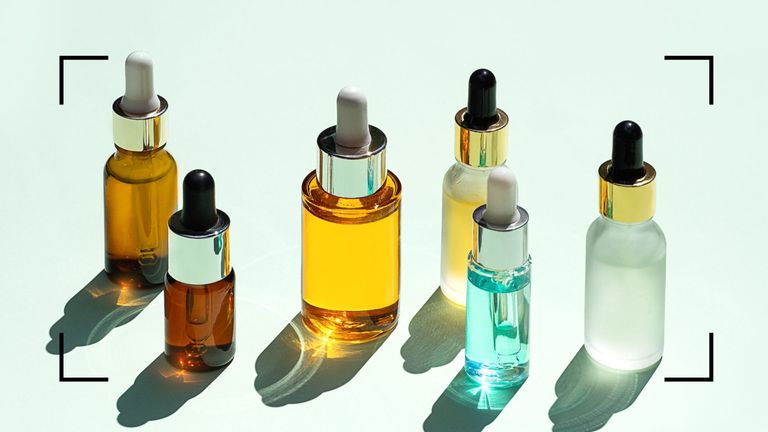 (Image credit: Getty Images)
Retinyl palmitate is an anti-aging active ingredient used in the beauty industry. It promises to deliver rejuvenating properties for skin and can be found in many skincare products. It is a retinoid, but importantly, it is much gentler than regular retinol on skin.
All retinoids are vitamin-A derivatives. They have some common benefits, but there are some distinct differences too—like potency. Typically, skin will react less extremely to retinyl palmitate, which makes it a popular ingredient in skincare routines for sensitive skin.
What is retinyl palmitate?
Retinyl palmitate is an ester or gentler version of retinol, a skincare ingredient you probably hear referred to by its more common name: Vitamin A. It is a retinoid that is used as a beauty product ingredient to provide anti-aging effects.
It is the least effective of the four types of retinoids, but this isn't necessarily a bad thing because it has the lowest potential to irritate the skin, and is available over-the-counter. Its reduced strength means it is more suitable for regular use within a skincare routine.
Retinyl palmitate is an exfoliator that works on the surface and within the deeper layers of the skin. However, in order for your skin to make use of it, it has to go through a conversion process after it has been absorbed. You apply it topically and then your enzymes convert it to retinoic acid (a more potent retinoid that is biologically active).
Once converted, Retinyl palmitate helps the reproduction of cells. It helps keep skin and mucous membranes healthy, and that means healthier-looking skin (which is why you often see it used in the best retinol serums).
Retinyl palmitate benefits for skin
Derivatives of vitamin A, like retinyl palmitate, have become common in beauty products because of their ability to act as antioxidants that promote cell renewal, leaving skin smoother and clearer.
Retinyl palmitate is found naturally in the skin and is used to help the upper and lower layers of skin protect against sun damage, prevent sunburn, and keep skin looking youthful and healthy.
The benefits of retinyl palmitate include:
Increased skin renewal: The faster that skin cells turnover and shed, the more luminous and youthful the skin on the surface appears. Retinyl palmitate speeds up this process.
Reduced wrinkles: By stopping collagen from breaking down, retinoids like retinyl palmitate help reduce the appearance of wrinkles.
Brightens skin: It is an exfoliant, so skin will look smoother, and less dull and discolored after use.
It's readily available: Pharmacies will sell retinyl palmitate over the counter, which isn't the case for its more potent counterparts.
Produces collagen: the compound will stimulate new collagen production as well as hinder its breakdown in the skin.
Unclogs pores: It is often added to facial products as an exfoliant to keep pores clear, which is why it's a popular ingredient in skincare routines for acne.
Help reverse sun damage: Certain side effects of sun damage, including dark spots, are reduced with the use of retinyl palmitate.
Ease of application: It's applied topically in a matter of seconds and doesn't need to be used daily for it to be effective.
Retinyl palmitate side effects
As far as retinoids go, retinyl palmitate is on the gentler end of the spectrum. Even those who experience harsh effects from other retinoids may be able to use retinyl palmitate without complications.
However, any retinoid has the potential to cause skin irritation. The most common side effects for those who experience irritation include:
itching
burning
redness
peeling skin
increased sensitivity to sunlight
However, researchers have also found that retinyl palmitate can cause hyperplasia. These findings suggest that "in sunlight, retinyl palmitate can form small molecules called free radicals that damage DNA."
When to use retinyl palmitate (and when not to)
As retinyl palmitate is the least irritating retinoid, people with sensitive skin looking for anti-aging properties in their skincare products should try this. However, do proceed with caution because if you have extremely sensitive skin or very dry skin as this still might not be suitable for you.
Generally, this ingredient is great for almost all skin types and is particularly good if you are looking to clear pores and brighten dull skin.
However, you should avoid this ingredient if your favorite skincare products include exfoliants, like salicylic acid or glycolic acid, or harsh scrubs. Or if you use other beauty products that contain vitamin A or retinol. That is because the compound effect of using all these at once will be too much for skin.
If you start to use retinyl palmitate and experience irritation you should stop using it immediately.
How to use and apply retinyl palmitate
Learning how to use retinol in its various forms is very simple, but there are some important rules to follow.
Rule 1: Start slow
Although retinyl palmitate is the least potent retinoid, we still advise you to introduce it into your routine gently to reduce the likelihood of a reaction. Identify a test area to start with, your lower cheek is a good idea. Then, every other night for about one week, apply a small amount to it. If no irritation occurs you can start applying it to your whole face and neck, but still a maximum of three times a week. After two weeks you can up frequency to nightly if you wish.
Application is as simple as following the instructions on the given product, and most formulas are applied directly to the face and neck by massaging in with the fingers. These products should be left to absorb on the skin, not rinsed away. Remember you won't see immediate results. It usually takes around 12 weeks to see an impact.
Rule 2: Apply at night
Like all retinoids, retinyl palmitate makes skin more susceptible to burning in the sun. Once applied it makes skin more sensitive to light for at least 12 hours. As a result, you should only apply retinyl palmitate at night time. And when using products containing it, you should always wear facial sunscreen with a minimum SPF of 30.
Rule 3: Simplify your routine
Avoid using products with other active ingredients, when using retinyl palmitate. This will help reduce the risk of irritation and side effects.
Make your regimen as simple as possible. Clean your skin (our guide to double cleansing will be helpful here), apply your retinyl palmitate product(s), and then finish with one of the best face moisturizers and one of the best eye creams.
The best retinyl palmitate picks, according to our beauty editor...
Derma E Anti-Wrinkle Toner with Vitamin A and Glycolic Acid
Great for combination and oily skin, this alcohol-free formulation refines pores, removes impurities, and improves and refreshes skin with the exfoliating help of brightening glycolic acid. Use after cleansing and before your moisturizer for best results.
---
Pixi Beauty Overnight Retinol Oil 30ml
This hardworking evening oil has retinyl palmitate, ceramides and peptides to give a robust and well-rounded plumping and regenerating effect on skin. Expect pores and fine lines to improve over time, and to see visible results such as better skin elasticity.
---
SkinAuthority Vitamin A Cell Renewal
This gentle retinoid still boasts a high concentration (7%) of retinyl palmitate. We love its formula that's also chock-full of vitamins, antioxidants, hydrators, and AOX Technology that smoothens, brightens, softens, and evens out skin.
Eunice Lucero-Lee is the Beauty Channel Editor for woman&home. A lifelong creative writer and beautyphile, she graduated from De La Salle University in 2002 and was hired a year later to front all beauty coverage for Pink Magazine, a teen lifestyle publication, after submitting a page-long thesis on why Stila was the best brand to come out of the Aughts. She was hired an hour later.
Her writing—which has since then expanded to cover pop culture and astrology, both equal passions—led her to spearheading columns in Chalk Magazine, K-Mag, Metro Working Mom, and SugarSugar Magazine. Upon receiving her stripes at New York University's Summer Publishing Institute in 2008 she was immediately headhunted to work as the Beauty Editor, thereafter Managing Editor of Stylebible.ph, the digital home of Preview, the Philippines' best-selling fashion magazine, where she also did double-duty as Associate Editor of the print edition.
It was during this stint that the hallyu wave started taking hold and when she was tapped to co-found Sparkling, Asia's first-ever English K-Pop print magazine. Originally planned as a one-off, the project became a runaway hit and saw her taking Korean classes on the weekends for three years, as she found herself frustrated by the lack of breadth translators provided for celebrity profile coverage. She was Editor-in-Chief until her move to New York in 2013. The now-iconic magazine has remained in publication since 2009 due to massive fan support.
A beauty, astrology, and pop culture obsessive and insider for over 18 years, Eunice is an internationally published editor (and now certified astrologer) whose work has been featured in publications such as Cosmopolitan, Esquire, and The Numinous, among many others. The former Editor-in-Chief of All Things Hair and a (very) proud cat mom, she spends her time in Manhattan figuring out the correct Pilates-to-sushi ratio, obsessing over celebrity natal charts, luxury skincare, and Scandi-noir crime procedurals, as well as finding the perfect K-Pop vid to save the day. She can still order drinks perfectly in Korean. Find her on Instagram @eunichiban.