Meet the sleek laser hair removal device that's getting five-star reviews on Amazon for its pain-free tech
The Ulike Sapphire is causing a buzz for its easy, effective results - here's why…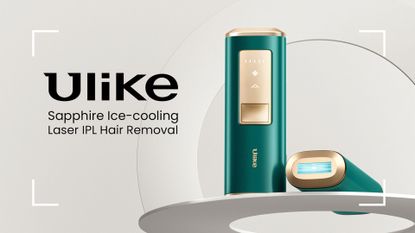 (Image credit: Ulike Sapphire)
First things first, whether you decide to go hair-free or not is an entirely personal choice. However, if you do have a penchant for the silky-smooth look, then you'll know well the many pitfalls that come with de-fuzzing your body.
Perhaps you've battled with ingrown hairs skirting a newly waxed bikini line on holiday, or sighed at freshly shaved armpits for a date night that seemingly sprout again within hours. Then there's all those cumulative extra minutes spent in the bathroom that could be much more enjoyably used over catch-up coffee with a friend or giving that work presentation some extra sparkle.
Which is why laser hair removal is a seriously smart choice - providing lasting results without much fuss, so you can get on with living a happier, stubble-free life. Before you wince at the thought of heading to the salon for a batch of pricey sessions there has been a growth (of the right kind) among at-home devices that enlist the same clever technology.
Meet the Ulike Sapphire Ice-cooling Laser Intense Pulsed Light (IPL) Hair Removal Device, which has been creating a serious buzz after recently arriving in the United States. While you might think that IPL hair removal is nothing new, this nifty little device brings next generation, salon-worthy function to the comfort of your home.
But how exactly does the Ulike Sapphire Ice-cooling Laser IPL Hair Removal Device work? Let us delve a little deeper into the science. It enlists multi-spectrum lights that converts light energy to heat energy. This 'photothermal' blitzing of hair follicles at their root stifles regrowth and leads to silky-smooth results, permanently reducing hair growth in just four weeks.
Not only does the Ulike Sapphire make the process of laser hair removal very effective, it's also incredibly cost-effective. While the device's price of $359 on the brand's website and Amazon - which also means it can be ordered to your door at the click of a button - makes it quite the investment in your beauty routine, it works out far more affordable than several trips to a salon. And, between hair, nails and the rest, you don't really need another appointment to find time for in your diary.
However, the benefits of the Ulike Sapphire don't stop there. The brand is, ahem, laser-focused on solving what they consider to be the common frustrations associated with at-home hair removal. This includes the banishing of the no pain, no gain approach to de-fuzzing. Indeed, the device has been created to simultaneously reduce heat output to protect the skin from injuries or irritation - avoiding any prickly, burning sensations. Traditional hair removal devices can see the temperature of light can reach 158℉-212℉, whereas Ulike can bring the numbers down to 50℉-104℉. Cool stuff, indeed.
Additionally, the Ulike Sapphire's elegant, dark green design - which wouldn't look out of place in the most stylish of bathrooms - features a flat head design so it can be easily pressed onto skin and target unwanted hair more efficiently. It is also, at just 284g, lightweight enough to travel seamlessly with. Which is just as well since - for results in around a month - it needs to be used two to three times per week.
Above all, the Ulike Sapphire Ice-cooling Laser IPL Hair Removal Device is incredibly safe. The FDA-approved, medical-grade device is suitable for a range of hair and skin types, and has five different energy levels so it can be used on a variety of body areas - including the face, underarms, bikini line, arms and legs. There are also two handy treatment settings. The 'continuous mode' is for gliding over larger surface areas, while the 'single mode' is intended for more targeted treatment on smaller areas.
If all that doesn't convince you, then listen to the scores of beauty fans who have helped the Ulike Sapphire amass a cult following on Amazon. The device has received hundreds of glowing verdicts on the site for its ability to fast-track you to silky, hair-free skin. Now, that's a smooth operator.
For more information or to buy the Ulike Sapphire Ice-cooling Laser IPL Hair Removal Device, follow the brand @ulikeglobal on Instagram, visit them at ulike.com, or check them out on Amazon. #Ulike hair removal #Ulike Beauty #laser hair removal #IPL hair removal #hair removal at home #permanent hair removal