Nostalgic makeup looks from every decade of The Queen's reign - how Her Majesty wore them best of all
Take a walk down memory lane with The Queen's timeless beauty looks and vintage trends from the archive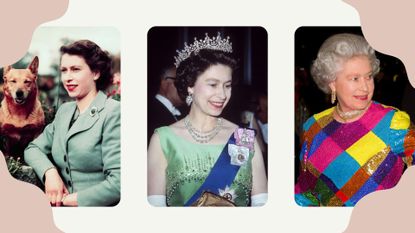 (Image credit: Future/Getty images)
The Queen's Platinum Jubilee is the perfect time to reflect on Her Majesty's 70 years on the throne. And while we admire The Queen for so many aspects of her reign, it's fair to say that being a trendsetting beauty icon may not be the first thing that comes to mind.
But actually, a timely dig into Boots' beauty archive shows how Queen Elizabeth II has led the way with her iconic beauty style through the decades. From signature bold lip colors that captured the mood of the nation in the '60s, to a spirit of '00s individuality that Her Majesty does best of all.
Are you ready to take a trip down memory lane in celebration of The Queen's Platinum Jubilee? We caught up with Sophie Clapp, Boots Archivist, to look back at nostalgic trends and products from 1950 onward and how The Queen's timeless beauty style has evolved through the decades.
1950s - Royal rose lipstick
The 1950s were an era of elegant, feminine beauty looks - which perfectly suited the mood of the time as Queen Elizabeth II ascended to the throne. "Aligning with the coronation, No7 launched a new shade within its cosmetics range in 1953 called Royal Rose, a classic shade of deep pink," explains Clapp. "The pigments in No7 Moisture Drench Lipstick in Pink Burst are very similar and sell really well at Boots today."
It wasn't all about lipstick though, "Other loved brands during the 1950s include Yardley, Nivea, Ponds, and Boots Glycerin & Rose Water – all of which have stood the test of time and are still popular today," says Clapp. "Customers often comment on the nostalgic scent of Yardley Old English Lavender," which is surely one of the most quintessentially English floral fragrances of all time.
1960s - geranium pink
"In the 1960s as pale lips and doll-like eyes took over and Boots responded with the launch of a new cosmetics line; 17. Within a matter of months, 17 was the leading brand for teenagers at Boots," says Clapp.
While Twiggy-like eyeliner was best left to the teens, Her Majesty stayed true to her signature style with beautifully bold lipstick choices and No7 launched the popular lipstick shade, Gay Geranium in 1962. "The Queen is known for wearing pink and red tonal shades on her lips and cheeks," explains Clapp. "Over 50 years on, Gay Geranium is still a hit and is one of the longest-standing products within the No7 range."
1970s - gloss and shimmer
"Hairstyles fell loosely and makeup became more relaxed and playful in the '70s with pearlized, sparkly eyeshadow shades and glossy lips being a key part of the range," explains Clapp.
As ever, Her Majesty nodded to the trends in her own elegant fashion, with a sheer sweep of shimmering lilac shadow - one of the most flattering eyeshadows for blue eyes to bring out their sparkle. This was a perfect formal makeup look to offset her incredible diamond necklace and tiara set.
1980s - blush and pearly lips
The economic boom of the '80s gave rise to power dressing - and in the beauty world that meant bigger, bolder makeup looks. Women learned how to apply blush to carve out their cheekbones and shimmering finishes reigned supreme. "The infamous 17 Twilight Teaser, a pearly lilac lipstick, became iconic during the '80's while brands including Revlon grew in popularity," reflects Clapp.
For The Queen, a pop of fuschia blush worn high on the cheekbones looked modern and fresh, while her signature bold lip took on a frosty finish that perfectly complimented her sapphire and diamond jewelry set.
1990s - bold self-expression
The 90s saw the rise of girl power culture, with make-up becoming ever-bolder towards the end of the decade. Boots describe this as "a form of ammunition to give confidence, create an impact, and reflect a mood." It was during this time that The Queen wore one of her boldest ever looks to the 1999 Royal Variety Performance, matching a harlequin-print dress to pink glossy lips and a volumized version of her timeless hairstyle. We can't get enough of this joy-sparking, colorful look.
It wasn't all about makeup at this time, "Skincare began to have a real presence in the '90s," says Clapp. "Boots launched Natural Collection in the 90s, with all products priced under £2.50, starting from as little as 15p." We wouldn't mind those price tags coming back into fashion!
2000s and beyond - embracing you
After the statement '80s and war-paint-wearing '90s, the beauty world was ready to embrace a more natural, self-accepting stance in the '00s. Boots Ta-Da! campaign launched, celebrating inclusivity with un-retouched age-appropriate models, and laterally real women, shown just as they really are.
And who is better at being their authentic self than our Monarch? Whether she's in full formal regalia or cozy tweeds at her beloved Royal Windsor horse show, Queen Elizabeth II has stayed true to her signature beauty style, while gently evolving with the times. It's not easy to maintain a look that is both timeless and iconically yours for 70 years - and for that, Ma'am, we salute you.
Beauty Editor, womanandhome.com
As woman&home's Beauty Channel Editor, Fiona Mckim has tried more products than she's had hot dinners and nothing makes her happier than raving about brilliant finds on womanandhome.com or her instagram grid (@fionamckim if you like hair experiments and cute shih-tzus). Fiona joined woman&home as Assistant Beauty Editor in 2013 under industry legend Jo GB, who taught her everything she needed to know (learn about ingredients and employ extreme cynicism). She has since covered every corner of the industry, from interviewing dermatologists and celebrities to reporting backstage at Fashion Week and judging the w&h Beauty Awards.