How often should you wash your hair - and will it eventually self clean?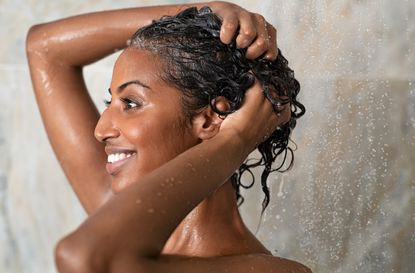 There are a lot of conflicting opinions on hair washing out there...
How often should you wash your hair? And will our locks really clean themselves if left for long enough? These are questions we all ask ourselves and more so than ever while we've all been at home during lockdown.
Many people worry that shampooing too much will make hair thin out (opens in new tab) but also wonder if using the right products can help thicken up our locks. (opens in new tab)
Plus there is always the ongoing question around whether washing our hair will affect any dyed hair colour that we have in our tresses.
So in the interest of gaining some clarity, we chatted to hair expert and trichologist Anabel Kingsley (opens in new tab) to find out…
How often should you wash your hair?
"Good scalp hygiene is essential to hair growth," explains Anabel. "After all, your scalp is your hair's support system. Your scalp is skin and needs similar care to the skin on your face - and for scalp health, daily cleansing is best."
If the idea of daily blow-dries is giving you arm-ache just thinking about, don't worry.
"If you heat-style your hair after every shampoo, the good of cleansing will be outweighed by the damage of styling. Also, people with coarser and curlier hair often find they prefer how their hair looks and feels a few days after shampooing."
"For for those with very hard to manage hair, daily shampooing simply isn't realistic. It really is a case of balance. In all instances, I'd say don't leave more than 3 days between shampoos."
What happens if you don't wash your hair regularly?
Skipping the occasional shampoo on an early morning is understandable, but if it becomes a habit, it can have a huge impact on the health of your scalp.
"I often wish the term 'hair washing' was changed to 'scalp cleansing'", says Anabel. "This is as the aim of the game when you shampoo is to clean your scalp, which is a living tissue. Any suds that run down through your strands will be enough to cleanse them. There is no need to scrub your hair, and doing so can actually cause damage, tangles and breakage."
"Similar problems can happen to your scalp as your face if you don't wash it enough. For instance, if you don't cleanse your scalp frequently, excess oils, dirt, pollution and dead skin cells are allowed to build up. This can result in pores on your scalp becoming clogged, and can lead to the formation of pimples."
"An accumulation of dead skin cells can cause itching and irritation – and visible flakes. Excess levels of oils on your scalp can throw-off your scalp's microbiome. This is because certain yeasts, called the Malassezia yeasts, thrive in an oily environment. Overgrowth of Malassezia is a main cause of dandruff."
Pretty gross, eh?
Is it true hair self-cleans over time?
It's a common beauty myth that hair will eventually start to clean itself, but Anabel is quick to dispel any truth behind the rumour.
"Your hair, just like any other part of your body, does not clean itself. Imagine if you didn't wash your face or underarms for a week – the same logic applies to your hair and scalp. They are likely to become coated in dirt, smelly, greasy and flaky. Build-up of yeasts and bacteria will also occur, especially as they thrive in oily environments."
"I think that people believe this myth because it's wishful thinking. If your hair looks less greasy after a while, perhaps it's because once your scalp and hair get past a certain point of greasiness, you can't really notice it as much. Much like you don't really see stains forming on an already filthy carpet."
Consider us told. And if that wasn't enough to send you reaching for the shampoo – dirty hair is also less shiny than clean hair.
What sort of shampoo should you be using?
There are no hard-and-fast rules when it comes to shampoo formulation, as it's down to personal preference and hair type.
"If you have fine strands, avoid shampoos formulated with oils or strong moisturising ingredients as this will likely weigh your hair down," says Anabel. "Instead, look for shampoos with thickening proteins."
"If you have coarse, curly hair, go for formulas containing moisturizing agents, like cocoa butter."
Best shampoos
Best for blondes: Philip Kingsley Pure Blonde Booster Shampoo
More of a weekly treat than a daily essential, this uses purple pigment to knock unwanted, brassy tones out of blonde and silver locks.
Great for hair that's been left damaged by bleaching, it helps to condition the cuticle for less frizz and static baby hairs.
SHOP NOW: Philip Kingsley Pure Blonde Booster Shampoo, £25, Look Fantastic (opens in new tab)
Best for coloured hair: Christophe Robin Colour Shield Shampoo
No matter how soft and glossy your hair feels after you skip out the salon, hair is damaged every time you shift your shade.
This works to repair hair weakened by colouring and protect against other baddies like heat styling and UV rays.
In helps lock in pigment too, so your colour stays fresher for longer.
SHOP NOW: Christophe Robin Colour Shield Shampoo, £29, Look Fantastic (opens in new tab)
Best for dry hair: Rahua Classic Shampoo
A favourite of none other than Jo Malone, this shampoo is a rich and restorative treat for thirsty locks.
It's free from sulphates, so you do have to flex those fingers a little more than normal to work up a satisfying lather.
If you fall in love, stock up on the Refill Pack, £30, Naturismo, to help save on plastic bottles.
SHOP NOW: Rahua Classic Shampoo, £32, Feel Unique (opens in new tab)
Best for fine hair: OGX Apple Cider Vinegar Shampoo
For hair that's short on shine and bounce, we prescribe a clarifying shampoo.
This delivers a deep down cleanse, making light work of grease, daily grime and product-build-up. Use any time your hair is in need of a refresh.
SHOP NOW: OGX Apple Cider Vinegar Shampoo, £7.99, Boots (opens in new tab)
Time to hit the shampoo!
Jess Beech is an experienced fashion and beauty editor, with more than eight years experience in the publishing industry. She has written for woman&home, GoodtoKnow, Now, Woman, Woman's Weekly, Woman's Own and Chat, and is a former Deputy Fashion & Beauty Editor at Future PLC. A beauty obsessive, Jess has tried everything from cryotherapy to chemical peels (minus the Samantha in Sex and The City-worthy redness) and interviewed experts including Jo Malone and Trinny Woodall.