The best hairstyles for women over 40
Hairstyles for women over 40 needn't be old-fashioned...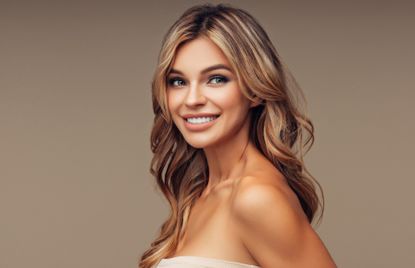 (Image credit: Coffee and Milk/Getty Images)
Your forties can be a great time to experiment with your hairstyle and try something new
Here you are, in your forties, and you're probably wondering if you're in need of a style overhaul.The good news is that hairstyles for women over 40 are just as cool and contemporary as younger women's hairstyles. Even minor changes like a new parting or strategic layering can have a dramatic impact on your look. And it will knock years off your face (opens in new tab).
Should olderwomen cut their hair short?
"It's actually a bit of a myth that short hair is more suitable as women get older," says Tim Scott-Wright, owner atTim Scott-Wright @ The Hair Surgery (opens in new tab). "It really depends on your face shape and bone structure, no matter what age you are. However, if a client is nervous about going short, I would always suggest a style with softness around the face and neck."
What about colour? Should mature women fear their grey? "Grey hair often looks better in a shorter style. And a power colour with a power haircut can be very flattering," advises Tim.
Expert recommendations for thick, thinning and curly hair
"Women with thick hair can get away with a variety of styles," says Tim. "For example, Goldie Hawn keeps her hair long with lots of layers and body for a glamorous look that's extremely flattering. Chic updos can also work well for older women with long or thick hair – but be cautious of styling; a blazer is a better option over a cardigan to exude youthfulness when the hair is up."
"If you have thinning hair, always go above the shoulder," says Tim. "A classic bob is a great style for fine hair as the bluntness helps to maintain thickness. A pixie cut is also a good option, depending on your face shape. Someone like Sharon Stone works this look well, often leaving the fringe longer for softness."
Sana D Khan, Director of the London Hairdressing Academy (opens in new tab), agrees. "A layered bob (see No.9 in our gallery), as opposed to a traditional one-length cut, is great. It builds back lost volume as well as giving a thicker look," she says."A bob always looks very put together and can be played in many different ways."
"For thinner hair, also try a long pixie cut," she adds (see No.16 in our gallery). "Thrown to one side with a long side-swept fringe, it works amazingly. It's very stylish and modern and requires a shorter amount of time to style," says Sana.
If you have curly hair, Tim recommends a style such as a Parisian bob. "It can be great for curly hair as the cut isn't straight but bevelled for softness. Susan Sarandon keeps her hair above the shoulder and enhances her natural texture with a soft cut and flattering fringe," he says.
Browse our inspiration gallery for 40+ hairstyles
From luxe tumbling curls, to side-swept fringes (opens in new tab) and flattering shorter hairstyles (opens in new tab), to easy-to-achieve updo hairstyles and no-fuss bob haircuts, we've rounded up the very best hairstyles for women over 40.
Whether you're a low maintenance kind of woman or a have-all-the-hair-tools-money-can-buy kind of women (including the best of the best hair dryers!), there's plenty of hair inspiration here (opens in new tab)or in our gallery, below.
Shiny waves style
This swishy bob is low-key luxury at it's best, it's easy to create, looks 'done' enough to suit mature styling and works best with fine or medium textured hair. Prep with Redken Satinwear Blow Dry Lotion, £17 (opens in new tab), to help hair hold it's shine even when heat styled. Then hold the ends loosely in a large-barrelled tong for ten seconds, shaking out with fingers when finished. Hair by Regis (opens in new tab) UK Creative Director, Kieron Fowle, for Redken (opens in new tab)
A 'beatnik' bob hairstyle
If you prefer a textured, bed-head look this cool free-spirited bob could be just the thing. Ask your hairdresser to cut hidden layers into a long bob, and soften the edges. When styling, pop a few giant heated rollers in around the front and mid sections to create big bohemian curls, shake out with your fingers and spritz in a bulking texture spray (salt sprays are perfect). Hair by Charles Worthington Salons (opens in new tab)
Winter red hairstyle
A change in tone can be just the thing to roll the years away, and if your natural colour is medium blonde to a deep brown, this fiery crimson from Headmasters new Winter Red menu could be your best look yet! A deep red like this suits warm skin tones and looks especially beautiful with black skin. If you're fair or blonde, try ribbons of peach or rose gold instead. Hair by Headmasters (opens in new tab)
The low blow hairstyle
If you don't fancy a dramatic change of cut or colour, think about how you're styling it instead. Glamorous blow dries can actually be quite ageing in stiffness and formality, instead take inspiration from John Frieda Salons Low Blow - a relaxed blow dry that says carefree youthfulness (which is what we all want, isn't it?) The key to this look is not building up too much volume at the roots, so leave your big round brush behind and instead rough dry with your fingers then lightly tong the ends and smoothing the top. Hair by John Frieda Salons (opens in new tab)
Short cropped hairsyle with fringe
This is a bold look, but if you have a square or heart-shaped face this cute bleached style will define those features, while looking chic and fresh. Ask for a short crop with a heavy side fringe and soft tapered ends, how blonde you go is up to you but platinum as seen here makes a Scandi-style statement. Hair by Sassoon Salon
The median cut hairstyle
Love your long hair but feel it's time for something more flattering? Perhaps the perfectly balanced Median Cut by Paul Edmonds (opens in new tab) could be just the thing. "You should always consider the colour, cut and condition of your hair," says Paul. "A great way to encourage hair growth is a good chop and The Median' is still a key trend. The hair is cut through the ends and mid lengths to add movement and volume, if brunette hair has been under lighted then a bespoke median cut ensures the under sections are balanced correctly so as not to over exaggerate the face shape but balance the frame, just like make up.
Slick back bob hairstyle
A slicked-back style is a little directional, so take inspiration from Charlize Theron and Robin Wright and play it softly for a flattering, visual facelift. To create Kieron Fowl's look, smooth Redken Heat Designs 09, £16.40 (opens in new tab), through wet hair, blow dry straight back over the crown. Once dry, brush backwards spritzing with Hot Sets 22 Thermal Setting Spray, £17.43 (opens in new tab), finishing ends where needed with irons. This style will suit you if your hair's all one length and fairly fine, from a short crop to long. Face shape-wise, this look accentuates your jaw line so works beautifully on oval or heart-shaped faces. Hair by Regis (opens in new tab) UK Creative Director, Kieron Fowle, for Redken (opens in new tab)
Sleek side-swept hairstyle
Ultra glam and feminine, this sleek side-swept hair will suit everyone and the side parting will slim and 'lift' your cheekbones. Make sure you blow dry on a low setting and finish with a blast of cold air to add shine. Hair by Karine Jackson using Organic Colour Systems
Short wavy hairstyle
This sophisticated haircut is attractive to almost any face shape, the jaw length cut gives your face a visual lift and soft layers keep it flattering. The level layers are great if you like trying out different hairstyles but, like all of us, need to commit to just one. Hairstyle by Headmasters
Hairstyle with bun
So ladylike, a bun is the ultimate hairstyle to suit all. Loop hair around itself at the crown of the head, or just below, and simply secure with a hairband to create this classic and feminine style. Leave some volume on top to stop the look becoming severe.
Sleek bob with fringe hairstyle
Give your classic bob some volume and style with this graduated, fringed bob. A shorter back and longer front, coupled with a blunt fringe is a great style for long or oval face shapes. The 'fringe effect' can knock years off, hiding frown lines and drawing attention to your eyes. Hair by Neil Atkinson at Mahogany Hairdressing
Demure updo hairstyle
Are you looking for a new take on elegant buns for evening? This new updo is just as chic, but totally fresh. Sweep the hair over to one side and, leaving the front section loose, pull the back into a neat side bun. Finish by combing the front section across the forehead and secure loosely to the bun with kirby grips. Hair by Katie Mulcahy
Bob with fringe hairstyle
Adding a fringe to a bob will help to frame your face, define your eyes and give you a signature style to boot. This differs from the sleek bob as there are a few soft layers in the front, so will suit wider face shapes too. Hair by Neil Atkinson at Mahogany Hairdressing
Mid length hairstyle
One shade hair is over - the modern blonde weaves her natural (normally mousy!) through with warmer gold and caramel tones. This look is fabulously low maintenance, and suits curs with with choppy layers, so all those complimentary shades can shine through, super-natural, super-beautiful.
Long curled hairstyle
Soften you features with this classic cut. Curl hair only as high as your chin - it will help to hide your jawline, lift cheekbones and flatter your features. Use either one of the new waving wands or a slim curling barrel to achieve these curls.
Short cropped hairstyle with fringe
We've all been after ash blonde for years now, but finally warmth is back and that's a very good thing, bringing life to lighter complexions while complimenting those with darker skin tones that still want to be blonde. Ask for a warm amber or golden blonde toner over your usual highlights at your next colour consultation.
Short bobbed hairstyle
Plenty of volume at the roots and an off-centre parting will give your bob a youthful edge. This modern look is easy to create at home - simply blow dry with a round barrel brush, making sure the ends curve inwards and aren't poker straight. Spray some dry shampoo at the roots, to give hair an instant lift. Hair by Rae Palmer
Using grey hairs to your advantage like Queen Rania
Nicola Clark is creative colour director at John Frieda and Color Wow, and her celebrity clients include Queen Rania of Jordan. Speaking about her beautiful, flattering colour, Nicola says: "We tint her base colour to cover greys, then add mid-length highlights, so they look like flecks of sunlight. If you've only got a few greys ask your colourist to paint those sections out."
Long tied back hairstyle
If you love your lengths and won't be without them, more power to you! A ponytail can be so ladylike: Just be sure to leave some volume in the top and tie the hair low on the nape of the neck to keep the style flattering. Curl, backcomb or leave the pony straight - this look is so versatile! Hair by Headmasters
Mid length hairstyle
Update your bob to a "lob" - the long bob was the style of the year in 2016 and going nowhere for years to come. Roughly part the hair in the middle and scrunch try to keep your hair loose and textured. Not only is this more flattering than poker straight lengths, but it will make you hair look thicker too.
Short curled hairstyle
Need inspiration for a party style? Add a touch of glamour with this lightly vintage-inspired wave to frame your face. Pull hair into a deep side parting, blow dry upside down with mousse for volume then pull the heavier side forward, wrapping it around a giant barrel tong. Finish with shine spray. Not only does the wave give flat hair much-needed movement and bounce, but the softness adds a flattering, playful feel.
Mid length straight hairstyle
If your hair is naturally straight but you don't have time to go all out on styling every day, we suggest that you add some layers to give shape and volume on the days you wash and go.
Up do hairstyle
If you struggle to create a high-drama updo on evenings out, opt for something simple and unstructured, but still grown-up. This look is easy to do at home: Part the hair on the side and sweep up to the crown of the head in sections, pinning each one as you go. Leave the ends loose and natural on the top of the head in an un-done bun. Hair by Michael Barnes
Long hairstyle
A centre parting can really drag the face down, especially when you are over 40. Soften your look with a side-swept parting. The easiest way to find your perfect side sweep is divide the hair in line with the arch of your eyebrow, use a smoothing cream to work it into place if needed. Hair by Mark Leeson
Mid length messy hairstyle
A boost of body can really take your average style to something that little bit special and more glamourous. First blast hair upside gown with a big handful of mousse, then when it's 90% dry use a large barrel brush to pull upwards from the root to finish. Finish by popping hair up in velcro rollers and setting with a cold blast. Your biggest, best party hair guaranteed.
Short curly hairstyle
Layers equal instant volume, as the different lengths won't sit flush against each other creating movement and lift. A long bob is a classic look and this one with feathery laters through the front suits thick or wavy hair, giving swishy supermodel bounce.
Mid length hairstyle with fringe
This mid-length cut suits fine or straight hair best, as the layers make sure your locks have shape and body without any effort. Ask for a deep side fringe and hidden layers through the front to keep hair looking thick and healthy, or opt for feathery front sections to flatter your features and frame your face. Hair by MODE
Mid length curly hairstyle with fringe
Red hair is big news right now - it's easy to see why, this fiery shade brings instant brightness to your skin, reflects light beautifully and can even give your mood a lift! Opt for light copper tones to flatter mature skin and add glam curls to really up the wow-factor for special events. Hair by Karine Jackson
Chignon hairstyle
Create a glamorous hairstyle for a special occasion without spending hours at the mirror. This look is all about undone beauty, so don't worry if it's not perfect. Simple brush hair into a side parting and secure the mid-lengths and ends at the back, teasing up and out at the top. Leave the front sections loose to flatter and frame your face.
Mid length hairstyle
Create high drama for your next big event with classic 50s waves. This look can be achieved by sectioning off the hair and curling each area inwards towards the face with a large barrel tong Spray with a generous dose of hairspray and don't touch! Hair by Michael Barnes
Short curly hairstyle
Who says short hair can't be glamorous? This style is perfect for special occasions, pop freshly blow dried bob up in medium velcro rollers for as long as you can, then 15 minutes before leaving the house take them down, shake out and blast with volumising spray at the roots (we love Kerastase V.I.P Volume In Powder, £15.54 (opens in new tab)). Hair by Marcus King at Hooker & Young
Long glamorous curly hairstyle
If you have shoulder length hair or longer, go glam with this modern take on old Hollywood curls, it's surprisingly simple to achieve.Simply use a medium curling wand, wrapping hair away from your face to 'open up' the look and create big, bouncy curls. Tease out with your fingers once cooled and hold in place with a good dose of hairspray. Hair by Hooker & Young