Mustard oil for hair: Benefits, side effects and can it promote hair growth?
Heard the hype around mustard oil for hair? We ask the experts if this unlikely ingredient can really boost hair health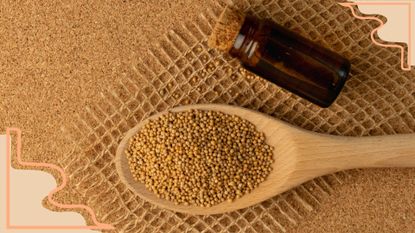 (Image credit: Future/Getty images)
The use of mustard oil for hair is an age-old Ayurvedic practice that's been around for millennia. Now trending on TikTok (where it has reeled in 15.8 million views), this ingredient is back in the spotlight. Believed to promote growth and help thinning hair, we've asked the experts to uncover the facts behind the hype.
Many of us are familiar with the benefits of argan oil and coconut oil for hair – but what about mustard seed oil? Currently booming on social media, this trending ingredient – also used as a cooking oil in South Asia – is said to help combat hair loss, hair thinning, and dandruff.
"Mustard oil is great for scalp care and hair growth," says Dr Nick Fisherman, trichologist at Watermans Hair. But according to Anabel Kingsley, brand president and consultant trichologist at Philip Kingsley, the evidence to support this claim is limited. Here, we ask the experts to break down everything you need to know about mustard oil for hair – from what it is to how (and if) it works.
Mustard oil for hair, everything you need to know
What is mustard oil?
As with other plant-based oils, "mustard oil comes from the seeds of the mustard plant," says Richard Spencer, expert trichologist at The Spencer Clinic. "The seeds are either pressed or ground to extract the oil," adds Marie Reynolds, global skin and wellness expert.
As we mentioned earlier, this ingredient has been used for millennia in holistic practices, "especially Ayurvedic practices," confirms Reynolds. "It is rich in omega 3 fatty acids, zinc, beta carotene, vitamin E, and vitamin B," says Spencer, meaning it has all the right attributes to be nourishing for our scalp and strands.
Benefits of mustard oil for hair
May reduce inflammation: Mustard oil is said to reduce scalp inflammation. This is because "mustard seeds are high in glucosinolate, a natural compound that is very anti-inflammatory," says Reynolds. "However, I have seen no data on its efficacy," notes Spencer.
May promote hair growth: If you want to make your hair grow faster, know that there's no quick fix. But according to Fisherman, "mustard oil can promote healthier hair growth because of its high content of antioxidants and nutrients as well as its anti-inflammatory properties." Regarding the latter, note that this will only help with inflammation-induced hair loss.
Anti-bacterial and anti-fungal properties: Searching for how to get rid of dandruff? "With its antibacterial and antifungal properties, mustard seed oil can help treat dandruff and seborrhoeic dermatitis," says Fisherman.
While the general consensus is that more scientific evidence is needed to back up the benefits of mustard oil for hair, some experts (including Fisherman and Reynolds) are advocates of the ingredient. "It can help soothe the scalp, prevent dry hair, and promote hair growth. It is also known to reduce pain in your scalp," says Fisherman.
Are there any side effects?
"You must take caution when using mustard oil," warns Reynolds. As although there are potential benefits, "it is high in erucic acid, a fatty acid that can increase lipid levels." This is why it is not used for oral consumption in the UK and is considered a 'toxic substance'. Although it can still be used on hair, erucic acid may cause skin irritation, including redness and stinging.
"With this in mind, be wary if you have sensitive skin or a sore scalp," continues Reynolds. Spencer seconds this, adding that "it is due to the possibility of a skin reaction to mustard seed oil, that we do not employ the oil in our workplace." If you do want to use it, the experts agree that it's best to do a patch test first.
How to use mustard oil for hair
Reynolds would advise against using mustard seed oil as an overnight treatment as "although it can be beneficial, it's a strong oil that can tip the scales from being anti-inflammatory to inflaming the scalp." Always do a patch test first and if you don't have a reaction, "apply to dry hair, working it in from roots to ends, before wrapping your hair in a towel for an hour or so," says Reynolds. Then, use your best shampoo to wash the hair before styling as usual.
In terms of frequency, Reynolds and Fisherman agree that once a week is plenty. You can also alternate mustard oil with other hair-boosting oils, like coconut oil and castor oil. "To increase blood circulation to the scalp, give yourself a scalp massage for hair growth using a brush alongside your chosen oil," suggests Fisherman.
Our contributing beauty editor recommends...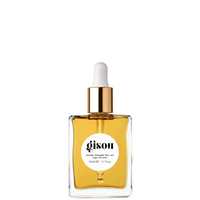 Gisou Honey Infused Hair Oil | RRP: $35/£35 for 30ml
If you're not sold on mustard seed oil, give this Honey Infused Hair Oil a whirl instead. Rich in antioxidants, vitamins, and amino acids, this delicate oil bolsters shine and strengthens strands.
Emma Stoddart is a freelance beauty journalist and self-confessed skincare aficionado with over five years' industry experience. Emma has worked for some of the UK's top women's titles including Net-A-Porter, Stylist and Grazia. Her experience spans online and print as well as producing editorial shoots with some of the industry's biggest artists, including Val Garland. Asides from working with them behind the scenes, she's also had the chance to interview the likes of Patrick Ta, Pat McGrath, and Sam McKnight for all their insider tips and tricks.