Learn how to curl hair with our comprehensive curling guide
Know how to curl hair using your tool of choice—whether iron, hot rollers, wand, or all of the above—for easy, sexy ringlets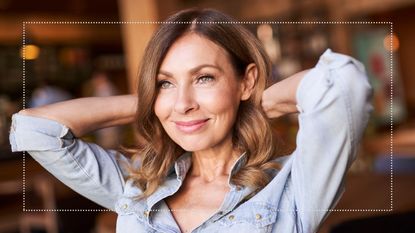 (Image credit: Future/Getty Images)
Itching to learn how to curl hair so you can switch things up? If you're looking to beat hair boredom, then you're in luck: We asked expert stylists to share need-to-know tips on how to curl hair, so you can experiment with sizzling new looks.
It takes more than products alone to achieve smooth curls (though if you are serious about doing this regularly, we do recommend you read our guide to the best curling irons). Your technique can make or break the final outcome, especially if you're looking to achieve bouncy coils sans heat.
Not to worry though, as our experts outline the five most popular curling methods and explain how to do them, step by step. We have included heated and heatless options, if minimizing heat damage is a priority for you. And we've rated them from easiest (a flat iron) to the more technically challenging techniques for more confident home stylists (a curling wand). Get ready to create the luscious curls of your dreams...
5 methods for curling hair, from easiest to most difficult
How to curl hair using a flat iron
(opens in new tab)
Difficulty level: easy
Creating pin-straight locks is not the only thing a hair straightener can do; it can also build gorgeous waves with ease, according to cosmetologist and hairstylist Ghanima Abdullah (opens in new tab).
"Most people have ditched curling irons and now curl their hair with a flat iron—that way they have two tools in one," she tells woman&home.
How to curl hair using a flat iron is fairly simple, Ghanima says. Follow these instructions:
Carefully wrap your hair around the flat iron before clamping the irons closed
Slowly slide the flat iron down
Experiment with different ways to wrap and slide until you find the curl pattern you want
Expert tips
To curl locks without any hiccups, professional stylist Monica Davis advises going for a straightening iron with the smallest width available and giving preference to the models with rounded edges to avoid rough twisting. If your flat iron is not fit for purpose, read our roundup of the best hair straighteners.
Heat helps curl hair fast—and allows your curls to last longer—but your locks pay the price in damage. To avoid frazzled locks, Ghanima advises using a heat protectant spray, and only using your iron on completely dry hair.
How to curl hair with hot rollers
(opens in new tab)
Difficulty level: easy
Hot rollers may bring some disco-inspired '70s hairstyles to mind, but Ghanima says this curling method is anything but outdated; it provides long-lasting bouncy curls without damaging the hair.
You'll want to be careful about using hot rollers, though, as they require time and patience. "A lot of people think hot rollers are cumbersome, but it's just another routine to get used to," Ghanima explains. "A set will usually heat up during the time it takes to shower; it takes ten minutes to install them, and another ten for them to cool down and have your curls ready. Again make sure your hair is fully dry before starting, and use a heat protectant to reduce your risk of heat damage."
Heat up your rollers for the required period of time
Then section hair with clips. More sections = more curls.
Then put a roller against each section and roll it upwards.
Make sure the sections around the hairline, i.e. the sideburn and fringe/bang area, are rolled away from the face for a more flattering "feature-opening" effect.
Secure each roller as you go with the provided clips.
Expert tips
Many hot roller sets come with curlers that vary in size. As a general rule, larger curlers look better on the bottom sections, and thinner curlers are used on the sides and crown areas (If it's volume you're after and less curl, use a medium-sized barrel on the crown.). We have a detailed tutorial on learning how to use hot rollers for more guidance.

How to choose the best hot rollers for you
---
To choose a set of hot rollers, Monica recommends considering your hair type. "Thin, fine hair requires rollers of a smaller diameter to make the curls stronger. Thicker hair accepts both small and large diameters, depending on the effect you want to achieve." Again, see our tip on volume vs curl.
Similarly, be on the lookout for models with ionic or ceramic coatings. "This helps achieve hair protection, smoothening, and higher definition," Monica adds.
How to curl hair with regular hair rollers
Difficulty level: medium
Heatless curls have really taken off lately, with dressing gown curls trending on TikTok and rollers making a comeback. It's pleasing that learning how to curl hair without heat is possible, and there's a plethora of non-heated rollers of every size and shape for every purpose, Ghanima explains.
However, there are different ways to use regular, non-heated rollers; stylists do roll hair while it's wet at the salon, but Ghanima warns against this unless you're a pro. "At home, it's best to roll dry, so your curls don't come out too tight or with ragged ends." A good compromise is to roll hair when it's 80% dry or feels damp, but not dripping.
Section your hair with clips. More sections = more curls.
Put a roller against each section and roll it upwards. If your roller requires clipping or securing do this as you go.
Make sure the sections around your face, like your bangs and sideburns, are rolled away from the face for a more flattering "feature-opening" effect.
Expert tips
Non-heated rollers do require lots of time to do their thing, so be aware that you may be leaving them in all day (or night) to get the curl shape you desire. Ghanima suggest you emulate your favorite retro sitcom star and invest in a glamorous night scarf or silk headwrap, to help "set" your hair in overnight while wearing your rollers.
How to choose the best non-heated rollers for you
---
Non-heated rollers differ by the effects they provide, according to Monica. Some info on the four major types of rollers available, plus the benefits they provide:
Magnetic rollers: "These non-heated rollers create smooth and voluminous curls that last long if you set the rollers on wet hair," she explains.
Velcro rollers: "Provide softness and volume even if you set them on dry or slightly damp hair," says Monica. "They have the disadvantage of not being very comfortable to clip on thick hair, but they hold really well on short and fine hair."
Foam rollers: "Overall, a good choice for fragile hair for dry or overnight curling," Monica says.
Plastic mesh rollers: "These rollers don't need clipping, and make wet hair dry faster, Monica adds. "However, the curls created from these rollers are usually smooth, but don't last long on thick hair.
How to curl hair with a curling iron
(opens in new tab)
Difficulty level: medium
Using a curling iron is probably the most popular curling method, as it allows you to create soft waves and tight curls fast.
However, not all curling irons are created equal; Monica advises looking for an iron with a clamp, as she says, "it helps the user gain more control over their strands."
Don't know how to use a curling iron? Monica says it's best to start simple:
Clamp the barrel down one to two inches away from the scalp.
Wrap the strands around the barrel away from your face.
Hold for eight to ten seconds, release, and let the curl cool down before making another one.
Expert tips
Curling iron barrels vary anywhere from ⅜ inches to 2 inches and provide different curl diameters, Monica explains. The key to remember: the wider the barrel, the looser the curl.
At the same time, temperature also plays a big role in choosing a curling iron. "You should also make sure that your curling iron can hold the temperature at 175°F if you have thin hair, and avoid using more than 300-340°F for long and thick hair," Monica adds.
How to curl hair with a curling wand
(opens in new tab)
Difficulty level: hard
If you are skilled at curling, Monica says a curling wand is a great investment product for achieving all kinds of curling effects.
"The rules for choosing the right curling wand are the same as for a curling iron," Monica says. "Just keep in mind that you can't clip your hair with a curling wand, so the process is slightly different and more difficult. Temperature recommendations are the same as well."
Section off your hair with clips
Start with one-inch sections underneath and wind hair around the wand
After a few seconds release the hair and allow it to cool
Gradually move up and to the front of your hair
Expert tips
Because curling wands do not have clamps, using a curling wand to curl hair may be difficult for curling newbies, according to Monica. "You have to wear heat-resistant gloves, and curl your hair by wrapping one-inch sections around the barrel," she tells woman&home.
This method is very versatile. "You can either wrap entire strands of hair around the thickest point of the barrel to achieve looser curls of the same diameter or do the same on the thinner end for tighter curls," she explains. "Alternatively, you can wrap your hair evenly all over the surface of the barrel to get evenly diminishing curls. The direction of the effect can be changed by pointing the wand up or down, making the curling possibilities endless."
woman&home thanks Ghanima Abdullah (opens in new tab) and Monica Davis (opens in new tab) for their time and expertise.
Courtney Leiva is a seasoned lifestyle writer with nine years of experience under her belt. She graduated from The Ramapo College of New Jersey in 2012, and since graduation, she has been actively contributing to major news outlets such as Refinery29, Women's Health, Yahoo! Lifestyle, HelloGiggles, NewBeauty, and more.
Courtney initially started off covering beauty news, but as she has grown her career over the years, her health, home, and shopping pieces can now be seen on BuzzFeed, The Daily Beast, and Huffington Post.