The best hairdressers in Bristol in 2020 – a guide to all the best salons in your local area
If you're looking for the best hairdressers in Bristol, this is the feature for you.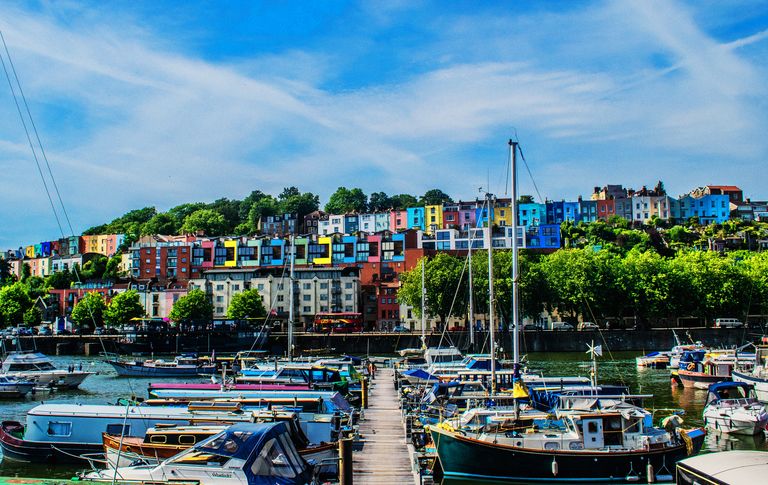 (Image credit: KarlNewton/GettyImages)
You'll have no trouble finding a hairdresser to suit your needs in gorgeous Bristol.
In 2019, Bristol was voted the Happiest Place to Live in the UK. Why, you ask? Where do we start – straddling the River Avon, this historic port is cool, creative and laidback, amongst other positives.
Thinking about tryinga new bob hairstyleor working in aside fringe? Bored of the same old look and wonderingwhat colour should I dye my hair?Take some inspiration from woman&home then head to one of the many excellent hair salons in Bristol. There are plenty dotted around this small, charming city – especially in trendy Clifton. You'll also find much-loved local salons offering great haircuts at great prices in other areas such as gentrifying Bedminster, on-the-up Fishponds and colourful Stokes Croft.
How can I find good hairdressers near me in Bristol?
Google is a useful way tofind good 'hairdressers near me' online, but the woman&home team's go-to isTreatwell. Here, you can book hair and beauty appointments in moments. There are thousands of salons listed internationally – and 36 in Bristol – with deals ripe for the picking. You can also check out the Bristol Bloggers collective on Instagram for recommendations too.
Which hairdressers in Bristol have the best reputation professionally?
One of the most reputable award-winning hairdressers in Bristol isBonomi in Clifton. Known for its creative approach to hairdressing and commitment to sustainable beauty, it has featured in Vogue, Tatler and Elle.
Can I book online?Yes, you can book this salons via Bonomi.
Hair at 58 in Cotham Hill also has a great reputation. Bristol's only Aveda Concept Salon, it was a 2019 Wales & Southwest Hairdresser finalist at the British Hairdressing Awards, whileNoco Hairin Clifton was named the UK's Best New Independent Hair Salon Winner at the HJ British Hairdressing Business Awards 2019 and was described by The Bristol Magazine as "a welcome addition to the Bristol hair and beauty scene."
Can I book online?Yes, you can book this salons via Hair at 58.
Gaudi Hairin the city centre is a good bet, too. Specialising in European and Afro hairdressing, it regularly appears in local write-ups as one of Bristol's best salons.
Can I book online?Yes, you can book this salons via Gaudi Hair.
Or finally there's Trevor Sorbie in Clifton – while it's a relatively new addition to this award-winning chain of salons, it's a name you can trust.
Can I book online?Yes, you can book this salons via Trevor Sorbie.
Best hairdressers in Bristol 2020
If you're looking for honesty, customer reviews are super useful. This is when Treatwell comes in handy. Because almost every salon listed has been critiqued by paying customers we used this feedback to decide which hairdressers in Bristol were being raved about.
At the time of writing, Hair by Lydia in Clifton comes out top, with a 5 star rating and 80 reviews. Operating out of the small, stylish Alma Bella Boutique salon, Lydia Newton is getting a name for herself. That's because she's an attentive, friendly stylist. What's more, she's full of great advice and haircare tips. Happy customers wrote of the "great experience" they had with the "fun", "knowledgeable" and "amazing" Lydia. Book her viaTreatwell.
And here are nine more well-reviewed salons in Bristol that Treatwell users also rate highly, with a combination of the most stars then reviews. Take a look – no doubt you'll find a salon that's right for you.
Top 10 hair salons in Bristol
Hair by Lydia @ Alma Bella in Clifton
5 stars, 80 reviews Lydia Newton currently works on Tuesdays, Thursdays and Saturdays from the Alma Bella Boutique salon (which also has an impressive 4.5 star rating) in Clifton, which, in 2019, was named the most fashionable part of Bristol, according to the website Flatmate. Alma Bella means "beautiful soul" and Lydia fits that bill judging by the rave reviews. Don't let the lack of social media presence put you off – clients never feel rushed by Lydia, who offers a friendly, personalised service, excellent advice and great haircuts and colour – earning her four and five stars across the board. 💇Starting price for a wash, haircut and blow dry: £50 💇Starting price for half head highlights and finish: £100
Salon Symphony in Fishponds
5 stars, 48 reviews Now in its 11th year, this well-liked local salon – which is open Wednesday-Saturday – continues to provide a skillful service under the guidance of director and owner Laura, who's proud of the "warm, friendly and professional salon environment" she's created. "There is nothing more rewarding than making someone look and feel fabulous!" she writes and if the reviews are anything to go by that's exactly what Laura and her experienced team achieve. "Laura's always learning new skills to perfect your dream hair and it comes out amazing every time," wrote one customer, while other clients wax lyrical about the "welcoming" and "friendly" environment. 💇Starting price for a haircut and finish: £21 💇Starting price for half head highlights and finish: £45.50
Clifton's Barber Shop and Ladies Hairdressing Salon in Clifton
5 stars, 40 reviews A new kid on the block, this unisex salon is open seven days a week and sports traditional barber shop chairs and an exposed brick interior. The unflappable Roxanne is highly recommended, with five stars from happy reviewers remarking on her professionalism, friendliness and knowledge. 💇Starting price for a wash, haircut and blow dry: £35 💇Starting price for half head highlights and blow dry: £68
Clair Swinscoe Studio Couture in Clifton
5 stars, 35 reviews With 31 reviews – all 5 star – this luxury organic hair salon offers a "relaxing hair spa environment." Clair admits she's passionate about hair, saying, "My speciality is to give clients that red carpet feel, for me it's all about a good cut, glossy colour and, of course, my signature big bouncy blow dry." For a cheaper cut, you can book Lia, a graduate stylist who Clair trained, who has also accumulated rave reviews. "Outstanding", "very friendly" and "absolutely fantastic" are just some of the remarks posted. 💇Starting price for a haircut and finish with Clair: £75 💇Starting price for half head highlights and blow dry with Clair: £160
Lavish Hair in Stokes Croft
5 stars, 30 reviews This relaxed and welcoming hair and beauty salon is located in a hip area of Bristol known for its street art. Reviews are very positive, with customers remarking on being listened to, the care taken, and the "super lovely staff". A big thumbs up for their colouring skills, too. You can treat yourself to a manicure or a massage while you're there. 💇Starting price for a wash, haircut and finish: £50 💇Starting price for half head highlights and finish: £90
OmBré Hair & Beauty in Southmead
5 stars, 11 reviews Just two years old, this women-only salon in a northern suburb of Bristol specialises in ombré, balayage, highlighting and unique cuts as well as offering bespoke beauty services such as nail extensions, definition brows and lash lifts. With its chilled atmosphere and attentive staff, OmBré is the ideal local salon for you, especially if you're looking for great colour. 💇Starting price for a haircut and blow dry: £30 💇Starting price for ombré with trim and blow dry: £130
Ego Salon & Academy in Fishponds
5 stars, 6 reviews Styled as the "South West's first Afro-Caribbean hairdressing Academy dedicated to the art of afro hair" Ego – an attractive and airy salon with free hanging mirrors and exposed brick – is already attracting 5 star reviews for its helpful, friendly and knowledgeable staff that includes experienced hair stylist, trainer and director, Tifanny Pierre. Stylists are masters at relaxers, weaves, cornrows, braids and plaits, as well as colouring. 💇🏿Starting price for a haircut and blow dry: £38 💇🏿Starting price for half head highlights and finish: £50 💇🏿Starting price for half head weave: £45
Bristoliana Beauty in Bedminster
5 stars, 6 reviews Located in the south of the city, in up-and-coming Bedminster, Bristoliana is popular with locals and a one-stop-shop for a haircut and style, colour, manicures, eyelash extensions, waxings and facials. With full marks for ambience and staff, each treatment is tailored to the client's needs. 💇Starting price for a wash, haircut and blow dry (medium length hair): £35 💇Starting price for half head highlights with blow dry: £55
4.8 stars, 349 reviews Located in the one of the more affluent areas of Bristol, Casa Pelo has built up a base of loyal clients who appreciate the salon's friendly personalised service and reasonable prices. Style Director Amy regards hairdressing "as a pleasure – making people feel good is a natural talent" and customers' reviews highlight the "considerate" and "capable" staff and "highly recommend" the haircuts and colour. 💇Starting price for a haircut and blow dry: £36 💇Starting price for half head highlights with blow dry: £81.60
Create A Cut in Staple Hill
4.8 stars, 252 reviews This contemporary hair and beauty salon, located in the vibrant Staple Hill area of Bristol, is frequented by many happy regulars who love the friendly, professional service and relaxed atmosphere. Reviewers repeatedly describe the warm welcome and "great experience" the salon offers. 💇Starting price for a haircut and blow dry: £28 💇Starting price for half head foil highlights with wash, haircut and blow dry: £73