20 best hairdressers in Bristol for 2022 - from sustainable salons to colour and curl specialists
Looking for the best hairdressers in Bristol and don't know where to start? Our local insider's guide has everything you need to know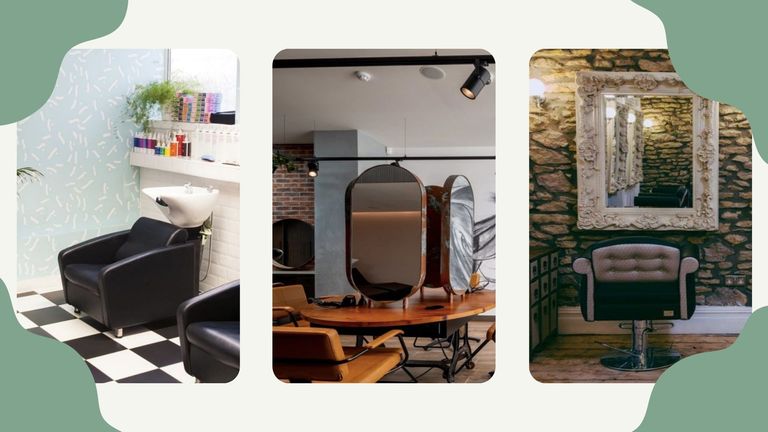 (Image credit: Betties and Baldwins/Trevor Sorbie/Hair at 58/Future)
it's not surprising that hairdressers in Bristol are some of the best in the country, as this city is famous for its individual style, street art and fashionable focus. Here at woman&home, we know how tricky it can be to narrow down the search, so we've done the hard work for you.
Whether you fancy a classic bob haircut, a complete colour change or simply to immerse yourself in a relaxing and indulgent environment, hairdressers in Bristol really do have it all. Upmarket Clifton tops the charts when it comes to trendy and luxurious salons, while suburbs such as Horfield offer a local, friendly neighbourhood vibe. This south west city is also known as one of the most eco-friendly places in Europe, as well as one of the vegan capitals of the UK, you won't be shocked to hear that a fair few of Bristol salons have a sustainable beauty focus. Think green and clean products, cruelty-free initiatives and zero-waste premises.
The Glasshouse Eco Salon in leafy Westbury on Trym takes inspiration from its natural surroundings and prioritises upcycling materials and sustainable products. You'll also find salons that reflect the colourful and eclectic scene that makes up Bristol's heart. Wondering which colour should I dye my hair? internationally renowned, award-winning colour master Fergal Doyle can help with that - and he's chosen Stoke Bishop as the home for his business. Can't wait any longer to hear more? Peel away those curtain bangs and get reading…
The 20 best hairdressers in Bristol
1. Betties and Baldwins, The Centre
This independent hair salon and nail bar, based in the centre of Bristol just off bustling Small Street, sums up everything there is to love about the individuality that oozes out of the city's core. Having built up a reputation for its gender neutral pricing systems and for being LGBTQIA+ friendly, the salon focuses on being colour specialists with bespoke cutting and embraces the street style and originality seen throughout Bristol's inhabitants. The salon interiors reflect this too, with Instagrammable bright walls and pops of colour everywhere you look.
Despite being colour specialists, you don't have to worry about it all being too expensive with tiered price options available for booking in with new talent, stylists, or advanced stylists. With plenty of highly rated reviews, customers are particularly happy that the salon is "on the forefront of creative cut and colour styling" with hair stylist Chrissy coming highly recommended for her "fabulous creative colouring".
Price for a cut and blow-dry from £47, and for highlights and blow-dry from £77.50. bettiesandbaldwins.com (opens in new tab)
2. Bloggs Salon, Harbourside
One of the most talked-about, award-winning salons in Bristol is Bloggs Salon, situated in a pretty picture perfect setting on the harbourside. Their USP is all about embracing the creativity of Bristol and complementing it by creating a salon experience that is unique, while being a sustainable eco salon, too. You'll find plenty of innovative technical services, as well as luxury add-ons such as Olaplex, Kerastase and Fusio Duse. Oh, and you'll get yourself a free Bloggs head massage when you opt for the luxury conditioning treatments as well, so it's a great option if you really want to switch off, relax and indulge.
With specialists in every field, they charge for the time spent creating the looks as opposed to the service itself, meaning everything is entirely bespoke and unique. Based on their reviews, customers love that this salon offers loyalty points and rewards services, meaning you can build up points in return for different gifts.
Price for a cut and blow-dry from £48, and for highlights and blow-dry from £65. bloggssalons.co.uk (opens in new tab)
3. Bonomini, Clifton
Ask for recommendations for the best hairdressers in Bristol and you'll be sure to be met with a lot of praise for Bonomini in Clifton. Featured in Tatler as one of the best hair salons outside of London, they've built up something of a cult following. The award-winning team offer individual and creative styling and uses sustainable, eco-friendly Davines products which means that they are able to create long-lasting results without using harsh chemicals or ammonia.
With highly-qualified stylists working at the salon, Bonomini is known for providing brilliant guidance and consultations, so that they can create a hairstyle that works for your lifestyle. Their commitment to both sustainability and creative colour means that glowing reviews describe their work as "amazing", "brilliant" and "the best place in Bristol to do your hair".
Price for a cut and blow-dry from £45, and for highlights and blow-dry from £95. bonominihair.co.uk (opens in new tab)
4. Casa Pelo, Redland
Situated in the leafy suburbs of Westbury Park in Redland, there's a real feel of luxury and indulgence when you step into Casa Pelo to have your hair done, which matches the clientele of the affluent area. But that doesn't mean you'll be met with any stuffiness, the hair salon prides itself on its friendly and laid back atmosphere. With an impressive 4.8 star rating on Treatwell, the Bristol hairdressers is often flagged for having a professional approach but with "lovely chat and friendly atmosphere" too.
When it comes to making sure the colour they produce is the best it can be, the team at Casa Pelo use Wella as their go-to colour product of choice, the UK leading hair colour brand. Being Wella trained means that the stylists at the award-winning salon have the ability to provide the best in colour services from balayage hair to excellent grey coverage, to fashion tones and semi and quasi-permanent colours, with long lasting durability.
Price for a cut and blow-dry from £41.50, and for highlights and blow-dry from £46. casapelohairdressing.co.uk (opens in new tab)
5. Fergal Doyle Hair, Stoke Bishop
Attracting clients from all over the south west who want to experiment with their hair colour and achieve something unique, Fergal Doyle Hair works out of his smart home studio in Stoke Bishop. As a social media educator to others within the hair world, as well as a Master Colour Expert and an award-winning stylist, Fergal has built up a pretty solid reputation in the industry and is known for his creative colouring and vibrant results. In fact, neighbourhood review and recommendation site Next Door Bristol bills Doyle as "one of the hairdressing industry's most respected and influential colourists."
His five-star reviews reflect this, too, with people saying that he has "great knowledge and advises on products too" and that the "quality of the hair cut and colour is amazing". Particularly specialising in balayage and bridal hair, you know you are in safe hands with this industry icon. Fergal or his team of stylists will guide you toward the best results for your hair and style.
Price for a cut and blow-dry from £45, and for highlights and blow-dry from £90. fergaldoylehair.com (opens in new tab)
6. Gaudi Hair Salon, The Centre
Gaudi Hair Salon, based just off Baldwin Street near the famous St. Nick's Market, is talk of the town when it comes to being the best hairdressers in Bristol for afro hair, curly hairstyles and European hairdressing. Founding stylist Angie has owned Gaudi Hair for 18 years and has since been committed to growing a powerhouse of professional, knowledgeable, and personable stylists - something that has gone a long way since opening if the high level of reviews are anything to go by.
As one of the only salons in the south west to have expert knowledge of European and Afro hairdressing, they are also one of the only local salons to partner with L'Oreal Professional's MIZANI brand, which is a product line engineered specifically for natural hairstyles and all curl types. This means that stylists here are always on-trend with the newest techniques and best products available for curls and coils. Watch out for this salon's regular events, aimed at helping clients out with unique hair home-care needs.
Price for a cut and blow-dry from £40, and for highlights and blow-dry from £70. gaudihair.com (opens in new tab)
7. Hair at 58, Cotham
Another award-winning salon, Hair at 58 on Cotham Hill is well known for providing wonderful results. You don't have to worry about whether or not you are in safe hands here, with happy clients left, right and centre and a real focus on continuing their award-winning streak. The Bristol hair salon sets itself apart from the rest by priding itself on being Bristol's only Aveda Concept Salon, meaning they only use luxurious Aveda products and are also the south west's ambassador for organic Aveda Hair Colour.
This is a great option for an all-rounder salon, with options from a basic trim to bespoke cut and colour, but you'll be blown away by their wellness initiatives too. The highly-skilled staff will also offer a sensory journey with stress relieving hand, head and shoulder massages so you'll leave feeling like a new woman in more ways than one after your hair transformation.
Price for a cut and blow-dry from £25 for new talent, and for highlights and blow-dry from £65. hairat58.co.uk (opens in new tab)
8. Hair by Lydia @ Alma Bella Boutique, Clifton
Alongside this expert guide, if you're ever wondering where to look for honest customer reviews on hairdressers in Bristol (or anywhere across the UK for that matter) then beauty bookings app Treatwell (opens in new tab) is a pretty good place to start. And someone that comes out very much on top when it comes to her five-star reviews is Hair by Lydia, who runs her salon service out of the lovely Alma Bella Boutique in Clifton on Tuesdays, Thursdays and Saturdays.
Praised for her friendly and welcoming vibe, Lydia offers a range of classic hair services including classic cuts and blow dry, highlights in hair, creative colouring and hair styling for special occasions. According to one reviewer, "Lydia's the best ever!"
Price for a cut and blow-dry from £50 for new talent, and for highlights and blow-dry from £100. hair-by-lydia-1.mytreatwell.co.uk (opens in new tab)
9. Haus of Hair, Redland
With a fun and trendy interior, plenty of natural textures, plants and dark walls, Haus of Hair is a modern feeling salon with great playlists and innovative stylists on hand. With an abundance of five-star reviews, it's clear that this salon has made a name for itself because of its easygoing and friendly atmosphere. It also gets the thumbs up for staff's creative and freehand colouring skills and professionalism in consulting on options. So if you're someone who likes to be guided on where to go with your hair then this one's for you.
One reviewer says: "Harriet is just the best! She is an exceptionally talented hairdresser, super professional and always knows exactly what suits me and my style throughout the year!" Are you a fan of dogs? Well, you won't be disappointed by the addition of two friendly salon pups then, either, and many of the reviews suggest that they work pretty well to further relax you when heading for your haircut!
Price for a cut and blow-dry from £52, and for highlights and blow-dry from £90. hausofhairbristol.com (opens in new tab)
10. James B Hair, Bedminster
As a gender-neutral, judgement free hair salon in Bristol, James B Hair in Bedminster is all about creating a positive environment in which to have your hair coiffed. As with Betties and Baldwin, James B Hair bases prices on the time taken and amount of professional product used, and they are not attached to any specific gender - it's all about your current hair and your desired look. Using cruelty-free products, they are also all about creating a positive impact on the environment, for those who are invested in sustainability.
You'll find that the salon was created using only second-hand items and materials, and the salon shower hoses use 60% less water than conventional ones. It's clear from reviews that James has built up a loyal customer base, and his Facebook reviews put him at 4.9 stars out of 79 reviews. One reviewer, in particular, gave high praise indeed, saying: "One of the best hairdressing experiences I've had, and I will be back."
Price for a cut and blow-dry from £45, and for highlights and blow-dry from £65. jamesbhair.com (opens in new tab)
11. Laurel and Mane, Bradley Stoke
If you've ever heard the phrase 'Instagram-friendly salon' and wondered what that might look like, it very well might be similar to Laurel and Mane hairdressers in the Bradley Stoke area of Bristol. Think pastel-coloured aesthetics (you might even get a matching pink coffee), neon signs and foliage walls and you've got yourself a pretty good idea of what to expect from the stylish interiors of this salon.
Whether you are in need of highlights, you fancy a more creative hand-coloured balayage or a simple cut and blow dry, the team at relatively new-on-the-scene Laurel and Mane will offer expert advice to ensure you are given a beautiful hair style bespoke to you. The highly-trained stylists focus on both colour and cutting to modern techniques, and have an impressive score of 4.98 out of 5 stars on Salon Spy from over 122 reviews. One reviewer named Connie said: "I literally gave them nothing to go off I just said make it pretty and they somehow gave me the hair I've only ever dreamt of. Incredible cut and colour!"
Price for a cut and blow-dry from £49.50, and for highlights and blow-dry from £80. laurelandmane.com (opens in new tab)
12. Lindsey Mahoney Hair, Clifton
Do you often find yourself wishing for low maintenance hair and wondering how you might go about maintaining that salon-fresh look once you've left the hairdressers? Luckily for you, Lindsey Mahoney Hair specialises in just that. This hairdresser in Bristol is based in Clifton out of the lovely Sid + John's salon space, specialises in low maintenance hair and effortless looking style.
Imagine perfectly natural looking sun-kissed colours and you've got a good idea of what to expect. Lindsey has focused her whole career on this premise, having trained in both San Francisco and New York under the likes of Bumble and Bumble University and Jayne Matthews of EDO. Now that she's back in the UK, it's all about bringing her passion for razor-carved hair, natural-looking colour and the effortless-chic style of California to Bristol.
Price for a cut and blow-dry from £58, and for highlights and blow-dry from £95. lindseymahoneyhair.com (opens in new tab)
13. March Hare, Montpelier
With a large social media following, March Hare in the trendy Montpelier area of Bristol is a hairdresser that is obviously doing something very right. The salon has vibrant interiors full of neon signs, patterned tiles and exciting colours and their experimental and original approach to hair and colouring reflects this perfectly.
Want green or blue hair? March Hare is a good place to start, as they don't shy away from creating bold hairstyles and colour schemes. Reviews are positive with clients repeatedly praising the salon for their "chilled and friendly atmosphere", as well as the fact that they can turn "a haircut into a proper treat!" This particular reviewer went on to say that "the salon is beautiful and the staff are amazingly talented and friendly!" too.
Price for a cut and blow-dry from £45, and for highlights and blow-dry from £95. marchharebristol.co.uk (opens in new tab)
14. McQueens, The Centre
Not only are McQueens on Park Street an award-winning salon but they also, quite rarely, specialise in hair extensions. So, for those of you who want long, realistic flowing locks, but aren't sure which hair extensions are best, you're in for a right treat.
Set on an iconic street, right in the middle of the action, McQueens has won a multitude of awards, including Bristol's Lifestyle Salon of the Year in 2017. Salon owner Emma Choremi was given the salon as a gift from her father to forward her enormous passion for hairdressing, and passion is certainly something that you get here. There's a friendly yet professional atmosphere and this is reflected in their rave reviews, and the salon has become known for being very good value. With guest colourists dropping in for limited runs of time, there's always something for everyone at McQueens, whether it be a specialist colour treatment or high-quality extensions.
Price for a cut and blow-dry from £35, and for highlights and blow-dry from £60. mcqueenshairbristol.co.uk (opens in new tab)
15. Moda Hairdressing, Bishopston
Moda Hairdressing might look fairly unassuming from its frontage on the famous Gloucester Road, but it's a winner and favourite with the locals. Moda is a contemporary hair salon, which focuses on offering a unique mix of hairdressing for both men and women. With an impressive five stars of over 680 reviews on Salon Spy, it was awarded five stars in the Good Salon Guide as well as becoming a partnership L'Oréal Professionell hair salon too - high accolades indeed!
With a designated VIP area, it's a little different to other hairdressers in Bristol, but has the same level of laid-back friendliness. If you like to truly kick back when you treat yourself to a haircut, the salon has been praised for its high level of care and touches such as herbal tea and posh vegan biscuits. That's not to mention rave reviews for "the movement within the reclining chair whilst having your hair washed" which is apparently "a real treat!"
Price for a cut and blow-dry from £41, and for highlights and blow-dry from £54. modahairdressing.co.uk (opens in new tab)
16. New Style, Horfield
Don't be put off by the lack of social media presence, modern digital presence or online reviews, because New Style is a local neighbourhood hairdresser with rave reviews across the city. People are particularly impressed by their lower pricing, without the quality of the service being affected. With a solid score of 4.9 on Treatwell, many happy clients can vouch for the owner, Paula, being "an amazing, very talented hairdresser" and that the salon "is excellent value for money".
You can expect all the usual services from New Style, including colouring techniques from highlights to ombre, and cutting styles from traditional to modern. Although the salon might not be as Instagrammable as other hairdressers in Bristol, you can rest assured that you will get more than what you pay for here and that you will leave feeling looked after and fantastic.
Price for a cut and blow-dry from £33, and for highlights and blow-dry from £65. facebook.com/yournewstylehairsalon (opens in new tab)
17. Noco Hair, Redland
The winner of Best New Independent Hair Salon in the UK in 2019, Noco Hair on Whiteladies Road has continued to impress the people of Bristol. Are you someone who likes to save up for a haircut and think of it as an absolute treat and relaxing day out? Well, if you are, you'll be blown away by the indulgent service at Noco Hair, with macaroons, croissants and good coffee all on offer while you relax in the salon chair.
The founders, Noel and Corey have built an incredible team of talented stylists, and even created two bespoke cuts - the Clifton Cut and the Vitality Cut. It doesn't get much more Bristol than walking around with the Clifton Cut! But what else can you expect? The salon is proud of its sustainability initiatives and clean products, and there's a relaxation zone so that you can have a head massage and chill out, too. What's better? If you are not 100% satisfied with your hair they will refund your money.
Price for a cut and blow-dry from £60, and for highlights and blow-dry from £80, nocohair.com (opens in new tab)
18.Studio Couture, Clifton
Studio Couture by Clair Swinscoe is considered one of the top hairdressers in Bristol with 4.9 stars on Treatwell and rave reviews on Facebook. Awarded Five Gold Stars by The Good Salon Guide, Studio Couture bills itself as a luxury lifestyle salon aiming to give you first class service and have you feeling fabulous all over when you leave.
With over 20 years of experience in hairdressing, Clair's passion shines through and her artistic directing of the salon and her stylists means you can expect a very high level of hair cut or colour. She's been nominated as the best salon in Bristol before, as well as being the best for vegan products, so Studio Couture really does tick a lot of boxes. Services include all the usual you would expect from aluxe salon, as well as deep conditioning treatments, hair up styles and styling, and a various array of creative colouring techniques such as balayage and foilayage.
Price for a cut and blow-dry from £49, and for highlights and blow-dry from £90 studiocouture-cs.com (opens in new tab)
19. The Glasshouse Eco Salon, Westbury on Trym
The name kind of says it all with this one when it comes to its USP, but The Glasshouse Eco Salon is well and truly one of the best hairdressers in Bristol at the moment full stop. In fact, the interiors of the salon itself have been designed with renewable and upcycled materials. With the world getting more and more focused on going green, it's always nice to know that even getting our hair done could be taking one step further forward in fighting climate change, hey?
Another salon to use popular luxury sustainable products from Davines, customers are drawn to The Glasshouse for their "amazing staff and great service". If you like to prioritise feeling truly relaxed on your haircut days (it's not cheap, after all!) then you're likely to be impressed by their relaxing atmosphere. Reviewer Sarah says: "The hairdresser's is very tastefully decorated, and it is a nice, relaxing, friendly but not hectic atmosphere."
Price for a cut and blow-dry from £30, and for highlights and blow-dry from £70. theglasshouseecosalon.co.uk (opens in new tab)
20. Trevor Sorbie, Clifton
This is more well known as a salon brand, so doesn't follow the independent streak that usually prevails in the city, but Trevor Sorbie is one of the most highly regarded hairdressers in Bristol. Not to mention, an appointment here is a real treat. The international award-winning salon and is known for its approach to creative cutting - if you want to try something new and need some guidance, Trevor Sorbie might just be the best stop for you.
When it comes to the style, this is like a 5* hotel within a hairdressing salon. Think ultimate luxury, clean lines, coffee on tap and a very high standard of service. They are multi-award winning, having won the L'Oréal Colour Trophy 2018 and Best British Hairdresser a record four times, and pride themselves on approaching hair like a work of art. You'll be paired with a stylist that suits your needs, and can have anything you wish for. Oh, and the majority of their products are vegan, cruelty free and include over 90% natural ingredients.
Price for a cut and blow-dry from £60, and for highlights and blow-dry from £100 trevorsorbie.com (opens in new tab)
---
Bethan Andrews is a Bristol-based freelance journalist and magazine editor with over eight years' of industry experience. She specializes in lifestyle and travel and is an advocate for blue health and sustainability. She's previously written features for The Sunday Times, The Telegraph, Planet Mindful amongst others, and was editor of luxury London lifestyle portfolio The Resident magazines. Bethan is also the founder of MEander Studio, a small creative content studio providing journalistic storytelling for sustainable travel and lifestyle brands. When not writing, you'll most likely find her in the ocean surfing, or on the beach, camera in hand.