Best Moisturisers For Every Skin Type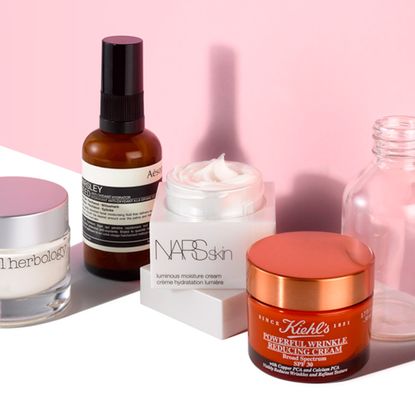 The best moisturisers that have been tailored to your skin type...
Dermatologists and beauty insiders agree that using a facial moisturiser is vital for healthy and happy skin.
But it's no good just slapping on any old cream. Use one that isn't tailored to you and skin can look sallow, dry, oily, dull, red - there's no end to possible skin issues that can be caused by the wrong moisturiser, as ingredients may accidentally end up irritating your skin.
But the good news is that you can perfect your skin with a tailored moisturiser. Anti-wrinkle creams, moisturisers for oily skin, moisturisers with SPF... there are perfect moisturisers for every need and skin type - it's just a matter of finding what works for you!
Tailored skincare isn't just about oily versus dry skin. There is a best moisturiser for dull skin, a best moisturiser for sensitive skin and even moisturisers for wearing under make-up, in the city and special moisturisers to mattify your skin.
A tailored moisturiser doesn't have to be expensive - our round up of best moisturisers starts from just £17, a small price to pay when the result is beautiful, glowing skin. So stop plumping for that has-been moisturiser you've been using for years and update your skincare routine with one of our best moisturisers today...
Not sure where to start with skincare? Bookmark our sister site, Powder in your browser now. With unbiased recommendations from our beauty editors based on your needs, it's the oracle for all things skin and make-up. Give it a try today!
Origins GinZing Energy Boosting Moisturiser, £23
If you suffer from dull skin, then Origins GinZing Energy-Boosting Moisturizer, £23 is for you. Wake up your skin each morning with this rejuvenating moisturiser. Using extracts of Panax Ginseng and Coffee Bean to boost skin's hydration and give a healthy glow, this oil-free moisturiser is like a thirst quenching drink for your skin! Keep reading to discover more moisturisers that work just as hard as you do...
YSL Forever Youth Liberator Creme, £65
Best for: Normal skin Thanks to the YSL Forever Youth Liberator Creme, we can all revel in an even texture, significantly reduced pores, dark spots and pigmentation and replenished glycans, which mimic natural sugars that decrease as we age, leaving skin dull and lacklustre. YSL say the YSL Forever Youth Liberator Creme helps to remove the tell-tale signs that distinguish a mature face from a youthful complexion.
Dermalogica Skin Smoothing Cream, £47.70
Best for: Problem skin The soothing formula in Dermalogica's Skin Smoothing Cream will heal acne prone or very dry skin. Free from artificial colours and fragrances, use this medium-weight moisturiser without fear of reprocussions. Skin's texture is smoothed, creating a flawess base for make-up application.
Eve Lom Day Cream, £40
Best for: Wearing under make-up Eve Lom created her specific brand of skincare around the simple principle that cleansed and exfoliated skin will glow. Prep your skin for the day ahead with the Eve Lom Day Cream: An easy way to keep your skin supple and youthful, creating a flawless base for make-up.
Lancome Hydra Zen NeuroCalm SPF 15, £39.50
Best for: Sensitive skin It's Kate Middleton's favourite moisturiser, so get yourself princess-worthy skin with Lancome's Hydra Zen NeuroCalm SPF 15. A great soother for easily irritated skin, this is a good investment for protecting yourself against everyday environmental damage and UV rays.
Darphin HYDRASKIN LIGHT Gel Cream, £34
Best for: Combination skin Invest in Darphin's HYDRASKIN LIGHT Gel Cream to hydrate and soothe hot summer skin. A balancing, lightweight cream, the gel formula absorbs quickly into the skin, making it perfect for the humid weather.
Bobbi Brown Hydrating Gel Cream, £38.50
Best for: Mattifying skin When you are layering on the products in the morning, you need a multi-tasking cream that absorbs quickly to leave your skin prepped for make-up application. Bobbi Brown's Hydrating Gel Cream works like a primer to smooth the skin's surface, leaving an even base that foundation can comfortably sit on.
Clarins HydraQuench Cream-Gel, £35
Best for: Minimising pores Tighten pores, reduce excess oil and keep skin matte throughout the day with the Clarins HydraQuench Cream-Gel. With the signature fresh scent you find in all of the Clarins products, this is a great buy for summer.
Creme de la Mer Moisturising Cream, from £105
Best for: Mature skin It may be pricey, but dermatoligists say they can spot a Creme de la Mer user as soon as they walk in the door. If you want this wow factor reaction for yourself, start with the classic Creme de la Mer Moisturising Cream to reduce pores, wrinkles and improve firmness.
Clinique Dramatically Different Moisturising Lotion+, £17
Best for: City workers Not only do we want our skin to be moisturised, but we want it to be protected. The dermatologists at Clinique have used this knowledge, reformulating Dramatically Different Moisturizing Lotion+ to enhance the skin's barrier strength; helping to prevent the redness, itching, breakouts, dullness and dryness that often coincide with city living.