Announcing 2021's ultimate skin essentials—our w&h clever skincare awards winners!
These award-winning products are the skin essentials you need now, selected by our judging panel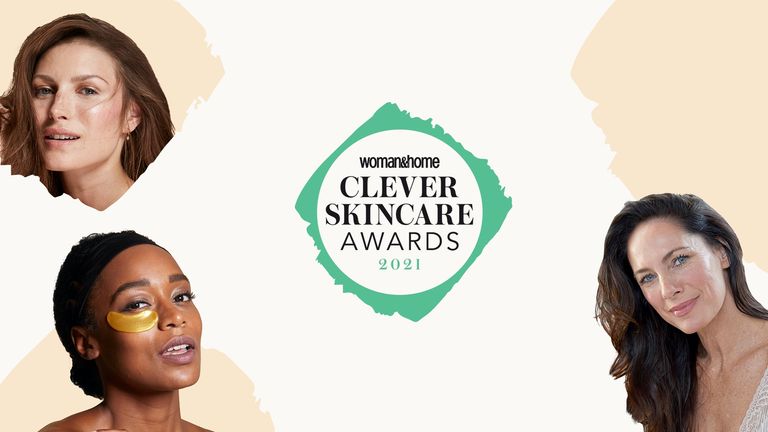 (Image credit: Future)
Getting the skin essentials right will not just boost your complexion, it can enhance your life. That's why it gives team woman&home great pleasure to announce that after months of rigorous testing and judging, the time has come to reveal our 2021 w&h Clever Skincare Award winners!
A skincare routine that works perfectly for your needs is a surefire route to looking and feeling your best. Our skin is the canvas we put our makeup on and using the best products to achieve a healthy, happy complexion can offer a huge self confidence boost. Investing in skincare can be expensive, so when you spend on a product, you need to know it's going to work and give you the results you want—that's where we come in.
Our panel of beauty experts have tested each and every one of these winners to bring you 56 of the best skincare products. From the best eye cream to ascorbic acid serums and the best retinol creams, these are the ultimate award-winning skin essentials for every skin type and concern.
The clever skincare awards 2021 judging panel
Special thanks to our panel of judges whose hard work and expert insights made the woman&home Clever Skincare Awards 2021 possible. This year's judging panel included:
Pamela Marshall
Clinical aesthetician and co-founder of Mortar & Milk
Dr Sophie Shotter
Skin expert and founder of Illuminate Skin Clinic
Dija Ayodele
Clinical aesthetician and founder of West Room Aesthetics
Catherine Westwood
Group editor in chief, Women's Lifestyle
Miranda McMinn
Editor, woman&home
Sarah Cooper-White
Group beauty director
Charley Williams-Howitt
Group beauty director
Fiona McKim
Senior beauty editor, woman&home
Stephanie Maylor
Beauty editor, woman&home
Jess Beech
Deputy beauty editor, woman&home
Emma North
Beauty writer, woman&home
The award-winning skin essentials you need now
Serums
Emma Hardie Midas Touch Super Serum
Best skin smoothing serum
'A well formulated "active" serum with equal amounts of anti-inflammatory ingredients. I like how my skin looks after use. This is a great product that is now part of my daily regime.' Pamela Marshall
Medik8 Crystal Retinal 3
Best retinol/retinol alternative joint winner
'A more gentle vitamin A option for those who find some retinols too strong.' Dija Ayodele

Monat Botanic Bakuchiol
Best retinol/retinol alternative joint winner
'I really liked this Bakuchiol serum. It's combined with humectants for a product that will be a good retinol alternative for many.' Sophie Shotter

No7 Advanced Retinol 1.5% Night Concentrate
Highly commended retinol/retinol alternative serum
'All the results of retinol without the irritation. No7 does it again with a great product to help us fight lines and wrinkles.' Sarah Cooper-White
Estée Lauder Advanced Night Repair Serum Synchronized Multi-Recovery Complex
Best night time serum
'A really lovely nourishing, yet lightweight formula. I know many who swear by this, and I can understand why.' Sophie Shotter
Elizabeth Arden Hyaluronic Acid Ceramide Capsules Hydra-Plumping Serum
Best hydrating serum joint winner
'Ideal for dry skin. These capsules absorb quickly, and leave skin glowing.' Emma North
NIOD Multi-Molecular Hyaluronic Complex
Best hydrating serum joint winner
'A very good serum. It has a beautiful texture and sinks in leaving skin smooth and hydrated.' Dija Ayodele
Katherine Daniels Rehydrating Concentrate
Highly Commended hydrating serum
'As well as the wonderful aroma, this is a pleasure to apply and quickly quenches dry skin.' Stephanie Maylor
Ole Henriksen Banana Bright Vitamin C Serum
Best Vitamin C serum
'Everyone should have a great vitamin C serum in their morning regime. This one is light, easily absorbed and perfect for layering with the rest of your skincare. The high percentage of vitamin C is perfect for brightening, too.' Emma North
Root + Fruit Juice Boost Brightening Serum
Best brightening serum
'As well as loving the fragrance, I was seriously impressed at the way this serum pepped up my skin. Dubbed a power serum, this is really the equivalent to a shot of caffeine, leaving your face energised.' Sarah Cooper-White
Supplements
Zitsticka Skin Discipline
Best supplement for clear skin joint winner
'I'd recommend this if you don't know where to start with skin supplements. It's a good all-in-one. A must-have for people who have acne.' Emma North
Advanced Nutrition Programme Skin Clear Biome
Best supplement for clear skin joint winner
'I think gut health is so important for good skin and these did a great job of clearing my spots. They're small, easy to take and don't smell – which a lot of probiotics do.' Emma North
111Skin Reparative Beauty Dose
Best supplement for glowing skin
'An impressive amount of vitamins and minerals in each capsule. They definitely restored some glow to my dull skin.' Emma North
SPF
Katherine Daniels Daily DNA Defence SPF30
Best SPF for face
'Perfectly hydrating and sits well under make-up.' Emma North
La Roche-Posay Anthelios Age Correct SPF50+
Highly commended SPF for face
'Protection, plus actives to reduce wrinkles and dark spots.' Charley Williams-Howitt
Sun Bum SPF 50 Sunscreen Spray
Best SPF for body
'Simple to apply, plus it smells lovely. Big fan.' Sarah Cooper-White
Eau Thermale Avène Intense Protect SPF50
Best SPF for sensitive skin
Sinks in beautifully. Skin is left smooth, soft and protected.' Charley Williams-Howitt
Tools
Foreo UFO 2
Best skincare tool
'A fun, clever little gadget giving a different masking experience for every skin type.' Sophie Shotter
New Launches
Medik8 Sleep Glycolic Serum
Best new launch joint winner
'Cleverly releases glycolic acid slowly into the skin, with no redness or irritation. It left my skin noticeably brighter and smoother.' Charley Williams-Howitt
Prai MenoGlow Hot Flush Cool Fix Serum
Best new launch joint winner
'A must for anyone experiencing menopausal skin symptoms. This clever product is a must for your handbag if hot flushes are a problem. Amazingly cooling thanks to both the formula and the metal roller ball applicator, it quickly dilated any redness in my skin.' Sarah Cooper-White
Oils
Sanctuary Spa 10-in-1 Super Secret Facial Oil
Best does-it-all oil
'Great price, great aroma and gives skin a great glow. Fine lines are plumped and it sinks in a treat.' Stephanie Maylor
Biossance Squalane + Vitamin C Rose Oil
Best Brightening oil
'A luxe treat for radiant skin. The texture is so light that you can even mix it with foundation. Pricey? Sure. Worth it? Yes!' Stephanie Maylor
TRUE Skincare Certified Organic Rejuvenating Cacay & Frankincense Facial Oil
Best organic oil
A savvy choice for your skin and the environment, with a light texture and beautiful scent.' Stephanie Maylor
One to watch
Swissline by Dermalab Cell Shock Age Intelligence
One to watch joint winner
'From day and night serums and moisturisers to eye creams, the results of each product in this range really wowed me. Skin looked fresher, smoother, glowing and fine lines disappeared. A really impressive range that's worth the investment. Top marks from me.' Sarah Cooper-White
KEYS Soulcare
One to watch joint winner
'Ultra-cool packaging, luxurious textures and effective ingredients. This range looks and feels so much more expensive than it is. Even better, it was founded by the musician Alicia Keys. Huge fan!' Fiona McKim
Smart Skin
Best sustainable brand joint winner
'A simple, yet effective skincare regime with impressive eco credentials. The brand is natural, vegan and sustainable with lovely luxe formulas that have achieved COSMOS certification. Great plastic-free packaging, too.' Sarah Cooper-White
Weleda Hydrating Prickly Pear Cactus Facial Care
Best sustainable brand joint winner
'I love Weleda. The biodynamic farming methods. The eco packaging. It's a great brand and this new ultra-hydrating face care range is as good as it gets.' Sarah Cooper-White
Orlaya Skin DermaDeep RF Pro
Innovation in skincare joint winner
'This is my new favourite radio frequency home-use device. It is able to safely heat the tissue close to a level we would in-clinic, which will deliver superior results. Comfortable to use and clinically effective.' Sophie Shotter

Skin + Me Daily Doser
Innovation in skincare joint winner
'Uses prescription ingredients in a formula that doesn't need an in-clinic consultation, just a virtual one. Totally bespoke, depending on needs, while still allowing skin to be assessed.' Sophie Shotter
Moisturisers
L'Occitane Immortelle Divine Cream
Best moisturiser for mature skin joint winner
'If you love your skin to smell as good as it looks, this is the product for you! It's a treat to use and works wonders. Used twice a day, I can see and feel the years dropping away...' Catherine Westwood
Slow Ageing Essential Moisturiser
Best moisturiser for mature skin joint winner
'Dewy skin – check! Glowing complexion – check! five years younger – check!' Catherine Westwood
Palmer's Coconut Water Facial Moisturiser
Best affordable day moisturiser
'If I could dream up my perfect summer day cream, this would be it. The delightfully airy, but deeply hydrating' Stephanie Maylor
Curél Intensive Moisture Facial Cream
Highly commended affordable day moisturiser
'This cream is enriched with ceramides, and free from any irritants so dry, sensitive, irritable skin will lap this up.' Stephanie Maylor
Murad Intense Recovery Cream
Best night cream for sensitive skin
'This lovely, soothing cream, although pricey, is worth the investment if you have delicate, sensitive skin in need of deep hydration and TLC. Even my husband has been stealing this at bedtime to soothe his redness-prone skin. Hands off hubby, it's mine!' Sarah Cooper-White
Fenty Skin Hydra Vizor Invisible Moisturizer Broad Spectrum SPF30 Sunscreen
Best luxury day moisturiser
'It's not easy convincing people to wear SPF every day, but anyone would love this. A silky feel, rose-tinted glowing finish and sexy, yet eco-friendly packaging.' Fiona McKim
Temple Spa Repose Relaxing Night cream
Best calming night cream
'The perfect cream to apply at the end of your night-time beauty regime, to calm the mind as well as the skin. Gorgeously rich and thick, but quickly absorbed, smells like an expensive spa and is wonderfully hydrating.' Miranda McMinn
This Works My Wrinkles Midnight Moisture
Best wrinkle smoothing night cream
'Great for drier, mature skin in need of a boost. Lovely botanical scent, good ingredients (hyaluronic acid and retinoids) to treat and plump the skin.' Dija Ayodele
Masks
MALIN+GOETZ Detox Face Mask
Best deep cleansing mask
'This product has made it into my regular beauty regime! It's a joy to use and left my skin the cleanest I've ever experienced.' Sophie Shotter
Decree SOS Revitalising Sheet Mask
Best sheet mask
'This recyclable, biodegradable mask is 100% worth the investment. It will smooth and plump lines and wrinkles before your very eyes. It's incredible.' Sarah Cooper-White
Sanctuary Spa 1 Minute Daily Glow Mask
Best quick fix mask
'I would really recommend this for anyone whose skin feels dull and lifeless in the mornings. It gives a real glow.' Sophie Shotter
Eye creams
OleHenriksen Wrinkle Blur Bakuchiol Eye Gel Crème
Best luxury eye cream
'The skin around my eyes is smoother and less lined. The skin texture has improved beyond what I thought was possible and I look more relaxed and rested – I love this product!' Catherine Westwood
L'Oréal Revitalift Filler Eye Cream for Face
Best affordable eye cream
'This product has a wonderful softening effect, both on the face, which is left feeling hydrated, but also on the eye as lines appear less pronounced. It feels rather indulgent using an eye cream for the whole face, but it definitely works!' Catherine Westwood
Cleansers
Sarah Chapman Ultimate Cleanse
Best balm cleanser joint winner