Best Liquid and Gel Eyeliner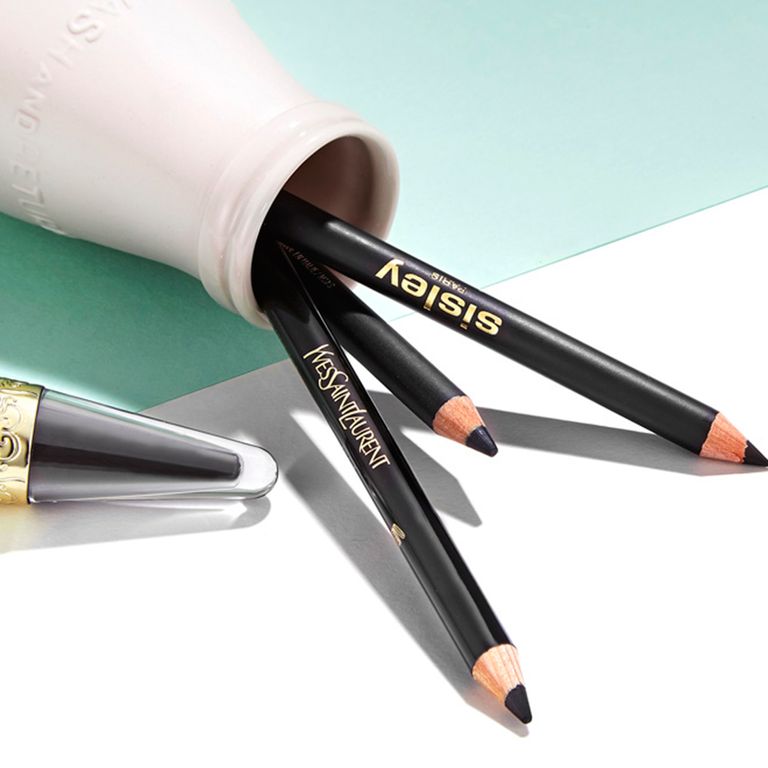 Define your eyes with our edit of the best liquid and gel eyeliners.
Whether you're perfecting a no makeup-makeup look or crafting a full-on smoky eye, there's one thing you'll need - the best eyeliner you can get your hands on. For adding definition to eyes and depth to eyelashes there's nothing better - there's a reason it's been around since Cleopatra.
For adding a touch of rock n roll to your look, kohl eyeliner is unbeatable: just scribble it deep into the lash line and then smudge it out for a sexy, undone look (just remember to clean up the edges with a cotton bud so you don't go full on racoon eyes).
Old-school glamour calls for something a little more exact, and liquid eyeliner is the perfect tool. Dramatic 50s cat eyes, classic, sophisticated flicks - a good liquid eyeliner is the base of everything that needs control and precision. Of course, as useful as eyeliner is, it's also infamous - as one of the trickiest items to wield ever, that is. How many times have we been late because our right eye would. Just. Not. Get. Into. Line? (There's a trick for how to do winged eyeliner evenly - just do the eye you're worst at first and then match the other one to that! Voila) Gel versions are a shaky handed girls saviour - easy to apply, slightly thicker than liquid and usually accompanied by an applicator, so it's the best eyeliner for flicks and lines - they're basically child's play.
Whatever the type, it needs to have sticking power - the best eyeliner does whatever you want it to, and then stays put till you want it to come off again. No smudging, running or melting away (and for rain, sweat and tears, there's the wonders of waterproof). Once you've picked your weapon of choice - or you know, bought one of each (hey, as we've outlined, they're all VERY different) - the world is your oyster.
Looking to update your make-up bag? Our new sister site, Powder is the place to visit. Their beauty editor's will give you tailored advice based on your needs right now, so you won't end up splurging on products that don't work. Give it a try!
Keep clicking for our best eyeliner recommendations...
Best Eyeliner: Clinique Pretty Easy Liquid Eyelining Pen, £19
Try as we might to perfect our technique, the feline flick is one of those makeup looks that can be rage-inducingly difficult to get just right. Clinique is looking to put an end to that with the Pretty Easy Liquid Eyelining Pen – a sleek little number with a truly befitting name. The slim design tucks comfortably in the crook of the hand and, paired with the super-fine nib, makes it easy to sweep on a thin, even line in one speedy gesture. Add a little pressure if you want to paint on a flick that's a little thicker, and be left with matte pigment that stays perfect right through to the evening.
Best Eyeliner: Estée Lauder Little Black Liner, £22
You're getting something of a two liquid liners in one deal with the Little Black Liner, as it holds a tapered tip on one end and a wedged nib on the other. For days when you want a thin, subtle flick, the tapered tip paints one on beautifully, while the thicker, wedged tip allows you to etch on dense, dramatic lines.
Best Eyeliner: Benefit They're Real! Push-Up Liner, £18.50
Ever the canny problem-solvers, Benefit bring you They're Real! A unique gel liner that comes in a flexible-tipped pen, so instead of painting freehand, press the nib along your lashes to create a perfectly straight line every time. And, because it's gel, once this baby sets it won't smudge, smear or transfer, come rain or sticky-lid inducing shine.
Best Eyeliner: Bobbi Brown Long Wear Gel Eyeliner, £17.50
The original gel eyeliner, Bobbi Brown Long Wear Gel Eyeliner has won copious awards since its launch. Water resistant, the gel will dry after 60 seconds - so getting it right first time is important. Once dry, this is the best eyeliner to avoid smudging, cracking or moving into the creases of the eye.
Best Eyeliner: Rimmel London Glameyes Gel Liner, £5.29
Despite the low price point, Rimmel London's Glameyes Gel Liner is up there with the luxury brands. With a built-in soft bristle brush, this is one of the easiest gel eyeliners to apply. The main selling point? It won't flake off to leave marks under your eyes.
Best Eyeliner: Clarins Instant Liner, £20
Clarins' Instant Liner features a foam applicator - great for first time users and an unsteady hand! Easy to apply and blacker than black, this is great for quick, everyday use.
Best Eyeliner: MAC Fluidline Gel Liner, £15
We love MAC's range of colours in their Fluidline Gel Liner range. It's worth investing in their Precise Eyeliner Brush, to make application foolproof.
Best Eyeliner: Maxfactor Masterpiece Glide & Define Liquid Eyeliner, £6.99
Maxfactor's Masterpiece Gilde and Define Liquid Eyeliner features a felt tip-style pen, making neat lines and glamorous flicks easy to create. Not the blackest of coverage, this eyeliner is good for subtle definition.
Best Eyeliner: Estée Lauder Double Wear Gel Eyeliner, £18
For long-lasting wear that stays soft and silky, opt for Estée Lauder's Double Wear Gel Eyeliner. Easy to apply, this gel formula can be smudged before it sets and will still last for a full 12 hours.
Best Eyeliner: Clinique Brush-On Cream Eyeliner, £16
A smooth and creamy eyeliner, Clinique's Brush-On Cream Eyeliner creates a softer, more smokey effect than other gel and liquid versions. So flattering for mature skin, it's easy to build up, making it a great eyeliner for experimenting and playing around with.
Best Eyeliner: Stila Smudgepot Gel Eyeliner, £13
Stila's Smudgepot Gel Eyeliner is a clever powder that turns into a gel when wet. Wear it dry as an eyeshadow, or wet as an eyeliner and create a whole smokey eye effect with one little pot!
Best Eyeliner: ÉCRITURE DE CHANEL Automatic Liquid Eyeliner, £26
Probably the most luxurious liquid eyeliner available, ÉCRITURE DE CHANEL uses an ink cartridge to hold the eyeliner and keep it fresh. Ideal for creating fine, subtle lines, this is a great eyeliner for sensitive eyes.
Best Eyeliner: Smashbox Jet Set Eye Liner, £18
An excellent gel liner for defining eyes, rather than creating high drama, apply the Smashbox Jet Set Eye Liner close to the eyeline to make lashes appear thicker and longer.