Best Buys For Problem Skin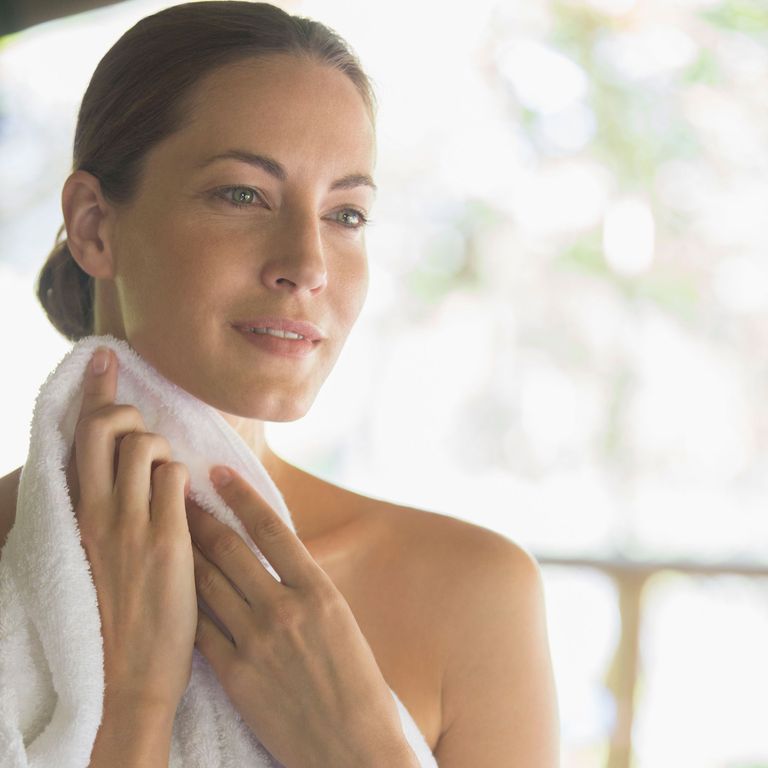 (Image credit: Rex Features (Shutterstock))
Problem skin in adulthood is more common than you think. Take a look at our recommended beauty prescription to combat a troubled complexion
27 January 2015
Adult acne, eczema and rosacea are becoming a growing epidemic, a larger number of mature people are suffering from spontaneous breakouts and generally problematic complexions than ever before and according to Annet King from The International Dermal Insitiute 'it's mostly down to stress.'
Hectic schedules and busy lives can cause a period of long-term stress which forces the adrenal glands to increase production of androgen hormones - dowsing our skin in excess oil which creates spots.
Today '60% of adult women regularly suffer from acne, blackheads and excessively oily skin', says dermatologist Dr Sam Bunting, yet 75% of the products on the market are aimed solely at teenagers and do not cater for the other issues facing maturer complexions such as ageing.
Women are increasingly finding they have to make a choice between keeping the wrinkles at bay or treating their acnes, eczema or rosacea flare ups, but a new breed of intelligent treatments are slowly trickling onto the market and we've rounded up the best ones to choose from.
But remember the main reason treatments don't work is because people don't stick with them long enough. 'It takes 6-12 weeks to see a noticeable difference,' advises Dr Sam Bunting.
Click through, your clearer skin awaits...
La Roche Posay Effaclar Duo, £11.62
Clinically proven to correct the appearance of imperfections whilst also tackling fine lines and wrinkles, La Roche Posay Effaclar Duo is the product of choice for maturing blemish-prone complexions. Luxury, french and effective this spot on treatment is hard to beat in terms of multitasking.
Vichy Normaderm Night Detox, £15
During the night our skin cells renew at an accelerated pace but if you suffer from oily, blemish-prone skin avoid slathering on thick creams before bed in the hope you'll be met with a clear complexion come morning. All you will wake up to is an onslaught of more clogged pores. Instead reach for Vichy Normaderm Night Detox, this lightweight supercharged formula is mostly made up of soothing Thermal Spa Water so it dramatically reduces the production of sebum (our natural oils) and tightens pores without overloading them with miscellaneous product which can upset sensitive skintones. Softer clearer skin can finally be yours for the taking, we can't think of a better reason to get our eight hours.
Witch Stick, £2.70
Witch Hazel has been used as a topical treatment for centuries. It's ability to heal minor bruises and abrasions is second to none. Dowsed in antibacterial goodness this purse-sized stick works hard to mop up excess oil and shrink pores - eradicating existing blemishes and preventing new ones. Cheap and effective, timing is everything when it comes to Witch Stick. Swipe on the moment you start to feel a spot bubbling under the surface and you'll be left with clear skin noon and night.
Lancome DreamTone Serum, £69
Brow age spots (actinic lentigines) were originally thought to be solely due to sun damage and a result of overexposure to harmful UVA and UVB rays. However scientists are now discovering that the colour and evenness of our skin-tone is ultimately determined by our genetics and the ratio of melanin, carotenoids and haemoglobin they contain. This explains why dark spots appear earlier than wrinkles in Asian women but later in life, long after fine lines have set in for those with Caucasian complexions. Specifically designed to address the pigment concerns of the three main skin profiles, fair, medium and dark, Lancome DreamTone Serum comes in three corresponding editions, simply titled 1, 2 and 3. Each one contains varying amounts of neutralising Micro Seaweed Extract, brightening Maitake Extract and resurfacing Salicylic Acid, to irradiate redness, illuminate sunken areas and fade blemish scars. Topped off with a generous drop of tinted colour each serum leaves skin luminous, smooth and healthy, giving you the option to go make-up free. Click here for more products that help minimize dark spots.
Chantecaille Redness Calming Mask, £60
Whipped up with active botanical ingredients, Chantecaille Jasmine and Lilly Healing Mask, £60 blankets the skin in a pillow soft layer of natural goodness. Packed with floral anti-inflammatory Bisabolo, the dense creamy texture calms existing redness whilst a drop of potent jasmine flower stimulates cell renewal to prevent future flare ups. Apply as a mask or submerge your skin over night for a truly replenishing treatment whilst you sleep. Click here for more products to help with rosacea.
First Aid Beauty Ultra Repair Cream, £9
A thick, rich, super hydrating emollient that contains no greasy petroleum ingredients so that it effectively soothes distressed skin without causing breakouts or problematic flare ups. Whipped up with oatmeal, shea butter and healing eucalyptus oil, this Ultra Repair Cream comes as a welcome treat to stubborn eczema plagued complexions.
Liz Earle Spot-On Treatment, £8.75
This is a rescue remedy roll-on treatment you'll soon find you can't live without. With a distinctive medicinal scent, it's perfect applied last thing at night to cleansed skin. The combination of natural ingredients including Vitamin E and tea tree tackle the spot, while lavender calms the skin.
Benefit Boo Boo Zap, £13.50
For those irritating skin breakouts that seem to appear out of nowhere, Benefit's Boo Boo Zap is your blemish banning friend. Back by popular demand, this liquid spot eliminator can be applied on cleansed skin or over your make-up, so you can treat those problem areas at any point during the day. With salicylic and glycol acid, known to treat the skin and attack fine lines too, this is a scent-free, pop-in-your-make-up bag essential.
Kiehl's ultra facial oil-free moisturiser, £24
Oil-free and scent-free, this is the Kiehl's moisturiser for allowing your skin to really breathe, while providing balancing, shine-free benefits. Working to trap moisture to keep skin hydrated (we all know dehydrated skin can lead to bad skin condition too), you can look forward to a more balanced complexion.
Skinceuticals Blemish + Age Cleansing Gel
One of the most frustrating skin issues is when adult blemishes and ageing skin collides. Who would have thought you could possibly suffer from both? Skinceuticals Blemish + Defense range has tackled the dilemma head on with its fantastic skincare range to address both issues simultaneously. Start with the Cleansing Gel to decongest pores and clear impurities from the skin.
Skinceuticals Blemish + Age Solution
Continue your routine with the Blemish + Age Solution which works to remove dead skin cells and primes the skin for your Age Defense treatment
Skinceuticals Blemish + Age Defense
Addressing both fine lines and blemish-prone areas, Skinceuticals' Blemish + Age Defense works to treat spots and the damage they can cause to skin by reducing redness and scarring, whilst targeting wrinkles with glycolic and citric acid, which work to minimise fine lines and smooth your skin's texture.