TikTok says you should tame your unruly flyaway hairs with... dental floss
Turns out you can tame your frizzy hair with dental floss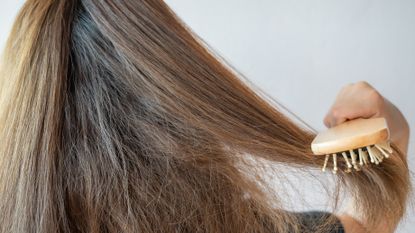 (Image credit: Getty Images)
TikTok always amazes us with its genius hacks it so graciously bestowes - and now a bizarre dental floss trick for taming frizz has gone viral.
From the TikTok bacon freezing hack to the TikTok face lift concealer hack, TikTok seems to offer hacks for everything from food to beauty. So when we were looking for a way to make our flyaway hairs more manageable, especially after using our blow dryers or blow drying brushes, we weren't surprised that TikTok has a bizarre solution.
TikTok creator @mattloveshair, who is also a New York-based hairstylist, posted a video of a hairstyling trick that he dubbed as one of his "fav hair hacks of the year". The trick? Using dental floss to smooth your flyaways.
In Matt's post, he takes a rather long piece of dental floss and holds it tightly on both ends, smoothing it over the top of his head. Honestly, if he made this video in an ASMR-style, we'd probably watch it to relax - especially since the results are so satisfying.
If you're thinking, "dental floss? WTF?" - don't worry, you're not alone. However, the reason for the dental floss being useful in taming flyaways is because dental floss is covered in wax - so the wax from the dental floss gets transferred to the hair, helping to create a subtle hold in the hair that's strong enough to tame even the unruly locks.
As a note, there are unwaxed flosses out there, so be sure you're picking up one with wax if you want to try this new hack.
It should also be noted that, although this hack is great for short-term frizz taming (e.g., for a certain hairstyle like a slicked bun or ponytail, or a chic look where your hair is down), it's not really suitable as a long-term solution. It's definitely the perfect solution for those on-the-go, for example, if you needed to fix some flyaways quickly in a bathroom at a party or restaurant.
Be wary of this hack, though, because if you use the dental floss too much, you could get a buildup of wax in your hair, which obviously is not good. However, there are professional ways you could get the wax out, like with a scalp facial or scalp scrub, perhaps.
This hack could also possibly cause breakage if done too often or too harshly, so be sure to hold and apply the dental floss with enough tension to smooth the hair, but not so much that you could cause potential damage.
Basically, this hack is super ideal for a short-term, frizz-busting solution - but not for long term use. If you're looking for long-term frizz help, try something a tad more permanent like a keratin treatment, or even a Brazilian blowout that works to help fight frizz.
Madeline Merinuk is woman&home's US lifestyle news writer. She covers celebrity, entertainment, fashion, and beauty news but is also obsessed with internet trends - you can find her reciting trending TikTok sounds out loud at any given time.
After winning multiple student journalism awards for her investigative work, she graduated from Hofstra University in 2021 with a B.A. in Journalism. After graduating, she worked at today.com, the digital site for the Today Show, where she wrote pop culture news and interviewed big-name personalities like Emily Ratajkowski, Haley Lu Richardson, Emma Corrin, and more.
Her personal interests, in no particular order, are: cheese, Joni Mitchell, reading, hot yoga, traveling, having multiple chapsticks in every handbag at all times, and dancing to ABBA songs as if she were in the Mamma Mia movies.