This TikTok concealer hack gives instantly chiseled cheekbones - and we're obsessed
So long, buccal fat removal. Hello, concealer...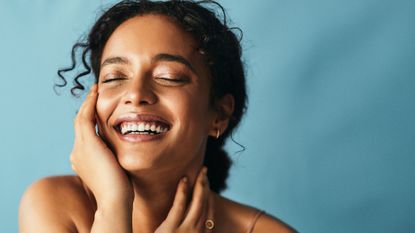 (Image credit: Getty Images)
Following the rise in popularity of buccal fat removal, everyone's talking about chiseled cheekbones, but you definitely don't need surgery to get the lifted look. Try this TikTok concealer hack instead.
Let's face it: perfectly chiseled and lifted cheekbones a la Meryl Streep or Julia Roberts are in vogue. And while facial transformation surgeries, like the trendy buccal fat removal procedure, or even skin booster injections can help achieve similar looks we're all about the hacks you can try at home.
Although the concept of contouring is certainly nothing new, people have recently started using concealer around their cheekbones, eyes, and jaw in order to give their face a more "lifted" appearance - and we have to say, the results are pretty amazing, and it ends up being a fairly natural makeup look too.
The TikTok concealer hack
Nikkia Joy, the TikTok influencer who has garnered over 570k followers and 14 million likes for her makeup tips and tricks, showed how to get lifted cheekbones with a nifty hack, stating that she would do "anything" to get a face-lift look.
In the video, she shows the regions of your skin where it's essential to put the concealer: in between your brows, on the inner corners of your eyes, the middle of your forehead, above your cheekbones, and your chin. But before you try the concealer hack, just ensure you have a base of your favorite foundation or tinted moisturizer underneath for optimum results.
This concealer hack promises the benefits of a more lifted look, and people who tried it themselves are saying that it also brightens up your skin in general. And, luckily, you don't have to have a specific kind of concealer for this trick - any of the best concealers stashed away in your makeup bag will do the trick!
Mikayla Nogueira, (another well-known beauty creator on TikTok), tested that hack herself, saying that it's a great way to get a "lifted complexion." She also notes that she believes this hack would work especially well on people with tanner or darker skin complexions.
Fan-favorite beauty brand, ILIA, posted a TikTok to their account of someone comparing their "old" method of using concealer, which consists of simply applying it under the eyes, to the new, viral method.
The model in ILIA's TikTok says that the hack certainly gave her face a more lifted look compared to the "old" way she used to do concealer - and you can see in the video that there is definitely a significant difference from the left side to the right side of her face.
---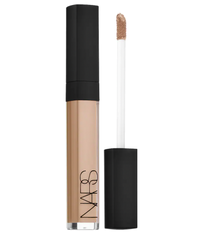 (opens in new tab)
This concealer hack has been met with some confusion from the non-believers in the power of makeup ("Not able to tell the difference," one comment reads), but the proof is in the pudding - so you might as well try it for yourself!
Madeline Merinuk is woman&home's US lifestyle news writer. She covers celebrity, entertainment, fashion, and beauty news but is also obsessed with internet trends - you can find her reciting trending TikTok sounds out loud at any given time.
After winning multiple student journalism awards for her investigative work, she graduated from Hofstra University in 2021 with a B.A. in Journalism. After graduating, she worked at today.com, the digital site for the Today Show, where she wrote pop culture news and interviewed big-name personalities like Emily Ratajkowski, Haley Lu Richardson, Emma Corrin, and more.
Her personal interests, in no particular order, are: cheese, Joni Mitchell, reading, hot yoga, traveling, having multiple chapsticks in every handbag at all times, and dancing to ABBA songs as if she were in the Mamma Mia movies.