Stop. The. Press. Olaplex just dropped a dry shampoo and we might never wash our hair again
This cult-favorite haircare brand just released a new dry shampoo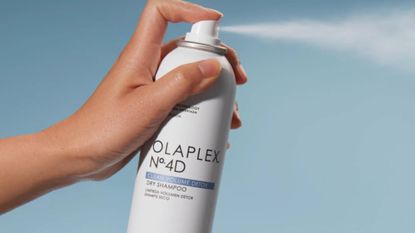 (Image credit: John Lewis & Partners )
Olaplex's dry shampoo just launched, and we're thinking we might never wash our hair again.
Whether you love ponytail hairstyles, messy buns, or sport a bob hairstyle, a good dose of dry shampoo can always help improve a look. It not only helps bring hair back to life after a few days of not washing but it typically provides a nice "undone" sort of vibe that looks and feels very beachy and cool.
Olaplex is now getting in on the competition in the dry shampoo market. Their No.4D Clean Volume Detox Dry Shampoo is the latest member of the cult-favorite Olaplex family, marking its territory as the first dry shampoo product the brand has released - and will likely secure a place on the list of best dry shampoos.
If you're unfamiliar with the viral power of Olaplex, we'll give a brief overview. Olaplex sells 11 other hair care products, ranging from shampoos and conditioners to hair masks and oils (and now, this dry shampoo!) This brand continues to float above other brands for the unique formulation of its products, using bis-aminopropyl diglycol dimaleate, which repairs and bonds broken hair. People swear by Olaplex products time and time again for this reason.
There has recently been some haircare controversy due to dry shampoo recalls on certain brands. Unilever voluntarily recalled (opens in new tab) over 15 dry shampoos that contain the cancer-causing chemical benzene, including products from Dove, Bed Head, and Nexxus.
Olaplex informs consumers on their site (opens in new tab) that there is no benzene in their new dry shampoo.
---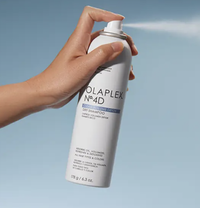 (opens in new tab)
No.4D Clean Volume Detox Dry Shampoo, $30 | Olaplex (opens in new tab)
Light-as-air dry cleansing technology for scalp and hair that feel just washed. This healthy scalp dry shampoo is clinically proven to not clog pores or leave a white residue.
Although the price point for Olaplex's dry shampoo comes in a tad high at $30, people are already singing the praises of this product - which makes us believe the purchase could be well worth it. Really, as with any of the best hair products, the packaging of the product alone is enough to make us want to buy it.
And the reviews are already singing its praises, "I love dry shampoos that make your hair feel like you've just showered (this does exactly that). It leaves no residue, has a nice scent and it gives your hair a little oomph. My new favorite. :)" one commented on Sephora's listing of the product.
To apply the Olaplex dry shampoo effectively, simply give a few spritzes to the roots of your hair, and massage the product in for about 30 seconds for the ultimate undone French-girl hair vibes.
Madeline Merinuk is woman&home's US lifestyle news writer. She covers celebrity, entertainment, fashion, and beauty news but is also obsessed with internet trends - you can find her reciting trending TikTok sounds out loud at any given time.
After winning multiple student journalism awards for her investigative work, she graduated from Hofstra University in 2021 with a B.A. in Journalism. After graduating, she worked at today.com, the digital site for the Today Show, where she wrote pop culture news and interviewed big-name personalities like Emily Ratajkowski, Haley Lu Richardson, Emma Corrin, and more.
Her personal interests, in no particular order, are: cheese, Joni Mitchell, reading, hot yoga, traveling, having multiple chapsticks in every handbag at all times, and dancing to ABBA songs as if she were in the Mamma Mia movies.