Priyanka Chopra's secret to beautiful hair involves beer and eggs
Priyanka Chopra's mom swears by this very odd hair treatment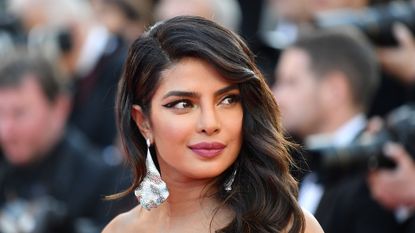 (Image credit: ALBERTO PIZZOLI / Contributor via Getty Images)
Appearing on Late Night With Seth Meyers, Priyanka Chopra revealed that, while young, her mother put her on an egg-and-beer hair conditioning regimen that fellow Indian women swear by.
Priyanka—who clearly knows a thing or two about hair given that she recently launched a sustainable hair care line, Anomaly—explained that her own mother and friends called it a tradition in India to put the concoction in their hair while trying not to make a mess.
"Beer and eggs, which my mom used to [put] in her hair when I was growing up and leave it as a conditioner—apparently it's really good for you," said the film star. "It helps with hair growth and it stinks to high heaven. But when she shampoos it, it's alright."
---
Unsurprisingly, the late night host told the 39-year-old actress that he felt like she was pranking him. "Google it!," she responded matter-of-factly. "I promise you!"
When pressed for details by a confused Seth, Priyanka simply explained that all that was required to create the treatment was the whisking of the eggs, some beer and the ability to cleanly drench your hair in the mixture—the perfect conditioning treatment for any long hairstyle.
While on the show, the winner of the Miss World 2000 pageant also discussed the very first time she watched The Matrix, a franchise that she is now officially a part of (The Matrix Resurrections, in which Priyanka stars as Sati, will be out in theaters on December 22).
In 1999, when the film was first released, the actress was a 16-year-old living in America. Although she can't quite remember the cinema-going outing, Priyanka could recall the more permanent effects of catching the film with her friends.
"Everyone was like: 'Technology [is] kind of scary, it's gonna take over the world,' and there comes The Matrix and tells you that you might be living in [a technology-led world], so it was terrifying."
She went on to describe how social media has become a bit "scary" as well. "You're having a conversation with your friend and then they log onto Instagram and the ads pop up," she said. "You're like 'Did you just recommend that same toothbrush that I was recommending to my friend five minutes ago?' I'm fully, fully paranoid."
Anna Rahmanan is a New York-based writer and editor who covers culture, entertainment, food, fashion and travel news. Anna's words have appeared on Time Out New York, the Huffington Post, Fortune, Forbes, Us Weekly, Bon Appetit and Brooklyn Magazine, among other outlets.