This new IT Cosmetics foundation is about to become a must-have in your make-up bag
Looking for the best foundation for a fresh-faced, dewy glow? We think we've found it!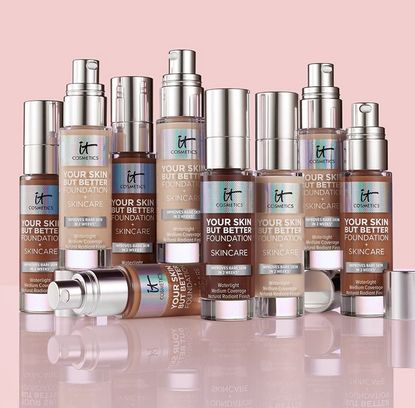 (Image credit: IT Cosmetics)
Want peachy perfect skin without even trying? Then you need new IT Cosmetics Your Skin But Better Foundation + Skincare, £32, itcosmetics.co.uk
When it comes to finding the best foundation, you've probably heard of the cult IT Cosmetics Your Skin But Better CC+ Cream. Launched in 2007, it's gone on to win countless awards - including our very own Woman & Home Beauty Awards. AND it holds accolades from beauty experts everywhere. Every single one of our beauty team have this product in their make-up bag. So, we were expecting great things from the launch of new IT Cosmetics Your Skin But Better Foundation + Skincare, £32, itcosmetics.co.uk.
The good news is that this new foundation (opens in new tab) does not disappoint. Designed to be a more lightweight version of the CC Cream it gives your skin a flawless finish, both instantly and long term. As a foundation/skincare hybrid you get flawless skin on application and it helps improve your complexion over time too. The sophisticated pigment technology blurs skin imperfections and visible pores, without drawing attention to lines and wrinkles. While high-tech skin-loving ingredients, more commonly found in fancy face creams, can help to plump, smooth and brighten your skin.
=
What makes the new IT Cosmetics foundation better?
While the original Your Skin But Better CC Cream offers full coverage, the new Your Skin But Better Foundation + Skincare is sheerer. The medium coverage is ideal for those days when you might want to wear a little less make-up, or if you found the CC cream too thick and heavy.
Just like the CC Cream, the IT Cosmetics Your Skin But Better Foundation + Skincare has the amazing ability to blend seamlessly into your skin on application, minimising pores and imperfections without clogging. But, the finish is fresher and lighter. So it's ideal for those 'no-make-up, make-up days', or when you want to look groomed, but prefer your skin to look a little more natural.
SHOP NOW: Your Skin But Better Foundation, £32, IT Cosmetics (opens in new tab)
And while the brand has always had a fantastic skincare heritage, having been created with plastic surgeons and dermatologists' expertise, this new formula is a true foundation/skincare hybrid. The impressive skincare properties in this foundation mean that over time your skin looks fresher and more radiant, without even trying! 7 out of 10 users found that their skin looked smoother in just two weeks. That's thanks to hepes acid, which gently exfoliates for a brighter, more even skintone. Hyaluronic Acid and Aloe Vera that smooth and hydrate. While vitamins E and B5 hydrate and protect the skin's barrier to keep out harmful free radicals.
What about the shade range?
One of the best things about this new foundation is the impressive shade range. The CC Cream has 12 shades (apparently due to it's SPF50 formula) with only one shade suitable for a deep skin tone. In contrast, the new IT Cosmetics Your Skin But Better Foundation + Skincare has a choice of 40 shades. 16 of those are suitable for darker skins. There really is something for everyone.
The verdict?
If your skin is very blemished or you suffer from pigmentation you may find the texture too lightweight as the sheerer coverage may not cover everything in the way the CC Cream does. But for other skins that prefer something light, we think you'll love the fresh texture. If you like the added extra of an SPF in your foundation, sadly the new IT Cosmetics Your Skin But Better Foundation + Skincare does not offer any SPF. But really, you should be applying a high SPF before your make-up application. So we think that's a very small negative in what is a very impressive new formula. Will it claim the cult status from it's CC Cream sister? We'll see!
Group Beauty Director Sarah Cooper-White has almost 20 years experience as a beauty journalist. She has written for many well known national magazines, newspapers and brands including Woman & Home, Woman, Woman's Own, Woman's Weekly, Boots, Tesco, ELLE, InStyle, The Mirror, The Sun, Prima and Top Sante.
The power of beauty, whether it be make-up, haircare, skincare or fragrance, to make someone feel more confident, happier and generally better about themselves fascinates Sarah and she's a strong believer that beauty and self care is not a frivolous thing but essential to better mental health, empowerment and confidence.