woman&home Beauty Awards: These 28 beauty products have been voted the best by our experts
Announcing the beauty winners of 2020!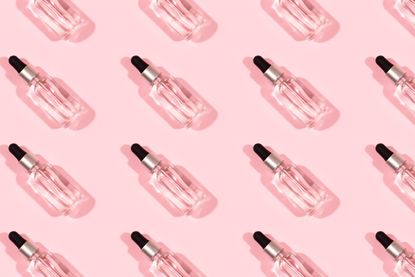 (Image credit: Getty Images)
The winners of The woman&home Beauty Awards 2020 have been revealed. Chosen by a panel of industry experts, chaired by Beauty Directors Sarah Cooper-White and Charley Williams-Howitt, these are the products you need to know about this year.
This year our beauty routines became more important to us than ever. With salons closed and no trips to hairdressers or nail bars, our favourite products and home rituals were what kept us feeling and looking great. So for this year's woman&home Beauty Awards, as well as honouring the best iconic and innovative new products, we're also celebrating the brands that brought us all some joy during uncertain times.
MORE:GHD launches new hot brush tool that promises to double volume in hair (opens in new tab)
We considered hundreds of the best products on the market to whittle the list down to the very best you can buy. The full 70 winners are revealed in the October issue of woman&home - available in stores 27 August.
The award categories
There are six award categories:
Skin
Hair
Make-up
Body
Fragrance
Tools
Our panel of expert judges
Charley Williams-Howitt, w&h Beauty Director
Sarah Cooper-White, w&h Beauty Director
Fiona McKim, w&h Beauty Editor
Jess Beech w&h Beauty Editor
Ateh Jewel, Beauty Journalist
Caroline Barnes, Make Up Artist
Ruby Hammer, Make Up Artist
Dr Maryam Zamani, Oculoplastic Surgeon
Dr Stefanie Williams, Dermatologist
Alice Hart-Davis, beauty Jorunalist
Dr Sam Bunting, Qualified Skin Expert
Alison Young, Beauty Expert
Chelsee Lewis, Facialist
Pamela Marshall, Clinical Aesthetician
Michaella Bolder, Facialist and Tanning Expert
The Woman & Home Beauty Awards 2020 winners
Boots No7 Protect & Perfect Intense ADVANCED Serum 30ml
#1 Best icon Boots No7 Protect & Perfect Intense Advanced Serum, £26 Fiona McKim says, 'It's the serum that launched a thousand stampedes to Boots! The formula has been upgraded over the years but is still consistently shown to improve lines and skin texture at a very democratic price.'
Murad Vita-C Glycolic Brightening Serum
#2 Best Innovation Murad Environmental Shield Vita-C Glycolic Brightening Serum, £72 Sarah Cooper-White says, 'This potent mix of vitamin C and glycolic acid leaves my skin looking and feeling dewy and bright. It's pricey, but worth it for the excellent results.'
CAUDALIE Limited Edition Beauty Elixir 30ml
#3 Best for Mood Boosting Caudalie Beauty Elixir, £32 Charley Williams-Howitt says, 'Like a vitamin shot for the skin, it adds instant radiance to lacklustre complexions.'
Avène Cleanance Comedomed 30 ml
#4 Best blemish treatment Avène Cleanance Comedomed Anti- Blemishes Concentrate, £18.50 Jess Beech says, 'A refreshingly gentle approach to clearing breakouts, this curbs blemishes before they've even had a chance to show on the surface.'
BIOSSANCE 100% Squalane Oil 100ml
#5 Best face oil Biossance 100% Squalane Oil, £27 Fiona McKim says, 'A brilliant multitasker that's as adept at nourishing skin as it is at sealing split ends and smoothing dry elbows. Extra points for successfully combining sustainability with glamour.'
L'Occitane Immortelle Divine Creme 50ml
#6 Best night cream L'Occitane Immortelle Divine Crème, £79 Fiona McKim says, 'A classic, packed with antioxidants and nourishing oils. Love the smell, love the luxurious texture.'
SkinCeuticals Advanced Brightening UV Defense SPF50 Moisturiser 40ml
#7 Best sunscreen SkinCeuticals Advanced Brightening UV Defence SPF50, £45 Sarah Cooper-White says, 'A great SPF that's brilliant at keeping pigmentation at bay and sits beautifully under everyday make-up too.'
PRAI AGELESS Throat & Decolletage Crème 50ml
#8 Best for neck PRAI Ageless Throat & Decolletage Crème, £24.99 Charley Williams-Howitt says, 'This cream is luxurious to apply and tightens sagging skin, diminishes fine lines and blitzes crepiness.'
Josh Wood Colour Permanent Colour
#9 Best Icon Josh Wood Colour Permanent Colour, £14 Fiona McKim says, 'It's the box dye every beauty editor turned to in spring 2020 – and no wonder. It's kind and conditioning in nuanced, natural shades with total grey coverage. Bonus points for the unusually chic packaging.'
Shrub Prepare & Protect Hair Primer 200ml
#10 Best Sustainability Shrub Prepare & Protect Hair Primer, £10, Fiona McKim says, 'The first thing I noticed was the smell – it's like a posh spa in the middle of a meadow. A little of the vegan-friendly, liquid plastic-free cream goes a long way to smooth and heat-protect hair.'
OUAI Medium Hair Shampoo 300ml
#11 Best Innovation Ouai Haircare Daily Care Shampoo and Conditioner, £22 each, Jess Beech says, 'A clever range tailored to hair density. I fell for the thick formulation, which made my unruly hair easy to style with a floral fragrance that lingered for days between washes.'
Coco & Eve Like A Virgin Super Nourishing Coconut & Fig Hair Masque
#12 Best Treatment Coco & Eve Like A Virgin Super Nourishing Coconut & Fig Hair Masque, £34.90 Charley Williams-Howitt says, 'Sulphate and paraben free, this rich cream transforms frizzy, dry strands into glossier, shinier locks – and comes with a handy tangle-tamer brush.'
KMS ThermaShape Quick Blow Dry 200ml
#13 Best Styling KMS Thermashape Quick Blow Dry, £15.50 Charley Williams-Howitt says, 'Thank the hair gods for this! Even if I leave my hair to dry naturally it speeds up drying time by up to 50%, and it gives my hair a nice shape without feeling heavy.'
The Hair Boss The Balayage Shampoo 300ml
#14 Everyday Essential The Hair Boss by Lisa Shepherd The Balayage Shampoo, £7.99 Fiona McKim says, 'This promises a lot and really delivers. My roots felt fresh and my poor parched ends were soft without flyaways. I'm excited to see more from this new British brand.'
Lancome Hypnose Mascara 6.2g
#15 Best Icon Lancôme Hypnôse Mascara, £27 Chelseé Lewis says, 'This gives my eyes a boost every morning. It's easy to build up without clogging, makes lashes incredibly long and thick, and lasts without smudging.'
bareMinerals Complexion Rescue Hydrating Foundation Stick SPF25
#16 Best Innovation bareMinerals Complexion Rescue Hydrating Foundation Stick SPF25, £29 Fiona McKim says, 'A game-changing solid foundation – from the inclusive shade range to the moisturising formula.'
CHARLOTTE TILBURY Matte Revolution 3.5g
#17 Best Lip Charlotte Tilbury Lipstick in Pillow Talk Original, Medium and Intense, £25 each Ruby Hammer says, 'As a make-up artist, this is my go-to colour for many looks. The new medium and intense shades suit all skin tones.'
St.Tropez Self Tan Purity Vitamins Mist 200ml
#18 Best Innovation St Tropez Purity Vitamins Bronzing Water Mist, £31 Michaella Boldersays, 'Gives skin a dose of hyaluronic acid, a burst of vitamin C radiance and vitamin D stimulators. Sunshine in a bottle!'
Dr Teal's Pure Epsom Salt 1.36KG
#19 Best Mood-boosting Dr Teal's Pure Epsom Salts Soothe & Sleep with Lavender, £6.29 Sarah Cooper-White says, 'After a hard day there's nothing like a soak in the tub with these relaxing, scented salts to prepare you for rested sleep. I have to hide these from my husband as he loves them too!'
CeraVe Smoothing Cream 340g
#20 Best Exfoilator CeraVe SA Smoothing Cream, £17.99 Sarah Cooper White says, 'Instead of scratchy scrubs I use this thick lotion, as it not only hydrates but AHAs nibble away at dull, dry skin too. Perfect for those annoying red spots on the backs of arms.'
Lancome La Vie est Belle Eau de Parfum
#21 Best Icon Lancôme La Vie Est Belle EDP, £75 for 50ml Charley Williams-Howitt says, 'This romantic, feminine classic has notes that linger throughout the day without the need to re-mist. Fruity at the top and floral at the heart, add this to your wish list.'
#22 Best for Him/Her Jo loves Pomelo, A Fragrance, £70 for 50ml Fiona McKim says, 'One of those 'what are you wearing?' scents that's universally loved by all who catch a whiff. Crisp and juicy citrus with a hint of earthiness from vetiver. Heaven'
Molton Brown Milk Musk Eau de Parfum 100ml
#23 Best Innovation Molton Brown Milk Musk EDP, £110 for 100ml Fiona McKim says, 'Milk is a highly unusual perfume note, yet the resulting fragrance is striking in its familiarity, like a warm hug from someone you love wearing soft cashmere'
Floral Street Arizona Bloom Eau de Parfum 50ml
#24 Best Sustainability Floral Street Arizona Bloom EDP, £60 for 50ml Jess Beech says, 'A crowd-pleasing blend of coconut, black pepper and salted musk, this is escapism in a bottle. All Floral Street fragrances are vegan and cruelty-free, and come in eco-friendly minimal packaging.'
Tweezerman Classic Slant Tweezer
#25 Best Icon Tweezerman Classic Slant Tweezer, 20.95 Sarah Cooper-White says, 'I have had a few pairs of these over the years. No other tweezers work quite as well at gripping hairs.'
#26 Best Cleansing Tool Foreo LUNA 3, £169, Alice Hart-Davis says, 'I love this cleansing brush with its soft silicone bristles. A 'sonic' cleansing routine shifts grime, oil and dead skin cells very effectively and with absolutely minimal irritation. Each recharge lasts for ages too.'
CurrentBody Skin LED Light Therapy Mask
#27 Best Innovation CurrentBody Skin LED Light Therapy Mask, £349 Fiona McKim says, 'Invest in professional-grade collagen stimulation at home. Flexible material makes this the comfiest LED mask I've tried – meaning you'll stick with it and get results.'
Sunday Riley Good Genes Glycolic Acid Treatment
#28 Best Salon Alternative Sunday Riley Good Genes Glycolic Acid Treatment, £85 Fiona McKim says, 'Apply to clean skin and feel those tingly acids working their deep exfoliation magic for a visible glow. Who needs a facial anyway?'