Martha Stewart just debuted a sleek, face framing bob - and the reason she decided to get the last-minute style is hilarious
Martha Stewart is always inspiring us with her style and her ability to make the most out of any situation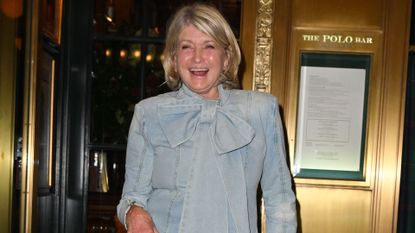 (Image credit: Getty Images)
Martha Stewart made the best out of a sticky situation by deciding to get a timeless, chic bob haircut.
Bob haircuts are all the rage for spring 2023. Between the shaggy bob, Italian bobs, French girl bobs, and even more nuanced versions of the classic haircut (there are literally so many), it can be hard to know which style will suit you best. However, this is not an issue our lifestyle queen Martha Stewart, who always has unreal skin and hair, faces.
Martha, who is widely known for her recipes and general lifestyle advice, is also known for another more recent venture: Instagram thirst traps. On April 5, she decided to indulge us all with another one, where she debuted her brand new powerful bob haircut with an accompanying, classic Martha Stewart smolder.
Martha's bob is undoubtedly chic, and giving us major spring haircut inspiration - especially with the buttery blonde tones that she chooses to sport.
The reason Martha chose to touch up her classic blonde bob, though, is undeniably hilarious and 100% screams "Martha Stewart."
In her Instagram caption where she posted her post-haircut thirst trap, she explains the reason why she decided to get the last-minute refresh was because her flight got canceled.
"My flight to Chicago was canceled today... Chicago [O'Hare] was closed mid-morning to all flights because of very bad weather," she starts. "I missed my speaking engagement at a huge gathering hosted by @beckershealthcare. This is the very first time in my career that I missed a contracted appearance and I felt really disappointed."
She then explains how she made the best out of her less-than-ideal situation - by getting a mani-pedi and a "refreshing" haircut.
"However I used the newly found time to get a manicure pedicure by Luda and a haircut by the maestro himself @johnbarrettnyc," she says. "The new do is refreshing and lovely! Thanks John!!!"
Martha's spring hair refresh comes with short layers and more movement, and the style perfectly shapes her sharp jawline. Although Martha is rocking this classic style at an impressive 81-years-old, this is a style that people of any age can rock. With its timeless shape and effortlessly bouncy layers, it serves as a perfect look for summer months when, let's be honest, we usually can't be bothered to take time to style our hair.
After Martha posted her thirst trap, her fans sang her praises, as per usual.
"What the f are you doing? How are you looking this amazing," someone commented on her post.
"This is the turn of events I needed today," another said.
Madeline Merinuk is woman&home's US lifestyle news writer. She covers celebrity, entertainment, fashion, and beauty news but is also obsessed with internet trends - you can find her reciting trending TikTok sounds out loud at any given time.
After winning multiple student journalism awards for her investigative work, she graduated from Hofstra University in 2021 with a B.A. in Journalism. After graduating, she worked at today.com, the digital site for the Today Show, where she wrote pop culture news and interviewed big-name personalities like Emily Ratajkowski, Haley Lu Richardson, Emma Corrin, and more.
Her personal interests, in no particular order, are: cheese, Joni Mitchell, reading, hot yoga, traveling, having multiple chapsticks in every handbag at all times, and dancing to ABBA songs as if she were in the Mamma Mia movies.