Martha Stewart's skin looks unreal in her latest unfiltered selfie and we want to know her secret
Martha Stewart is a pro when it comes to selfies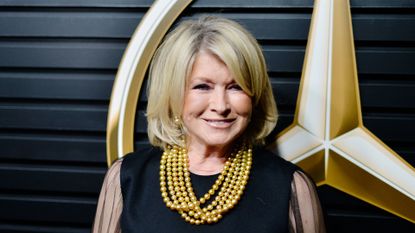 (Image credit: Jerod Harris / Stringer/Getty Images)
Martha Stewart graced us with another close-up selfie and all we can do is marvel because she's totally glowing.
You can't help but wonder what her skincare routine is, as the chef and TV star looks utterly radiant. Martha has always had undeniably enviable skin, and a recent selfie from the lifestyle mogul proved once again that she is a true goddess
Believe it or not, Martha Stewart was struck by lightning THREE times and has lived to tell the tale, looking fantastic in the process. On Instagram, Martha posed for a close-up picture while getting her hair done at a Frederic Fekkai salon. With wet hair and all, she commenced her famous selfie mode, claiming that the photo was not re-touched - aka, her skin was just naturally looking perfect that day, thanks to a little help from the salon lighting, of course.
"Lying in the shampoo area of @FredericFekkai the light was perfect for a new selfie!!! Absolutely no re-imaging!!!" Martha exclaims in her caption. And for those looking at this picture and wondering, "How old is Martha Stewart?" - she's 81. Yes, really.
She also reveals in her caption that she's been participating in Dry January - an attempt to eliminate alcohol consumption in the first month of the year. But Martha revealed her month of abstinence inevitably got a little off track. "Skin looking good after a mostly dry January," she continues in her caption. She's just like the rest of us! Well, except for that one time when she went to jail.
And, likely in an attempt to have a New Year's refresh, Martha also shared that she's been taking up pilates every other day - specifically at Bedford Pilates in Bedford, NY. She said that doing pilates every other day, and attempting to complete a Dry January, is the secret to good skin - so catch us doing the same thing ASAP.
As if the first selfie she posted couldn't get any better, she graced her fans with three more angles of her in the same chair at the Fekkai salon, looking (obviously) absolutely radiant - and she knows it too.
"These are the other three selfies I took. My expression was better in the first one but my skin looks great in all of them. Un filtered. No face lift. Great derms my whole life. Currently Dr Daniel Belkin and dr Dhaval Bhanusali great diet. Great exercise and did I mention amazing facials @mariobadescu for the last forty years!" she says in the caption of her second carousel of selfies. If only we could all live the life of Martha Stewart and have the best skincare routines and pilates classes.
In a turn of events, however, people in the comments weren't exactly believing the whole 'no face lift' part of the caption. "Martha you do look great, but you have to admit that you did have some surgery," one person commented.
Another said, "No facelift and you're 81!!!! That's ridiculous!!! Who believes that????"
But, her supporters chimed in, telling Martha not to 'defend her beauty.' Makeup artist Kristofer Buckle commented in support of Martha's selfies, "Don't defend your beauty,,, every time I have done your makeup I have been impressed by your beautiful skin."

Facelift or not, we have to give it to Martha - her selfies keep us going.
Madeline Merinuk is woman&home's US lifestyle news writer. She covers celebrity, entertainment, fashion, and beauty news but is also obsessed with internet trends - you can find her reciting trending TikTok sounds out loud at any given time.
After winning multiple student journalism awards for her investigative work, she graduated from Hofstra University in 2021 with a B.A. in Journalism. After graduating, she worked at today.com, the digital site for the Today Show, where she wrote pop culture news and interviewed big-name personalities like Emily Ratajkowski, Haley Lu Richardson, Emma Corrin, and more.
Her personal interests, in no particular order, are: cheese, Joni Mitchell, reading, hot yoga, traveling, having multiple chapsticks in every handbag at all times, and dancing to ABBA songs as if she were in the Mamma Mia movies.