Believe it or not, Martha Stewart was struck by lightning THREE times in her lifetime
The one-and-only Martha Stewart made the scary-but-funny revelation to Ellen DeGeneres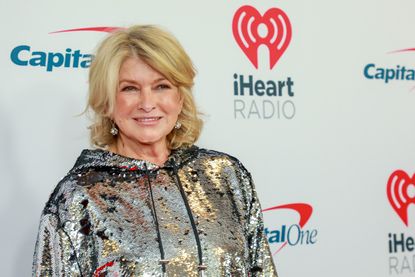 (Image credit: Jason Mendez / Stringer)
Leave it up to Martha Stewart to constantly shock us, this time revealing that she was struck by lightning not once, not twice but three times in her lifetime.
Martha, who recently revealed she's back on the dating scene, talked about the pretty unique fact while playing the "Two Truths and a Lie" game on The Ellen Degeneres Show with the host this week.
"I mean, it's like, crazy," the 80-year-old businesswoman said. "I think it actually is good for you. If it doesn't kill you, I think it's good for you!"
The star went into detail about two of the supposed times during which the natural phenomenon quite literally attacked her.
---
"Once, it came out of my water faucet," she said about the first time it happened. "I was leaning against an iron sink. I saw the lightning go down the pipe out in my garden and then it came back up through the water and hit my right in my stomach—threw me on the floor! My [ex-husband Andrew] found me, I was alive but not very comfortable."
The second time involved her window. "A lightning bolt came through my skylight in my house," she said. "I just attract electricity, I'm so powerful."
Martha didn't bring up details about the third time she was struck by lightning, but she did say that, overall, it feels "horrible."
According to the Centers for Disease Control and Prevention (CDC), the odds of being struck by lightning in any given year are around 1 in 500,000. The chances of that happening three times in one's lifetime? Not high, clearly. But, alas, we're dealing with the one-and-only Martha Stewart—so anything is possible.
You shouldn't panic, of course. But here are a few tips from the CDC you should follow to minimize the risk of getting struck by lightning when caught in a storm:
1. When thunder roars, go indoors.
2. If you find yourself in an open area, seek shelter immediately by, for example, getting low to the ground (but never lay flat—a ball-like position is safer!).
3. If indoors, avoid electronic equipment, corded phones, windows, doors, porches and concrete.
4. Don't stay near tall structures.
5. Don't stay in open vehicles.
Anna Rahmanan is a New York-based writer and editor who covers culture, entertainment, food, fashion and travel news. Anna's words have appeared on Time Out New York, the Huffington Post, Fortune, Forbes, Us Weekly, Bon Appetit and Brooklyn Magazine, among other outlets.