Martha Stewart revealed she's finally back in the dating game, but who is the mystery guy?
While on Andy Cohen's Watch What Happens Live, Martha Stewart revealed she's currently dating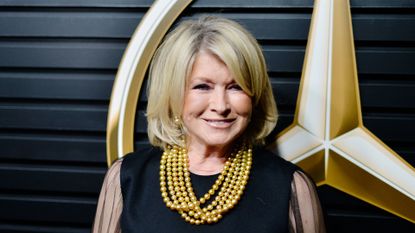 (Image credit: Jerod Harris / Stringer/Getty Images)
The perennially entertaining Martha Stewart just caught everyone's attention on Andy Cohen's Watch What Happens Live, when she revealed that she is dating somebody, although she won't say who.
The 80-year-old entrepreneur and former model—who launched a brand new home website with furniture, recipes and even CBD products back in June—told Andy that she was contacted by "quite a few" famous eligible bachelors after she posted what was deemed by many to be a "thirst trap" photo on her Instagram account during the summer of 2020.
"I got so many proposals and so many propositions," she has previously said about the responses she got after publishing the infamous photo of her in the pool. "But I had to ignore all of them. I'm a very busy person."
While on Andy's show, the businesswoman did say that, overall, no actual dates resulted from the now-iconic picture, in which she boasted frosty pink lips, shimmery eyeshadow and mascara while cocking her head back and looking directly at the camera. But, when asked if she is currently seeing someone new, Martha replied: "No. [Well], I shouldn't say no. I mean, yes, but I'm not going to tell you."
In the same episode of the late-night show, Martha also discussed her relationship with the late Larry King, who passed in January at the age of 87.
Martha revealed that Larry took her to Elio's, a popular Italian restaurant on the Upper East Side, for what she thought would be a friendly meal (she doesn't remember when, exactly, the date occurred). "I thought we were just talking about journalism and then he sort of got a little amorous," she said to Andy. "Everybody was noticing I was out with Larry King, and Larry King was not my type romantically, if you get what I mean."
As most people know, Martha was actually married to publisher Andrew Stewart for 29 years. The couple had a daughter, Alexis, who is now 56-years-old, but separated in 1987 and then eventually divorced in 1990.
"The life that I had is over," Martha said back in 1995 about the divorce. "And what has taken its place is better."
Martha's opening up about her previous relationships and the reactions to her infamous photo just make us that much more curious about who she is currently dating. Although we don't know who that is, one thing is for certain: he's one lucky man.
Anna Rahmanan is a New York-based writer and editor who covers culture, entertainment, food, fashion and travel news. Anna's words have appeared on Time Out New York, the Huffington Post, Fortune, Forbes, Us Weekly, Bon Appetit and Brooklyn Magazine, among other outlets.