Genius TikTok hair hack for NEVER having a flat ponytail has gone viral
A TikTok hair hack for achieving the perfect ponytail every time is seriously impressing the internet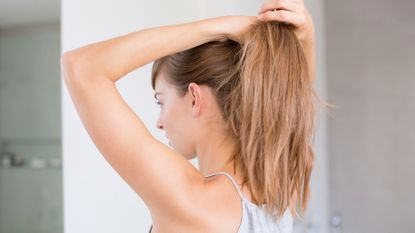 (Image credit: Getty Images)
A viral TikTok hair hack for achieving the perfect ponytail every time will mean you never have a flat up-do again.
With TikTok having become THE place for the ultimate viral beauty tricks and life hacks, it seems to be a constant fountain of new knowledge for hair, make-up and skincare lovers.
And now, a super clever method for making sure your ponytail never fails to look thick, full and voluminous is doing the rounds on the video app.
If you have a stash of the beauty market's best hair products plus all the tools you need to create hair full of volume but still struggle to get your pony to look on point, you're going to want to pay attention to this. It turns out there's a crazily simple way of tying our tresses up that we've all been missing.
Hairstylist Amber-Rose Peake shared a clip demonstrating the technique and the video has already racked up over one million 'likes' and 14 million views.
The footage shows her simply sectioning her hair into two layers, before tying the upper layer into a ponytail, as you usually would.
Next, Amber takes the bottom layer of locks, splits it into two and wraps each side around the first ponytail, before pulling all of the hair together with a band.
Amber also shared her tips for creating the ultimate messy bun, telling fellow TikTokers that two loose knots in the hair is the key to nailing the off-duty style.
With her hair already tied in a ponytail, Amber can be seen pulling together a flawlessly messy top knot in a matter of moments.
Captioning the clip, she wrote, "Messy bun hack. First knot gently...Second knot...Pin in place!"
Viewers took to the comment section to applaud Amber for the game-changing advice.
"Genius! Definitely going to be wearing this all the time," one wrote.
"Girl, you are a genius," another agreed, while a third penned, "I have the same hairline as you and literally have always been insecure about it but YOU MAKE IT LOOK DAMN GOOD."