This CBD skincare product is the best-selling face cream in M&S
Everyone's buying the M&S Absolute Sleep Cream with CBD Oil - proof that CBD skincare is reaching new highs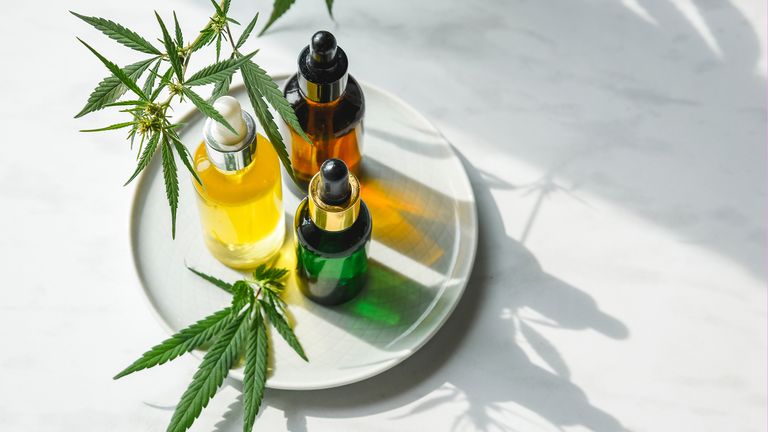 (Image credit: IRA_EVVA/Getty Images)
It's pretty telling when CBD skin care is the best-seller in the face cream category at M&S.
CBD (short for cannabidiol) oil products have been reaching a new high in lockdown - whether as a tincture or to treat skin flare-ups caused by stress and dry indoor conditions.
Since May, Deliveroo has been delivering 'de-stressing' CBD products like drinks and oils and, according to website Medium, nearly eight million adults in the UK have purchased CBD products since the beginning of 2020.
No wonder everyone's buying the M&S Absolute Sleep Cream with CBD Oil.
What is CBD skincare?
There is still a lot of confusion surrounding CBD skincare.
The first thing to know is that you won't get high (that applies to ingesting CBD via a supplement or tincture, too).
The cannabis plant is made up of more than 100 different compounds called 'cannabinoids'. One one of these ,THC, gets a bad rap as it's psychoactive (and illegal).
The cannabinoid gaining notoriety for all the right reasons, however, is CBD, which is sourced from the flowers of the cannabis plant and is the extract typically found in skincare.
"CBD applied topically can have anti-inflammatory, antioxidant and sebum-regulating effects," says dermatologist Dr Howard Murad.
The reason beauty brands are jumping on CBD is because it can treat dry skin, psoriasis, and eczema. Which possibly explains the popularity of the M&S Absolute Sleep Cream with CBD Oil for treating our winter skin woes.
Alongside CBD, the nourishing night cream also contains an olive leaf extract renowned for being a potent skin-healing antioxidant, plus Matrixyl 3000 to stimulate collagen production.
In other words, it's a one-stop-pot for clearer, smoother skin.
Fiona Embleton is a beauty writer who is now Acting Beauty Editor at Stylist. She is obsessed with Isabel Marant and cats.