Azulene oil for skin - if you use a face oil make sure it contains this ingredient
Dry, irritated skin? Azulene oil in a face or cream will become your new BFF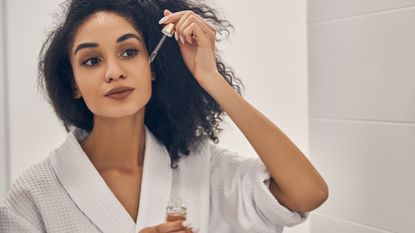 (Image credit: Yacobchuk/Getty Images)
Thanks to its skin soothing powers, azulene oil is set to become your favourite winter face oil (opens in new tab).
Granted, azulene oil sounds more like something you'd use for a car motor than slosh on your skin. Then there's the colour - a distinct Avatar blue hue - which does it no favours, either.
But while it sounds gimmicky, azulene oil does serve a purpose and your dry, irritated skin will drink it up .
Ahead, dermatologist Dr Anita Sturnham (opens in new tab)explains why and how this buzzy ingredient works.
What is azulene oil?
Azulene oil is a derivative of German chamomile, yarrow or blue tansy flowers.
"It has a strong aroma and has been used for many years in the beauty and grooming industry," says Sturnham. "It's actually approved by the FDA as a colourant rather than as a skincare 'active'. In theory, being an extract from Chamomile, it could have antioxidant and skin soothing properties."
How does it benefit skin?
Those anti-inflammatory benefits make it the perfect go-to for sensitised skin, which is why you'll often see azulene in products meant to be used after waxing.
In skincare, the ingredient is often paired with products containing retinol (opens in new tab) as azulene oil offsets any potential redness (opens in new tab) or irritation." Sunday Riley Luna Sleeping Night Oil (opens in new tab) is a good example, where the regenerative properties are matched only by the calming power of the oil.
It's also attractive in a face oil such as Herbivore Lapis Balancing Facial Oil (opens in new tab)because it's considered a dry oil, so absorbs quickly without leaving behind a greasy residue. Here azulene oil also serves an antibacterial role and sits alongside linoleic acid, which is known for its ability to balance oily, blemish-prone skin.
If you prefer adding a more intensive weekly treatment to your current regime, try Mario Badescu Azulene Calming Mask (opens in new tab).
Azulene and balsam peru join forces to calm skin while clays gently absorb impurities, making this ideal for when skin is kicking up a fuss or you're dealing with all the ways your face mask is ageing you (opens in new tab).
Consider this all you need to fight back against parched, flaky skin season.
(opens in new tab)
(opens in new tab)
(opens in new tab)
Fiona Embleton is a beauty writer who is now Acting Beauty Editor at Stylist. She is obsessed with Isabel Marant and cats.