Weekly horoscope: Monday 11th May - Sunday 17th May
Curious to know what the week has in store for you?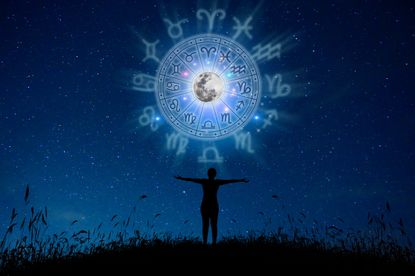 (Image credit: Getty Images)
Read your weekly horoscope from expert astrologer Sally Morgan, and discover what's in store for the week ahead...
Our weeklyhoroscope will help you plan your next seven days with our astrological updates. Our resident world-class psychic astrologer forecasts for every star sign on love, family, career and more. So check back weekly for our free forecast!
Weekly horoscope, Monday 11th May - Sunday 17th May
Weekly Horoscope: Aries
Time sitting around, dwelling on what to do will not bring success to you this week. So get back on your horse and fight for your rights over what's important to you.
Weekly Horoscope: Taurus
Letting the cat out of the bag will be easy if you are not careful this week. Keeping a secret is always hard, but it's essential if you want to hold on to a close friendship.
Weekly Horoscope: Gemini
A roller coaster ride of emotions will sweep over you this week when an old flame from years ago comes back into your life and confuses you even more than ever before.
Weekly Horoscope: Cancer
Get things down in writing this week when a good deal comes to the table for you that you are keen to get signed off. A friend dishes out some bad advice so be careful!
Weekly Horoscope: Leo
This week, be wary when someone tries to rope you into one of their ideas. A suggestion from a partner has you wondering about the meaning behind it.
Weekly Horoscope: Virgo
Missing the gym this week? Then why not try some online classes? Give them a try, you won't be tied down to a gym membership if you don't like them.
MORE:Which houseplant should you buy, according to your star sign? (opens in new tab)
Weekly Horoscope: Libra
Creating something from scratch will turn out to be a great birthday present for someone close to you, so take this week to carefully plan what you are going to do.
Weekly Horoscope: Scorpio
Chatting over text with someone on the pretence that you like them this week may not be your best idea, because letting them down could be embarrassing.
Weekly Horoscope: Sagittarius
Someone offers you something this week that you are not sure about, so say yes and figure it out afterwards. A point is made about a hidden talent that lifts you up.
Weekly Horoscope: Capricorn
Don't allow other people to decide who you really are this week, decide for yourself. Showing the world what you believe in will have amazing consequences for you.
Weekly Horoscope: Aquarius
Staying in touch with a loved one in your life by telephone will create a happy memory. Showing someone you love them doesn't have to be awkward in any way.
Weekly Horoscope: Pisces
A new start date for a job you have been waiting for is put back to a time when all should be back to normal. Ensure you are prepared for your first day back at the office.
Sally Morgan is Britain's best-loved psychic. She was just four when she reportedly saw her first spirit and since then has developed her skills to be one of the top 5 psychics in the UK. She even read for Princess Diana for four years.