Psychologist reveals the best bathroom colour to choose for your mood
These are the best and worst bathroom colours - but how can they make us feel?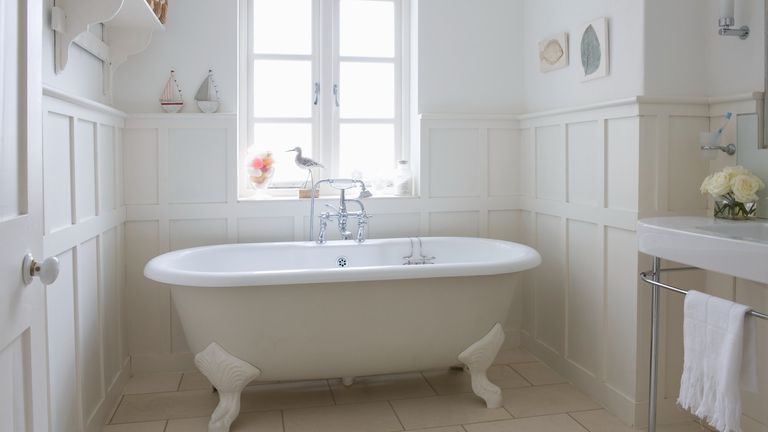 (Image credit: moodboard/Getty Images)
Choosing the best bathroom colour to give tired-looking walls a new lease of life is never easy. As the room where most people typically get ready for the beginning and end of their day, the bathroom is far more important than we might imagine. Showerstoyou.co.uk and Psychologist and Wellbeing Consultant Lee Chambers MSc MBPsS, certainly believe so, with Lee saying that "the colour scheme of your bathroom can have a direct impact on how you feel". 
But if the colour we choose for our bathroom is so crucial, what should we go for? Showerstoyou.co.uk might just have the answer, with their recent survey revealing which bathroom colours are most popular with the public from a list of 13.
As Lee shares what these colours could mean for our wellbeing, the results are intriguing…
What are the top bathroom colours?
Having asked people to confirm the paint colour of their own bathrooms from a list of 13, here are the results:
White
Blue
Green
Grey
Cream
Yellow
Red
Pink
Orange
Brown
Metallic gold/silver
Purple
Black
What is the most popular colour to paint a bathroom?
The most popular bathroom wall colour overall according to the survey is white. Whilst this acts as a perfect neutral and won't conflict with any other colours you have going on in your bathroom, Lee has revealed this might not necessarily be the best choice.
"An all-white bathroom is very clinical, clean and spacious," he states, adding that it "lacks character and can be uninspiring, especially for females, studies have shown."
What bathroom colour should you choose if you want to feel calm?
Coming in as the second and third most popular bathroom colours, with 21% and 11% of the votes respectively, are blue and green. 
And it seems these sea-like colours could just be a great choice if you're looking to wind down and find calmness in your morning routine.
According to Lee, "When it comes to helping us find a calmer moment of serenity in the evening or as you rush around in the morning, cooler colours that still have a bright element, such as brighter blue, purples and greens can help us feel assured in ourselves and convey a message that we can handle the day's challenges."
What colour should you paint a bathroom if you want to feel energised?
Red and orange may have only come in at 7th and 9th in the top 13 most popular bathroom colours, but a bold shade could be just what your bathroom needs. 
"If you want to start the day with a stimulating boost, bold shades of warm colours like reds, oranges and yellows can really get you energised," Lee shares. "This can be incorporated through accessories and decoration on a more muted colour."
What is the least popular bathroom colour?
Perhaps unsurprisingly, the least popular bathroom colour choice overall was black, with 0% of people surveyed selecting this wall colour. 
Lee is in favour of avoiding black bathroom walls, saying: "Dark bathrooms can feel enclosed and uninviting unless the lighting is beneficial, and mirrors are used to create the perception of space."
What should you consider before choosing a colour for your bathroom?
After evaluating the top 13 colours for bathrooms, Lee Chambers revealed one final point we should all consider before choosing a colour. He says: "The last thing to consider is your colour preferences. If there's a particular shade that you feel expresses you, you have a personal connection, and that is powerful when deciding what colour to use."
When it comes to picking your perfect shade, he adds, "just ensure that the colours you choose let you have that moment of peace in a place that feels like home".
It seems that as long as your bathroom colour works for you, that's the most important thing. 
Emma is Senior Lifestyle Writer for Goodto.com, womanandhome.com and Myimperfectlife.com and she loves sharing the latest lifestyle, royal, celebrity and entertainment news. Before joining Future, previously TI Media, Emma was a Freelance Editor and before that a Publisher for an independent digital publisher. When she's not writing about the next big lifestyle trend, she enjoys cooking, long walks and watching as many crime dramas as she can!