Books for women: iconic reads we should all experience at least once in our lifetime
Celebrate the females around the world by reading these books for women by women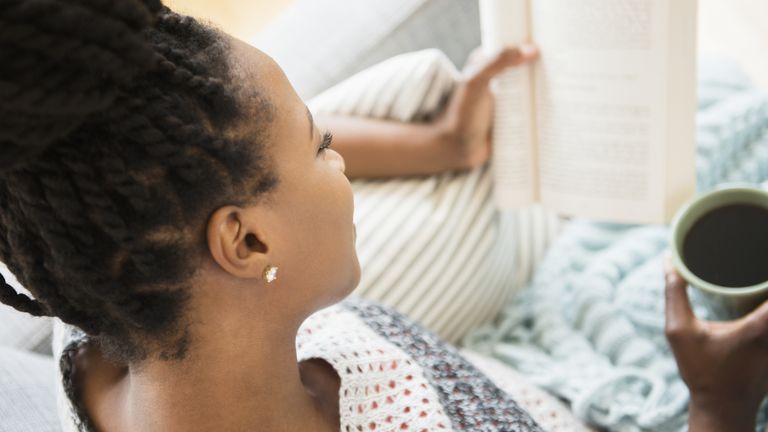 (Image credit: Getty Images)
When it comes to picking what to add to your reading list, there is always a whole list of new releases to delve into. But we think there are certain books for women that have to be read at least once in life.
From classics that showed women in a different light to how they had ever been seen before and literary pieces of fiction that portray a resilient heroine, to important physical and mental explorations of the female and non-fiction arguments that paved the way for us to take on stronger roles in society, there are so many important books for women and by women that need to be read.
And of course, that term covers countless pieces of literature that span the ages, but we've picked out just a few of the most important books for women to download on your eReader or Kindle and get you started.
We've listed these in reverse chronological order to provide extra guidance, so that if you prefer to delve into something newer like the best books of 2021 or even the best books of 2020, they're easier for you to find.
And we've also made sure to lay out the genre of each read here, so that you can tell your chick-lit summer reads from your historical books and more serious non-fiction accounts.
We'd also recommend sharing these books for women with the important ladies in your life or even adding your favorites to your line-up of best book club books, as we're sure most of these will really get the discussion flowing!
Books for women every female should read at least once
Fiction books for women
1. Insatiable, Daisy Buchanan
Publication year: 2021 | Genre: Literary fiction | Length: 352 pages
Celebrate female sexuality with this surprisingly provocative fictional account of a young London professional who learns more about herself than she could have bargained for after falling into a relationship with a sexually adventurous couple.
---
2. A Woman Is No Man, Etaf Rum
Publication year: 2019 | Genre: Literary fiction | Length: 352 pages
The story of three generations of women living in a Palestinian-American family and the challenges they face as they are torn between love and family, culture and society and the past and the future.
---
3. Girl, Woman, Other, Bernardine Evaristo
Publication year: 2019 | Genre: Literary fiction | Length: 464 pages
A story that follows the lives of 12 different characters on their personal journeys and what they are looking for in their lives.
---
4. Circe, Madeleine Miller
Publication year: 2018 | Genre: Historical fantasy |Length: 352 pages
A greek myth that tells the tale of outcast Circe who possesses the power of witchcraft and is banned to an island where she nurtures her powers. But she is then led to risk everything when a man comes along.
---
5. The Power, Naomi Alderman
Publication year: 2017 | Genre: Dystopian | Length: 352 pages
A dystopian society in which girls across the world suddenly find themselves possessed with the power to inflict horrible pain with a flick of their fingers, leading them to reign over men but leaving them persecuted by fearful groups in society.
---
6. Hidden Figures, Margot Lee Shetterly
Publication year: 2016 | Genre: Historical fiction |Length: 400 pages
Set in the Southern United States during the civil rights movement, this tells the true story of NASA's African-American female mathematicians who worked in the background to play a crucial role in America's space program, but who were never recognised – until now.
---
7. Go Set A Watchman, Harper Lee
Publication year: 2015 | Genre: Historical fiction | Length: 288 pages
Years after the classic To Kill A Mockingbird was set, independent Scout has grown into a strong and feminist young woman as she returns home to discover some disturbing truths about her home town.
---
8. The Handmaid's Tale, Margaret Atwood
Publication year: 1996 | Genre: Dystopian | Length: 324 pages
After a government coup, US society is plunged into a religious totalitarian state where women are forced into a life of sexual servitude. However, one woman fights to escape the repressive state and is left with her future hanging in the balance.
---
9. Bridget Jones's Diary, Helen Fielding
Publication year: 1996 | Genre: Chick lit | Length: 320 pages
The original chick lit classic, this hugely popular and very funny novel casts a wry eye on the day-to-day life of a young woman living and working in London and torn between two men.
---
10. The House of the Spirits, Isabel Allende
Publication year: 1982 | Genre: Magical realism | Length: 496 pages
An exploration of three generations living an unnamed Latin American country, with their story told through the eyes of young girl Clara who spends nine years as a mute after her sister tragically passes away.
---
11. The Bell Jar, Sylvia Plath
Publication year: 1963 | Genre: Psychological fiction | Length: 240 pages
Partially based on the poet's own life and her descent into mental illness, this modern classic conveys a woman who wins a New York City publishing internship but finds herself spiralling into depression after adopting a glamorous lifestyle.
---
12. Rebecca, Daphne Du Maurier
Publication year: 1938 | Genre: Gothic, mystery | Length: 448 pages
Now a major Netflix film, this classic romance tells the story of a shy unnamed heroine who meets a mysterious handsome widower in the South of France but becomes isolated and haunted by his late wife after they marry and move into his Cornish estate.
---
13. The Yellow Wallpaper
Publication year: 1892 | Genre: Literary fiction |Length: 36 pages
A short story that explores the mental deterioration of a woman who is suffering from depression.
---
14. Little Women, Louisa May Alcott
Publication year: 1868 | Genre: Coming of age | Length: 528 pages
A story of the adventures of the March sisters who all display very different personalities and life pursuits, with the resilient and outspoken Jo standing by her feminist values throughout the novel.
---
Non-fiction books for women
1. Perimenopause Power, Maisie Hill
Publication year: 2021 | Genre: Self-help | Length: 336 pages
An empowering manual to guide women through how to make menopause – all the stages of menopause, including perimenopause – a more positive experience for them and those around them.
---
2. Untamed, Glennon Doyle
Publication year: 2020 | Genre: Biography | Length: 352 pages
A story of how one woman came to realise what she really wanted from life and how she went about disregarding the world's expectations of her to find happiness in her life.
---
3. Period Power, Maisie Hill
Publication year: 2019 | Genre: Self-help | Length: 352 pages
Another empowering read that guides women through their monthly cycle, and imparts knowledge on how to align it with the happenings of daily life.
---
4. Vagina: A Re-education, Lynn Enright
Publication year: 2019 | Genre: Self-help | Length: 240 pages
This book equips women and girls with all the information they need to know about the vagina, and fights to remove the taboo around certain surrounding subjects.
---
5. Three Women, Lisa Taddeo
Publication year: 2019 | Genre: Literary non-fiction | Length: 416 pages
A non-fiction exploration that digs into the depths of three women's minds and expresses their thoughts about the totally diverse wants and needs that each of them lives with in their everyday lives.
---
6. Everything I Know About Love, Dolly Alderton
Publication year: 2018 | Genre: Women's studies | Length: 368 pages
Award-winning journalist Dolly Alderton gives a candid account of bad dates, heartaches, humiliations and strong female friendships after making it through her twenties.
---
7. Becoming, Michelle Obama
Publication year: 2018 | Genre: Memoir | Length: 464 pages
An inspiring memoir from the former First Lady of the United States who opens up about her life and tells her story of her upbringing in Chicago all the way through to life in the White House with husband President Barack Obama.
---
8. Year of Yes, Shonda Rhimes
Publication year: 2015 | Genre: Self-help | Length: 352 pages
Hollywood producer Shonda Rhimes, who has created hit shows Grey's Anatomy, Scandal, How To Get Away with Murder and Bridgerton, writes about the year when she came out of her shell to see sucess come her way.
---
9. Wild, Cheryl Strayed
Publication year: 2012 | Genre: Travel literature | Length: 336 pages
After feeling that she had lost everything – from her mother who died from cancer to her crumbled marriage and estranged family – a 26-year-old Cheryl Strayed made an impulsive decision to walk 1,100 miles on the west coast of America – and to do it alone.
---
10. A Vindication of the Rights of Woman, Mary Wollstonecraft
Publication year: 1792 | Genre: Political philosophy | Length: 352 pages
Mary Wollstonecraft makes an argument for women's education and an opportunity for them to make a bigger contribution to society in this feminist piece of writing that fought for women's rights before feminism was even a known term.
---