21 of the best romance books to read whether you're after love or lust
The best romance books will transport you in to a world of love, lust and happily ever afters...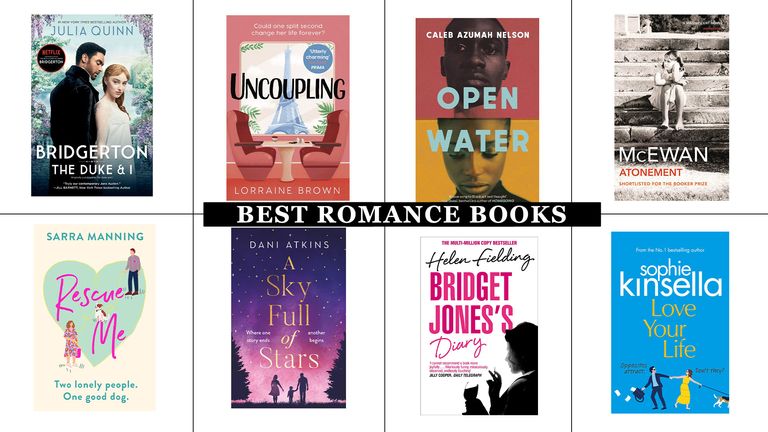 (Image credit: Future)
We all grew up on love stories. Even now, if you ask the person sitting next to you to name the first famous novel that comes to their mind, a huge majority of them are likely to choose one of the best romance books.
The best love stories never grow old—just ask Shakespeare, Emily Brontë, and Jane Austen – and nor do they feel any less relevant now than they would have centuries ago. Tales about all-conquering emotions get under our skin because they make us feel something. The best romance books - much like the best thriller books - leave a mark that stays with us long after we have closed the final page.
A triumphant romance story doesn't just have to be about two strangers meeting and falling in love, it can also be about family, about self, or even about a pet – as long as the emotion is there, the reader's feelings will follow. And because of that, the best romance books often make for brilliant book club books too, as they give us so much to discuss human emotion.
This list mixes the great and the good with the new and noteworthy and examines love in all its irresistible guises. So whether you prefer to read your novels on one of the best eReaders or best Kindles on the market, or you favor a good old print book - here is our selection of the best romance books to read when you're in the mood for a happily ever after...
Our pick of the best romance books to read in 2021
The best books of 2021 may be a variety of genres, but we've picked out the best romance books to read in 2021 that will leave you full of love this year. With everything from the novel behind the hit Netflix show, Bridgerton - to some older classics that everyone should read, such as Pride and Prejudice - there is something for everyone.
Period romance books
Bridgerton: The Duke & I by Julia Quinn
Raunchy Regency TV show Bridgerton quickly became the most-watched series ever on Netflix earlier this year, and the appetite for the novels upon which it was based has seen Julia Quinn race back up the bestseller lists both in the UK and in the States. Both a historical fiction book and a romance book, this novel is frothy, frivolous, and wonderfully funny. The collection of 11 novels – the first of which is The Duke & I – charts the lives and loves of the aristocratic Bridgerton family as they attempt to find their place in early 19th-century society. Romantic escapism at its most diverting and enjoyable.
---
Pride and Prejudice by Jane Austen
No self-respecting round-up of the best love stories would be complete without a classic. Austen's 1813 masterpiece, about a young woman named Elizabeth Bennet who shuns the advances of the severe Mr Darcy, only to later fall in love with him, has captured the hearts of millions. If the prose feels daunting, try the fabulous audiobook read by Rosamund Pike.
---
Atonement by Ian McEwan
One lie is all it takes for Robbie and Cecilia's budding romance to be ripped away from them. The latter's sister Briony is the architect of this tragedy, and it's her who tells the story of what happened next, when Robbie heads off to war leaving Cecilia behind. As masterful as it is gut-wrenching, this is a sublime love story.
---
Modern romance books
Bridget Jones's Diary by Helen Fielding
Such was the joy of reading about eternal singleton Bridget's pursuit of love, that pretty much the whole world now knows who she is. Bridget is in her early 30s, living in London and working under the rather-too-watchful eye of bounder Daniel Cleaver. Will she fall for him, or grumpy-but-gorgeous lawyer Mark Darcy? Either way, it's a hoot finding out.
---
A Sky Full Of Stars by Dani Atkins
It is impossible to get through a Dani Atkins novel without shedding a tear – or 20 – and this rule very much applies to this, her latest heart-wrenching romance. Alex's life didn't have much meaning until he married astronomer Lisa and they welcomed son Connor into the world, so when she dies suddenly he is left at a loss of how to carry on. However, when he encounters four strangers who never met Lisa but whose lives were altered by her death, Alex begins to wonder if his lost love was right and that a person's future really is written in the stars.
---
PS, I Love You by Cecelia Ahern
If the idea of your husband writing you letters to inspire you after he dies doesn't make your heart want to crack in two, then what are you even doing here? It is exactly what Gerry does for Holly, and each of his ten letters does their bit to pull her out from behind the curtain of grief. Heartbreaking perfection that will have you sobbing into your tea or coffee.
---
The Singles Table by Tasmina Perry
One for ebook fans, and a bonus treat for readers who have long enjoyed the uniquely glamorous and sexy worlds created by master scribe Tasmina Perry, The Singles Table is a lockdown project born of the author's desire to "write something joyful and hopeful". Set over the course of a weekend at a society wedding, it follows the various adventures of one table of guests, from the bridal shower and stag night to the morning after the big day, and every chapter is brilliant. It's available exclusively on Amazon and is a must for every Kindle library.
---
Uncoupling by Lorraine Brown
Hannah's on her way to a wedding with her boyfriend Si when the train divides and they become separated, he heading to Amsterdam and she waking up in Paris. The man she loves – and her ticket – are 300 miles away, but help is about to appear in the shape of Leo, a man she encounters on the platform who is everything the errant Si is not. As the pair venture out into the world's most romantic city, Hannah begins to wonder if by taking her in the wrong direction, fate has perhaps shown her the path she was meant to be on all along.
• Uncoupling by Lorraine Brown at eBay for US$24
---
Love Your Life by Sophie Kinsella
When Ava heads to Italy to stay at a semi-silent writing retreat, romance is the last thing on her mind, yet she still ends up falling for the charms of an alluring stranger and, by the end of the trip, the pair are in love. But what began as idyllic soon unravels into disaster as their real lives collide in hilarious style, and Ava's left wondering if she can really love a man whose life is so darn unfathomable. If the reading experience is anything to go by, romantic comedy queen Kinsella must have had a lot of fun writing this one. It's a total joy.
---
Open Water by Caleb Azumah Nelson
This nuanced, insightful and quietly powerful debut tackles issues of race and masculinity by exploring the relationship between two young black British artists – he a photographer and she a dancer – who despite their shared interests and backgrounds flounder as they begin to fall slowly in love. Unflinching in its examination of society and its myriad pressures and judgments, Open Water is a novel that continues to resonate long after you have finished reading. A tender and important story about love and all it encompasses.
---
Much Ado About You by Samantha Young
Reminiscent of both The Holiday and classic epistolary novel 84 Charing Cross Road, this charming tale accompanies Chicago-born Shakespeare fan Evie, who ditches her city life to take a holiday that includes the running of a bookshop in a small English village. Evie soon finds that there is a lot to love about her new role and the locals she meets – especially sexy farmer Roane Robson – but she's determined not to form any attachments. Not when there's a life waiting for her back in the States… An irresistibly heartfelt and engaging novel.
---
Love, Almost by Hayley Doyle
Chloe is in love for the first time and everything about her five-month relationship with her boyfriend Jack is wonderful. Then he dies. Devastated by her loss and furious at life for dealing her such a cruel hand, Chloe decides to honor the memory of her late love by making her way through the list of things they had planned to do together. Poignant, yes, but ultimately this is an uplifting tale of how losing someone can change the shape of your life, what love can teach you about the world, and how powerful a healer laughter can be. Timely and touching – a novel to take into your heart.
---
Rescue Me by Sarra Manning
Neither Margot nor Will is looking for love, but that doesn't stop them from falling for rescue dog Blossom. Unable to agree on who gets to take her home, Margot and Will agree to "co-pawrent" Blossom, but it soon becomes clear that they have very different ideas on how to raise a pup. As the dog's behavior worsens, her new human parents have no choice but to team up. Is it possible a friendship will flourish…or perhaps something more? A charming, funny, and gorgeously feel-good tale.
---
The Sight Of You by Holly Miller
A love story with a difference, Richard & Judy Book Club pick The Sight Of You tells the tale of Joel, who has become somewhat of a recluse due to his ability to see the future of those he loves in his dreams, and Callie, the woman he falls for regardless. When Joel learns exactly what lies in store for his new love, it leaves him with an impossible, heartbreaking decision. An astonishing, affecting, and deeply moving novel.
---
Miss You by Kate Eberlen
Following the path set down by David Nicholl's One Day, this exquisite novel tells the story of two people who are meant to be, yet never seem to meet. The plot follows Tess and Gus through separate lives that are aching for that one missing piece, reminding us that sometimes the right choice is often the hardest one of all.
---
The Light Between Us by Katie Khan
It's not simply the will-they-won't-they nature of this novel that so enthrals, but also its backdrop of time travel. Because while many characters may claim to be willing to move heaven and earth for their lovers, these protagonists actually find a way to do it. Be warned: you may never look at a sunset in the same way ever again.
---
Isabelle in the Afternoon by Douglas Kennedy
In Kennedy's literary tale that spans many years, young American student Sam doesn't know what he's let himself in for when he embarks on an affair with sophisticated – and married – Parisienne Isabelle. She calls all the shots and he is powerless to resist her charms. Until, that is, they reach a point when the balance of power is no longer as established as it used to be. This is a heartfelt tale of a lifelong passion that cannot fail to move you.
---
What Happens Now by Sophia Money-Coutts
This is one romantic tale that gets the balance of true-to-life humour and emotion just right. It's easy to race through in a matter of days as recently dumped Lil goes out on a date that changes the course of her life forever. When the two little purple lines show up on a pregnancy test not long after, she can't quite believe her eyes, but her journey of unexpected pregnancy, misunderstandings, supportive friends and love in unlikely places makes for a truly joyful read.
---
If I Never Met You by Mhairi McFarlane
Lawyer, Laurie is heartbroken when her partner of eighteen years dumps her. Worse still, she has to work with him. So, when she finds herself stuck in a lift with handsome colleague Jamie, who suggests they pretend to be dating as revenge, she finds herself going along with it. Only things don't always go to plan – and it's not long before the two start to wonder if this really is all for show. It's funny, poignant and a delicious page-turner.
---
A Wedding at the Beach Hut by Veronica Henry
Sure to delight and entertain quite as much as each of her novels that have gone before, Veronica Henry's soon-to-be-released tale of escapism and romance is a great choice to get stuck into. Delving into the complexities of romantic and familial love, Robyn and Jack are planning their perfect wedding but she just can't get the question of why she was given up for adoption and her birth mother's identity out of her mind. Will the past overshadow the future?
---
Erotic romance books
Rivals by Jilly Cooper
All the romances written by the incredible Jilly Cooper are brilliant – but it's the one between her iconic show-jumping bed-hopper Rupert Campbell-Black and soft-hearted cook Taggie that feels the most satisfying. Rivals is set in the world of TV production, and as well as its central love story, all manner of sex, scandal and hilarity reigns supreme. A true gem and one of the best romance books to get your hands on if you're in the mood for something fun and steamy.
---