How to clean windows without streaks for a sparkling finish
Get ready to let the light into your home once you know how to clean windows most effectively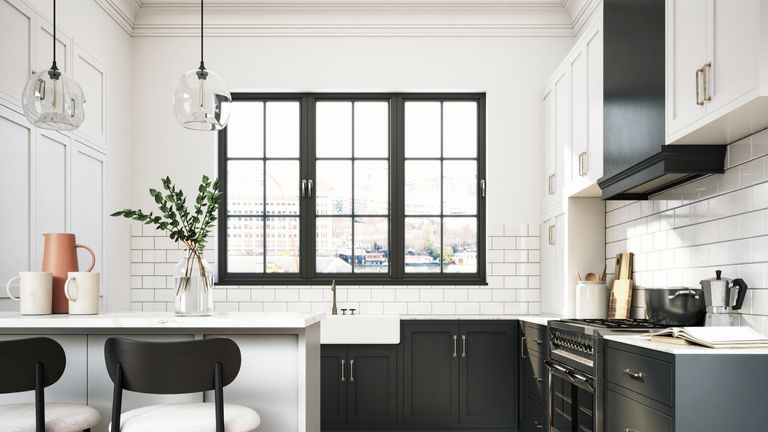 (Image credit: Getty Images)
Once you know how to clean windows with the minimum of fuss and the maximum of polish, you'll have sparkling panes letting plenty of natural light into your home. If your windows are covered with dust, dirt, water spots, or splattered bugs, you won't get maximum daylight in your house, even when the sun is shining.
Over time, grime and pollution accumulate on your windows, which can look unsightly and be unhygienic. There's also the threat of thick streaks left behind by sloppy cleaning, which only appear worse over time. To make the most of your outside view and to keep your light-loving houseplants happy, washing windows should be at the top of your house cleaning list.
After all, once you have the rest of the place in great shape with a solid kitchen cleaning routine and have sussed out how to clean toilet stains thoroughly, you don't want to let your efforts go to waste with murky windows. While you're at it, check our guides for how to clean brass and how to clean copper so each room and its contents get a thorough and effective clean.
What to use to clean your windows
Fortunately, the process of how to clean windows is simple enough. With the correct technique, cloth, and cleaning products, your windows will be sparkling like never before.
Choose the right cleaning product

Commercial window cleaners — all promise to give you a streak-free shine.
Homemade vinegar cleaning solution— simply mix two parts of water with one part vinegar in a spray bottle.
Soapy water— is also a cheap and easy option for cleaning windows, using regular dish soap.
Ammonia Solution— if your windows need a bit more love, you can mix a quarter cup of household ammonia with one liter of water in a container and use a sponge to clean your windows. Be sure to wear rubber gloves if using this solution, though.


A clean sponge—a large sponge or squeegee will help you distribute the solution across the windows evenly.

Use a microfiber cloth to dry—while some people recommend using newspaper to dry window panes, you're better off using microfiber cloths because they're washable, highly absorbent, and leave the glass windows shiny and streak-free.

A clean, lint-free towel—this is your final step to dry the window completely and remove any streaks.
How to clean windows from inside to outside
Cleaning windows needn't be an annoying chore with this easy four-step process that will ensure your windows look sparkling—and are streak-free. We recommend cleaning both the outside and inside of the windows at the same time to complete your window-cleaning routine.
1. Remove curtains and blinds
The first step to window cleaning is taking down curtains and blinds to prevent dirt from falling and dirtying the cleaned window. This is also the time to give your curtains a clean to freshen them up.
You can clean most curtains in a washing machine, just make sure you check the label to ensure they go on the right cycle. Rinse curtains with cold water before you put them through the wash.
2. Remove dust and dirt
Before you start cleaning, sweep dirt, dust, and any cobwebs from the window frame and the window sills using a dry brush or your vacuum's dusting attachment. This is to prevent dirt from becoming a muddy mess when it gets mixed with a cleaner.
Make sure you dust or vacuum both sides of the window and open any slats to ensure they are all dusted.
3. How to clean windows from inside
After dusting, it's time to start cleaning from the inside out.
Begin by putting something like a large bath towel or old sheet underneath the window to catch the spills. Pick your cleaning solution, which can be either a natural or shop-bought solution.
Spritz the window thoroughly with your chosen solution, or simply put a few drops of liquid soap in a bucket full of cool, clean water.
Using a clean sponge or microfiber cloth, start wiping from the top of the window all the way to the bottom. Remember also to wipe down the frame, both inside and out.
Use a clean, lint-free towel to dry the window entirely. If dirt or streaks are still visible, spray and dry again.
4. How to clean windows from outside
The outside of windows will typically have more grime and stains than the inside.
First, rinse the windows with a hose then fill a bucket with cool, clean water, and add drops of liquid soap.
Perform the same procedure of wiping down the surface of the window using a clean, soft microfiber cloth. Use the hose to rinse thoroughly. Spritz with the water, vinegar solution, or a commercial cleanser.
Use a clean, rubber-bladed squeegee to wipe dry the windows, ensuring that the squeegee is pointing towards the foot of the window and working from top to bottom.
If dealing with stubborn dirt and stains such as bird droppings, saturate the area thoroughly with the water and vinegar solution and let it stand for a few minutes before rinsing and drying it off.
5. How to clean window sills
An important last step is to ensure your window sills are in perfect condition.
Use a handheld vacuum or cloth to wipe away dust and clear the area in preparation for cleaning.
Spray your chosen cleaning solution on the area and wipe with a sponge. You could try using a little baking soda on tough marks or build up. Pop a drop of baking soda into your solution and allow the product to sit for 10 minutes before wiping it away.
Use an old toothbrush and a little more baking soda to target any remaining marks.
6. How to clean window screens
Rinse with plain water first, and then spray with the vinegar and water solution, and rinse again with plain, clean water. Ensure the window and screens are completely dry before replacing the screens.
How to clean windows without streaks
Obtaining a streak-free finish is the aim of the game here. And luckily, there are a few simple tricks you can try to ensure a flawless result.
When cleaning your window, ensure you're working in an S-shape. Your microfiber cloth should be S-shaped to help you get into every corner and avoid smears.
Using a squeegee will also give you a streak-free finish. Ensure you're working in an S-shape, too, and regularly wipe the squeegee blade using a clean rag so that you don't smear dirt around.
Wipe off the remaining water with a microfiber cloth or damp chamois and dry the window sill. Avoid using cloths or paper towels that might leave fibers on the glass.
The best time to wash your windows
While some people think it's good to wash windows on a sunny day as the sun helps you spot smears and makes the windows dry faster, it's actually best to do it on a cloudy day. This is because the sun tends to speed up the drying process, leading to the dreaded streaks.
Although cleaning windows might seem like the most challenging task, clean windows mean more sunshine and clear views.
Amy Hunt is an experienced digital journalist specialising in homes, interiors and hobbies. She began her career working as the features assistant at woman&home magazine, before moving over to the digital side of the brand where she eventually became the Lifestyle Editor up until January 2022. Amy won the Digital Journalist of the Year award at the AOP Awards in 2019 for her work on womanandhome.com.