10 of the best eBooks to treat yourself to on your Kindle or eReader
From chart-busting psychological thrillers to relationship dramas, here are ten of the best eBooks to add to your digital library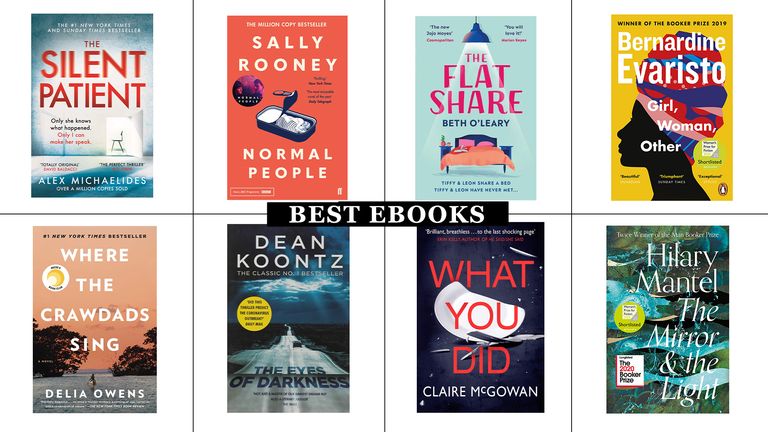 (Image credit: Future)
The best eBooks are a great way to devour the latest must-reads quickly, easily, and without having to venture out to the shops - or wait 3-5 days for delivery of the latest release!
In fact, many of us are reading more fiction as eBooks than ever before now. But which titles have been getting us turning the e-ink pages recently? 
The below list of the best eBooks have been huge bestsellers on the eBook charts over the past year - having been downloaded the most, for viewing on Kindles or eReaders. While all books are great to read as eBooks, these ones in particular have captured the attention of readers wanting to consume novels digitally, rather than via print books. 
So whether you read on one of the best Kindles, or on another device, we're likely all agreed that the best eBooks (and free eBooks!) a fantastic way to get through your must-read list.  From chart-busting psychological thrillers to relationship dramas and a backlist title with links to the pandemic, here are ten of best ebooks to add to your digital library.
The best eBooks to read
1. Where The Crawdads Sing by Delia Owens
Genre: Literary
First published back in August 2018, this spellbinding slow-burn of a debut novel caught the attention of both Richard and Judy's Book Club and Reese Witherspoon, who's also snapped up the movie rights, and became one of the best books of 2021. The book, which begins in the 1950s among the marshlands of North Carolina, is a coming-of-age murder mystery with a bewitching protagonist at its heart. As vivid as it is affecting, the story is one that will stay with you long after reading. Thoroughly deserving of its meteoric success.
---
2. Normal People by Sally Rooney
Genre: Romance
One of the biggest TV highlights of the year so far – and if you don't believe us, just check the viewing figures – the BBC adaptation of Normal People saw the series' source material storm back up the ebook charts when the show premiered at the end of April. A story of first love, it tracks the on-off relationship between Marianne and Connell, whose experiences of growing up in the same small Irish town are a world apart. Fresh, intelligent and deeply moving, it's a story that is not only relatable but unforgettable – no wonder the reading public can't get enough.
---
3. The Silent Patient by Alex Michaelides
Genre: Psychological thriller
With an ongoing sales track more relentless than a Duracell bunny, it's hard to imagine there's anyone left who is yet to read this sizzling slice of twisty fiction. Forensic psychologist Theo has been tasked with finding out why successful (and seemingly happy) artist Alicia shot and killed her husband – but she is refusing to speak. Gripping from the off, it's an accomplished debut that demands a compulsive and immersive reading experience. Make sure your eReader battery is fully charged before diving in.
---
4. What You Did by Claire McGowan
Genre: Thriller
Amazon remains the largest e-tailer in the world, dominating a huge percentage of the ebook market, so authors can do a lot worse than be published by one of the company's imprints. It has proven to be a match made in bestseller heaven for talented scribe McGowan, who's had two huge hits already this year – What You Did and The Other Wife. The former is a scalpel-sharp thriller about a university reunion mired by secrets, scandal and violence.
5. The Mirror and the Light by Hilary Mantel
5. The Mirror and the Light by Hilary Mantel
Genre: Historical fiction
The pre-orders alone for Mantel's long-awaited third novel in the Wolf Hall trilogy toppled over 15,000, and that number has continued to rise since the book's release in March. This time we're with Oliver Cromwell from 1536-1540, following his rise and subsequent demise by execution. Shortlisted for the Women's Prize for Fiction and longlisted for the Booker Prize in 2020, this mighty tome does not look likely to leave the top of any chart for quite some time – and rightly so. One of the best historical fiction books of the last few years. 
---
6. The Flatshare by Beth O'Leary
Genre: Feel-good
One of the best romance books, the premise for this charming novel is a simple one – Tiffy and Leon share a flat, Tiffy and Leon share a bed, Tiffy and Leon have never met – yet it has gone on to capture the hearts of many thousands of readers around the world. The winning formula of loveable characters, irresistible chemistry, sizzling sex and a 'this-could-easily-happen-to-me' plot has secured O'Leary's status as a major talent to watch.
---
7. The Shrine by LJ Ross
Genre: Crime
With schemes such as Kindle Unlimited raking in millions of dollars in revenue each year for authors, the choice to go down the self-publishing route has never been more alluring. LJ Ross is proof that when you produce a quality product, the rewards will be plentiful. Almost 40,000 readers pre-ordered The Shrine, which is the author's 16th novel featuring her County Durham copper DCI Ryan.
---
8. The Eyes Of Darkness by Dean Koontz
Genre: Thriller
We imagine nobody was more surprised than Koontz himself when this backlist thriller sneaked into the ebook Top 10 in early March 2020. Originally published in 1981, it's about a mother hellbent on discovering how and why her son died on a camping trip. However, the thing that brought it back into the spotlight was its mention of a deadly virus named 'Wuhan 400'. Conspiracy theorists were quick to get their collective smalls in a twist, with some claiming the writer had somehow seen the Coronavirus outbreak coming. While not psychic, Koontz is a brilliant writer, so at least this story has a happy ending.
---
9. Little Fires Everywhere by Celeste Ng
Genre: Literary
A favourite in many book club books lists, barely a week has passed since the initial publication of this standout American novel when it wasn't lurking near the top of the chart. The novel's ebook sales got a huge boost when the TV adaptation – produced by and starring Reese Witherspoon – arrived on Amazon Prime in mid-March. After opening with the titular little fires, the narrative takes us back to the start of a suburban summer that will see the lives of four women change irrevocably.
---
10. Girl, Woman, Other by Bernardine Evaristo
Genre: Literary
More than a year since its publication, the Booker-winning Girl, Woman, Other continues to dominate both the ebook and hardcopy charts. Set in London, it follows the lives of 12 characters – mostly black women – of all ages and walks of life, deftly examining issues around feminism, sexuality, patriarchy and the bonds of family. With the accolades raining down on Evaristo – including glowing praise from readers such as Barack Obama – her eighth novel has become the epitome of a must-read, and a fabulous book for women. 
---